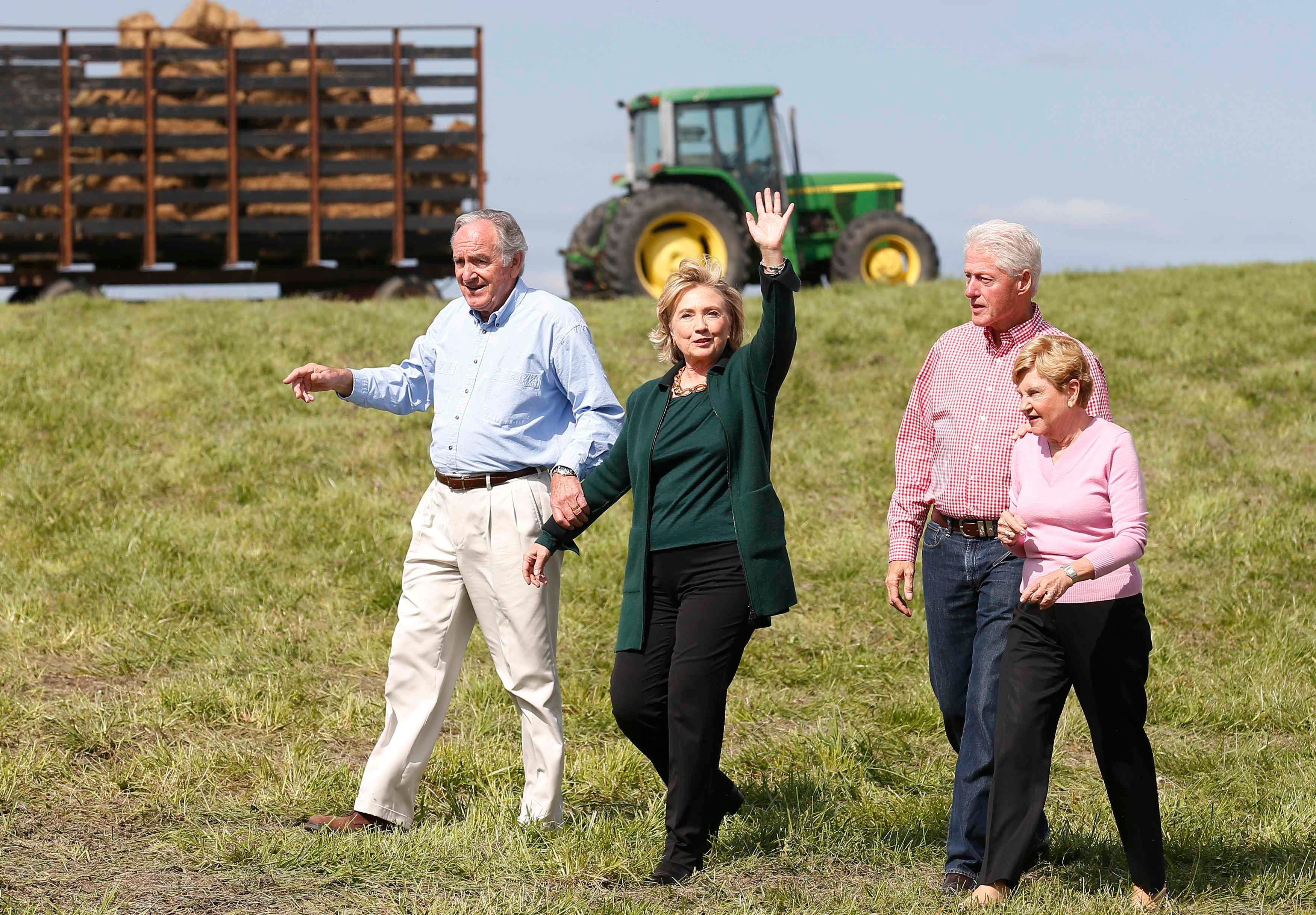 Has Hillary Clinton's road to Iowa redemption begun?
If Hillary Clinton decides a few months from now that she does, indeed, want another shot at the White House, her speech to 6,000 Democrats at the annual Harkin Steak Fry Sunday will be revisited as the unofficial kickoff to her 2016 campaign.
Whether it was a successful kickoff will be determined by how the Democratic field shapes up - and just how big a challenge the former first lady and secretary of state will face in the state that forever changed the course of her 2008 campaign.
At the final of 37 steak fry fundraisers held by Sen. Tom Harkin, D-Iowa, who is retiring, Clinton checked many of the potential-presidential-candidate boxes as she took the stage and announced, "I'm baaaaack!"
She had a nod to the grandchild watch underway for daughter Chelsea, who is expecting a baby, a coy answer on whether she is running in 2016 ("I'm here for the steak," Clinton said), and effusive praise for both Harkin and the handful of statewide and national Democratic candidates gathered at the event.
"If you were a candidate trying to reenter the state where you had had such a bumpy ride last time there's no better way to do it than this," CBS News Political Director John Dickerson said after her speech. "She comes to pay tribute to an icon of the Democratic Party, to cherish its ideals in a public way, while maintaining the patina of not running."
The X factor is just how steep a challenge Clinton will face if she runs again.
In 2008, Iowa was the state that demolished her front-runner status, delivering a decisive win to then-Sen. Barack Obama that propelled him to the Democratic nomination, and eventually, the White House.
Clinton, who came in third place behind Mr. Obama and John Edwards, struggled to win over voters in a state that cherishes its face time with candidates. She often faced accusations of being in a bubble voters could not penetrate, of being unexcited about mastering the complicated art of winning an Iowa caucus - which takes extensive ground organization - and lacking a rationale for her candidacy.
But Mr. Obama also challenged her by presenting a fresh and compelling alternative, and a superior ground game to boot.
"It depends on whether she really needs to be redeemed," Dickerson said. "She has no challenger, really. If Maryland Gov. Martin O'Malley and Vermont Sen. Bernie Sanders run they're not going to provide her with the kind of close contest that's going to require her to need to have redeemed herself."
Right now, there is no other potential candidate that presents a challenge like Mr. Obama did. A CNN/Opinion Research poll released last week showed Clinton with a commanding 38 point lead in the 2016 Iowa caucuses, securing 53 percent support to 15 percent for Vice President Joe Biden, who is visiting Iowa on Wednesday. National polls similarly show Clinton all but running away with the Democratic nomination.
Timothy Hagle, a political science professor at the University of Iowa said that Clinton "does need to be aware" of her deficiencies as a campaigner, but "if she doesn't have any serious competition, then not so much and that's the question at this point."
Clinton certainly had an eye toward the task of reintroducing herself to voters Sunday with the personal anecdotes about becoming a grandmother and recalling her experience growing up in a middle-class family outside of Chicago. And she attempted to plant herself firmly in Harkin's legacy, hailing what she said were tireless efforts to improve the lives of those around him.
Harkin, for his part, irreversibly tied Clinton to the Affordable Care Act by saying that the work she did as a senator means her "fingerprints are all over that legislation." And Clinton did not attempt to distance herself from Mr. Obama, who's approval numbers have lagged for months, praising his work during four years in office.
"In this type of event she's probably not going to want to distance herself too much from President Obama even if the lines regarding him aren't getting the greatest amount of applause," Hagle said.
It's a tricky road to navigate: Mr. Obama's approval rating has sunk in Iowa to just 38 percent, according to a recent Gallup poll.
Clinton fully embraced the Democrats' midterm platform, detailing her support for the minimum wage and equal pay for women, for instance, but she said little beyond the basics of the party platform that might show why she would be best to lead the nation going forward.
Dennis Goldford, a political scientist at Drake University in Iowa, said that it "helped" that Clinton talked about an agenda, even if it was Harkin's agenda. But, he cautioned, "she still is in the position so far that she was in '07 and '08 - she's got a resume but not a rationale."
"Hillary in '07 and '08 never gave people a convincing reason why she should be the nominee, let alone president," he added. "That's always a recipe for political disaster."
But a lack of a real agenda will pose less of a problem in the 2016 Iowa caucuses if no other candidate presents a serious challenge or offers a compelling fresh face to entice voters the way Mr. Obama did in 2008.
That's why many people doubt that Biden, whose distant fifth place finish in Iowa in 2008 marked the end of his campaign and who is considering 2016 run himself, presents much of a challenge.
"Anyone you talk to in Democratic politics in Iowa says there's not room" for Biden, Dickerson said.
"Clearly [Clinton] is of the past, in a sense, but because she's the first woman or would be the first woman nominee of a major party that is future, that sort of speaks to the future in a way. That's obviously never happened before and Joe Biden has nothing like that going for him. He's the past."
Goldford said that "right now, there's room for everybody," and argued that Clinton will need an opponent to sharpen her campaign for the general election.
"But I don't know that Biden would have a lot of support here," he said.
Thanks for reading CBS NEWS.
Create your free account or log in
for more features.