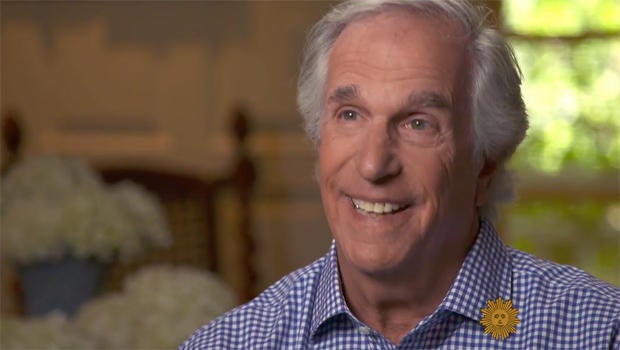 Happy days are here again for Henry Winkler
Henry Winkler had "Happy Days" aplenty on that hit TV show of yesteryear. And to this day he has plenty of fans -- one in particular, as Mo Rocca shows us in our Sunday Profile:
"Look at these front teeth!" said Stacey Winkler. "They're perfect. They're like a toothpaste commercial!"
After 38 years of marriage, Stacey Winkler still adores her husband.
"I think he's so handsome," she told Rocca. "He's adorable. Look at his hands; they're so tan and handsome."
"That's very kind of you," Henry Winkler said in response. "You're very pretty!"
Then again, who doesn't love Henry Winkler? After all, he was the Fonz on the classic TV series, "Happy Days."
"Alright, now listen up: girls, one time, one time only, line right up here, kiss the Fonz for a buck. Now that's a bargain at any price."
The role of the Fonz, Winkler said, "was the foundation on which I built the rest of my life. He built the house I live in!"
But Winkler didn't always feel the love, especially in the Manhattan apartment where his parents, immigrants from Nazi Germany, raised him.
"They had an affectionate phrase for me: Dummer Hund. And for those of you who don't understand German, that means 'dumb dog.' They were convinced that I was lazy, that I was not living up to my potential. Teachers said the same thing. So I was grounded most of my high school career."
He was 31 when he read his first book.
What neither Henry nor his parents knew was that he was dyslexic -- so dyslexic he could barely read.
"It was horrible," he said. "It was humiliating. It was scary. And I learned to memorize as much as I could from any page and then improvise."
Rocca asked, "How many colleges did you apply to?"
"I applied to 28, and I got into two."
Winkler managed to get through Boston's Emerson College, then was accepted to the prestigious Yale School of Drama, after auditioning with a "Shakespearean monologue" … sort of. It was a monologue that he improvised.
"'Launce and the dog. And he loved his dog. And he would take his dog for a walk. The sky was that, that eerie blue, just before the storm.' I made it up!"
After Yale, he acted on stage and in commercials. Then at the age of 27, Winkler became the coolest high school dropout in America.
Richie: "What's in the box, Fonz?"
Fonz: "My engagement rings."
Richie: "You give girls engagement rings?"
Fonz: "Hey, don't be silly. They give' em to me!"
He was one of TV's biggest stars. But his dyslexia continued to interfere with not just his reading, but also physical coordination. Riding a motorcycle, for example, was challenging: "Very. Could not piece together the gear, the gear, the speed, the brake. It was too much. I couldn't comprehend."
"Was that embarrassing for you?" Rocca asked.
"Well, I wish that I could so it would've looked great if I rode it, you know? But I only rode it for about 15 feet in actuality."
But Winkler was so convincing playing smooth and confident, that the offers got bigger. Rocca asked, "Why did you turn down the lead in 'Grease'?"
"Because I'm an idiot!" he replied. "No, the thing is that I had this, this thing: 'Oh, I'm not gonna be typecast. You know, I'm gonna beat the system.' And really what I should've done is just shut up and gone to work."
The toughest point in his career, he said, was "not being able to work from 1983 to really 1991 as an actor. 'Happy Days' is over. What do I do now? And I had no idea. And being rudderless is painful."
To fill the void, Winkler became a producer. He helped to create the original "MacGgyver" TV series. And he directed. And while he was away working, Stacey raised their three kids.
"I knew that his first love was his work," she said, "and I knew that he had to work in order to feel valued. My belief in him could not fill him, because he needed to feel that for himself."
"That's very candid," Rocca said. "Your reaction?"
"My reaction is that I'm very lucky," Henry replied.
And over the past 25 years, Winkler has worked constantly, in hundreds of movies and TV shows, including "Arrested Development."
"I think he has grown and evolved so much that I see less and less of that self-doubt," Stacey said.
Part of that confidence comes from a pastime that Henry and Stacey share: fly-fishing.
Rocca asked, "Henry, if there's one word that this requires, what is it?"
"Patience," he replied. "Tenacity."
The Winklers have gone fishing in Montana, and on the Snake River in Idaho, for more than 25 years.
What hooked him? "The place of it,:" Henry said. "The sound of it. The green of it. And what happens when you're fishing, you cannot concentrate on anything else. Not a problem in the world bothers you at this moment."
And fly-fishing, Winkler says, gave him the courage to conquer his greatest fear: the written word. He is the co-author, along with Lin Oliver, of a series of books about Hank Zipzer, a fourth-grader who has trouble reading. Sound familiar?
"I am an actor, a producer, a director," he said. "With Lin, we have written 32 novels, and I am in the bottom three percent academically in America."
"We have written 4,476 words," Oliver said, pouring over their latest book.
"Wow, and they're all good!"
Their books have become bestsellers, and the basis for a popular TV series in Britain, "Hank Zipzer":
Mr. Rock (Winkler): "Just because reading, writing and math might be hard for you, has nothing to do with how brilliant you are."
Henry Winkler, America's most famous teenager, is 71 now.
"You learn that where there's a will, there's a way," he said. "I live by tenacity and gratitude. Tenacity gets you where you want to be, and gratitude allows you not to be angry or frustrated along the way. At this moment, when a lot of men my age are sitting at home, I am in the golden moment."
Happy days, indeed!

For more info:
Thanks for reading CBS NEWS.
Create your free account or log in
for more features.