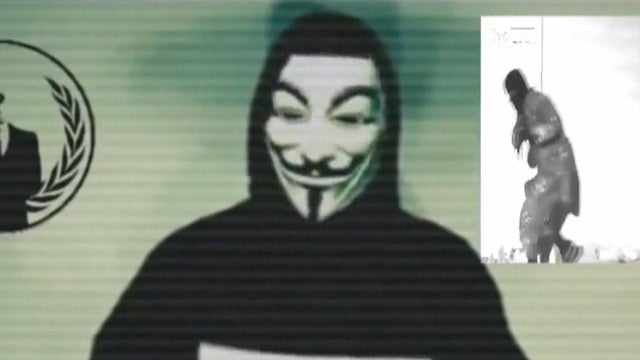 Hacker vigilante group Anonymous ramps up fight against ISIS online
As the international community seeks to stop ISIS, notorious computer hacker group "Anonymous" is also ramping up its fight against the terror group in cyberspace.
In a series of messages posted on Twitter and YouTube, Anonymous warned it would launch massive cyberattacks on ISIS in retaliation for last week's terrorist attacks in Paris.
One tweet Monday claimed the group had taken down more than 3,800 ISIS-related accounts as part of the operation dubbed #OpParis.
In a YouTube video posted Wednesday, the group claimed this number has jumped to more than 20,000, and also offered a link to a list of the Twitter accounts that were taken offline.
While Twitter has proven to be a valuable recruiting tool for ISIS, experts are down-playing the impact of Anonymous' actions.
"They're not going to be able to disrupt operations or coordination within the ISIS network," said Denise Zheng, deputy director and senior fellow for the Strategic Technologies Program at the Center for Strategic and International Studies. "It's much more of an annoyance, really, I think, to them, than anything else."
On Wednesday, U.S. intelligence officials again stressed the need for greater cooperation between the government and tech companies that develop highly-encrypted messenger apps, which allow undetected communication between users, including potential terrorists.
"If they find somebody they think might kill on their behalf, or might come and kill in the caliphate, they move them to a mobile messaging app that's end-to-end encrypted. And at that moment, the needle we've been searching the entire nation to find and have found, goes invisible to us," said FBI Director James Comey.
Amid these growing concerns, Telegram -- one of those highly encrypted online messaging apps -- announced a significant shift Wednesday. The Berlin-based company said it has blocked 78 ISIS-related channels which members had been using to disseminate propaganda -- striking a very different tone from that taken by Telegram co-founder Pavel Durov earlier this fall when he was confronted about the fact that ISIS uses his app.
"Privacy, ultimately, and our right for privacy is more important than our fear of bad things happening, like terrorism," Durov said in September.
Even though Telegram took those 78 channels offline, users are still free to communicate under the radar on Telegram and other similar messaging apps.
Thanks for reading CBS NEWS.
Create your free account or log in
for more features.