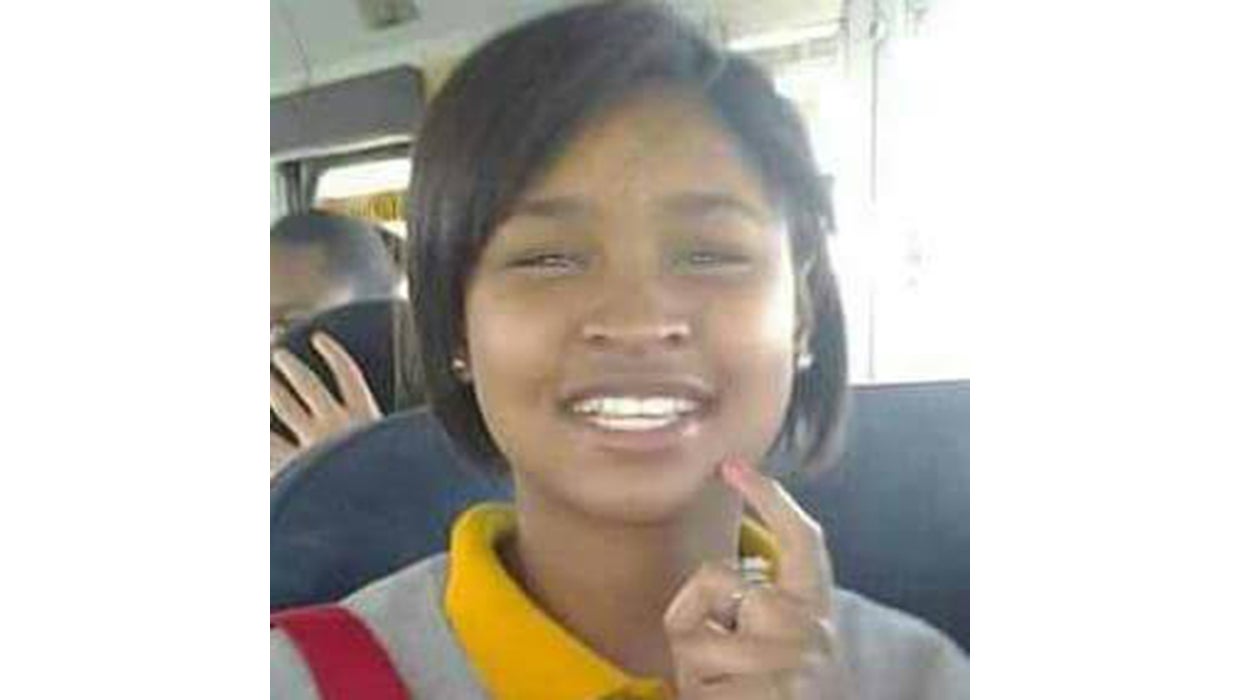 Lawsuit: Juvenile detention staffer watched as Ky. girl took "last gasps"
NEW YORK — As Gynnya McMillen coughed and gasped for air, shaking in a seizure while taking her final breaths, a Kentucky juvenile detention youth worker stood outside her isolation cell watching, according to a federal lawsuit filed by the 16-year-old's estate.
Reginald Windham allegedly told internal state investigators that he walked over to McMillen's door at 11:39 p.m. on Jan. 11, after he heard coughing. Investigators wrote that he wanted "to check on her to make sure she had not thrown up or was choking or something like that."
Surveillance video shows Windham staring through a window for 18 seconds, witnessing "her last gasps and dying breaths and final uncontrollable movements and seizure," according to the lawsuit. He then turned around and walked away, attorneys say.
McMillen, roughly 17 hours into her first day ever spent in a juvenile detention facility, rolled onto her side and never moved again.
Officials say McMillen died in her sleep, but the lawsuit seems to challenge that narrative. For McMillen's sister LaChe Simms, who is not involved in the lawsuit, the description of the video begins to answer questions she's had since before McMillen was buried.
"Seeing my sister in that casket, she didn't look at peace. She didn't look like she died in her sleep. It gave me a real uneasy feeling about what (officials) were saying," Simms said in an interview Monday with CBS News. "If you had a seizure and you're coughing, that's not dying in your sleep. It's not dying in your sleep when you wake up and choke for air."
Simms says she still worries that "we might not ever know the whole story. What happened there?"
McMillen arrived at the Lincoln Village Juvenile Detention Center at 6:07 a.m. that day, according to the lawsuit. Hours earlier McMillen was arrested following an altercation with her mother, Michelle, who had called 911.
Police in Shelbyville responding to the call found McMillen walking down the street and took her into custody, even though both McMillen and her mother declined to discuss the altercation with officers. A state court judge then ordered that McMillen be brought to Lincoln Village, more than an hour away, where she would stay overnight while awaiting her court appointment.
Officials say when McMillen arrived she refused to remove her sweatshirt in order to be searched by detention staffers. Minutes later, four staffers used used an Aikido Control Technique restraint to remove the shirt. Attorneys for McMillen's estate argue the staffers used excessive force and were not justified when they used the restraint, but state officials say they were following protocol.
The maneuver was performed behind a counter, which obscured the view of the one functioning surveillance camera in the room.
In a May email to CBS News, Mike Wynn, the Public Information Officer for the Kentucky Justice and Public Safety Cabinet, described what could be seen on camera. McMillen was first restrained by two employees.
"The youth was lowered to the floor face down, one arm remained raised with the elbow straight as part of the restraint," wrote Wynn. "Her hand and wrist are visible for a few moments, but then move below the counter. After a few moments, the hand and wrist are briefly visible again before they move back below the counter."
In an earlier email, Wynn said two more staff members joined in after McMillen "continued to resist and kick."
"A third employee held her feet to prevent the youth from kicking. A fourth female staff member performed a pat-down style search. Once the search was complete, the youth was raised and escorted to the intake holding room," Wynn wrote.
Two employees, continuing to hold McMillen's arms above her head, then brought the teen to a cell.
"From approximately 6:22 am until 3:44 pm, Gynnya was left in the isolation cell 423 on a metal bed frame without a mattress pad or blanket while she balled herself up in her sweatshirt to stay warm," attorneys wrote in the lawsuit.
Wynn confirmed Monday that the mattress had been removed, but said it was standard protocol at Lincoln Village.
"The mattress is provided to youths at times, but not during the day, because the idea is to keep the youth awake," Wynn said.
At 3:44 p.m., McMillen was allowed out of her cell, and was formally processed, provided with food and water, and allowed to shower, according to the lawsuit. At 5:19 p.m., she was brought back to her cell, where staffers had returned her mattress pad.
A little more than six hours later, Windham heard coughing, and surveillance video allegedly showed him peering through the window on McMillen's door.
Windham's attorney, J. Clark Baird, disputes that McMillen was visibly in her final throes of life.
"The Kentucky State Police and the Department of Juvenile Justice have all viewed the footage. The video does not show the young lady moving or thrashing about," said Baird, who also questioned the assertion that McMillen died at 11:39. "I don't know how they can get a doctor to look at video and say down to a three- or four-minute time frame her time of death."
In a statement released to media after the federal lawsuit was filed on Aug. 31, the Department of Juvenile Justice insisted McMillen was not awake when she died.
"We respect the family's right to bring this action and remain deeply saddened by their loss. We have also fully complied with three independent investigations, all of which confirmed that this tragedy was the result of natural causes," the department said. "After reviewing all the evidence, medical examiners were clear that this child passed away in her sleep, without any signs of distress that would have prompted medical attention."
Kentucky officials announced in March that the Mayo Clinic had examined McMillen's case and determined she had Inherited Long QT Syndrome, a rare genetic disorder that can cause cardiac arrhythmia, also known as an irregular heartbeat.
But attorneys for McMillen's mother cite Peter Schwartz, a doctor who heads the Center for Cardiac Arrhythmias of Genetic Origin in Milan, Italy, in arguing that if Windham had intervened at 11:39 p.m., it is possible that McMillen could have been saved.
Windham himself allegedly told an investigator he wasn't sure McMillen had to die.
"Looking back, he sees so many things that could have been done that could have prevented this from happening," the investigator wrote in the Department of Juvenile Justice internal report. "He agrees if he had done his bed checks and went into the cell to do the wellness check, he may have detected her condition early enough to have gotten her some medical attention."
Baird, Windham's attorney, said in a Monday phone interview that the former youth worker may have experienced regrets, but was not at fault in the case.
"My client's personal opinions on the matter aren't really relevant. A lot of people can have regret from a situation and think, 'You know I could have saved her,'" Baird said. "The young lady had a congenital heart condition and nobody at the facility knew it."
It would be more than 10 hours after McMillen's possible coughing fit and seizure before employees confirmed that McMillen had died. Along the way -- the lawsuit claims, citing state investigators -- staffers falsified logs for dozens of mandatory bed checks on the girl.
In total, during McMillen's day and night in detention, the lawsuit claims employees failed to check on her 64 times. Citing the internal investigation, the lawsuit claims the missed bed checks were indicative of a "systemic breakdown" at Lincoln Village.
At 6:29 a.m., attorneys say a youth worker opened the steel door to McMillen's cell, and pounded on it to wake her up. He was holding a tray of food with her breakfast, and when she didn't reply, he closed the door. Twenty minutes later, he ate her food, according to the lawsuit.
Staffers tried to communicate with her twice more during the next three hours, according to the lawsuit, before the third attempt at 9:36 a.m., when Victor Holt poked McMillen's body with a water bottle "and then attempted to shake Gynnya's body."
The lawsuit claims Holt then left the cell with the door ajar, before returning three minutes later to close the door.
At 9:55 a.m., when a deputy arrived to bring Gynnya to the court hearing scheduled after the altercation with her mom, staffers at Lincoln Village finally concluded that McMillen, whose body was cold to the touch by that time, had died.
In March, Windham and Holt were indicted by a Hardin County grand jury on one charge each of second-degree official misconduct, for allegedly falsifying room check logs during McMillen's time at Lincoln Village. Both pleaded not guilty.
State officials have denied repeated requests to release the videos from McMillen's stay, citing the criminal cases against Windham and Holt. They were among six employees who state investigators concluded falsified logs, and among three who were fired.
McMillen's sister, Simms, says she's hoping the criminal case and lawsuit will continue to answer questions that linger in her mind.
"Nobody wakes up fine every day for 16 years, and then goes to a detention center one day and 17 hours later randomly dies," Simms said.
Thanks for reading CBS NEWS.
Create your free account or log in
for more features.