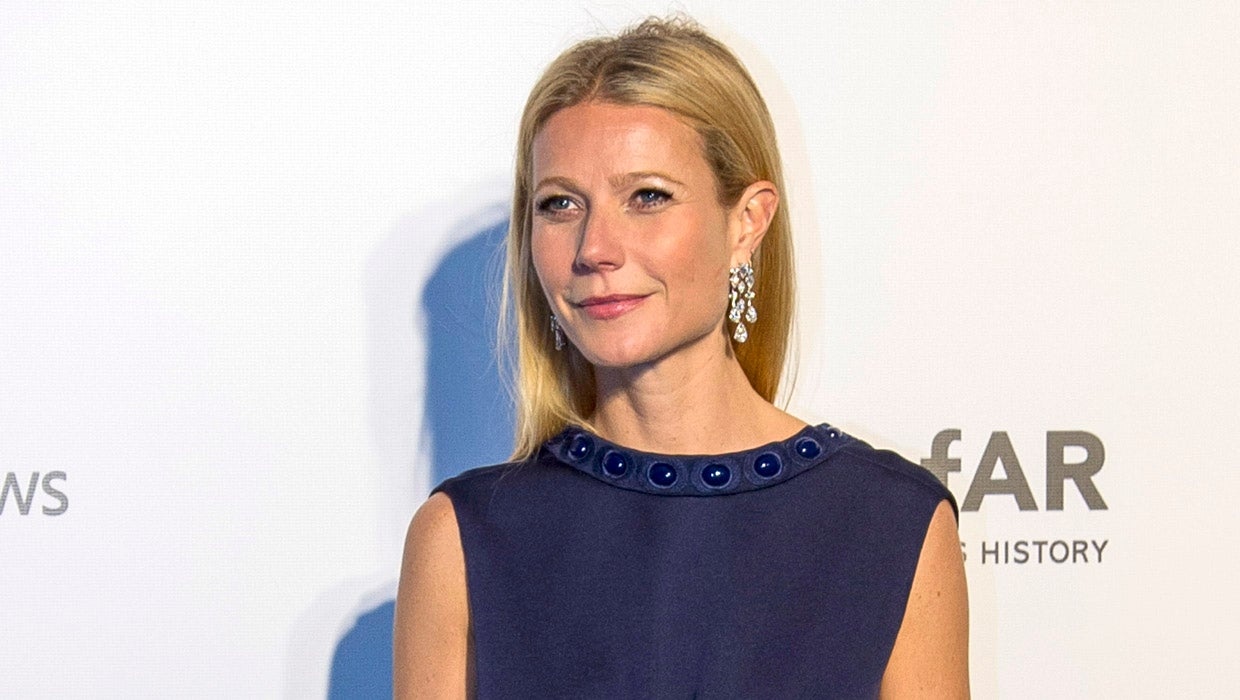 Gwyneth Paltrow to take stand in accused stalker's trial
LOS ANGELES --Hollywood actress Gwyneth Paltrow is scheduled to testify in a Los Angeles courtroom Monday against her relentless, letter-writing accused stalker Dante Michael Soiu, 66. It will be a second take for Paltrow, who testified against the same man 15 years ago when he was found not guilty by reason of insanity in 2001 for stalking Paltrow.
Soiu, who lives in Columbus, Ohio, is charged with stalking Paltrow again, this time for a series of letters he sent the actress from 2009 to 2014. Opening arguments in this latest stalking trial are scheduled to begin today at the Los Angeles Superior Court. Soiu has pleaded not guilty to the new stalking charges. His attorney admits that he sent letters to Paltrow but contends that they don't amount to threats.
"You are hopelessly lost," Soiu wrote in a rambling 2010 letter to the actress. "Now you must die. Yourself, must die so that Christ can have preeminence."
Multiple letters Soiu sent to Paltrow included these references to the need for Paltrow to "die" for Christ or other religious reasons, according to testimony from a investigator from the Los Angeles County District Attorney's Office at Soiu's preliminary hearing held in July 2015.
The transcript from that July hearing previews some of the argument and evidence that will be at play during the trial that launches today.
A public defender who represented Soiu at that hearing argued that the references to "die" in his letters were not personal threats against Paltrow's safety, but rather "should be interpreted in the Christian sense that, yes, one must spiritually die and relinquish a sense of self before one can receive God's grace."
Judge Yvette Verastegui disagreed, deciding there was sufficient evidence of stalking to send the case to trial.
"That is a credible threat implied by a course of conduct... That is a scary proposition in light of everything that has occurred over the last 16 years," referring to both cases against Soiu, the first which began with letters sent in 1999 right up through his recent arrest in 2015.
In 1999 and 2000, Soiu sent hundreds of letters and packages to the actress describing the love he believed existed between himself and Paltrow. He also included sex toys, pornography and pictures of sex acts where he wrote her name and his. His "letters described in detail what kind of sexual acts he planned to perform with her," according to court records. Siou traveled from Ohio to visit the home of Paltrow's parents in Santa Monica, Calif., twice in 2000 and was arrested on his second trip.
At his 2001 bench trial before a judge rather than a jury, Soiu pleaded guilty to stalking but was then found not guilty by reason of insanity. He was committed to a mental health facility for three years, although his stay was ultimately extended, according to court records.
After his release, Soiu reignited his letter-writing to Paltrow in Nov. of 2009, according to court testimony.
The current charges stem from more than 60 letters and packages Soiu sent to Paltrow between 2009 and 2014. The letters profess love between Paltrow and Soiu, discuss marriage including the roles of man and woman, and rambling religious ideology, often suggesting that Paltrow "die" for Christ. All of the letters, but one, were allegedly sent to the office of a Beverly Hills lawyer who represents the movie star.
"I want you to feel love all the time and that I am a man of love. A husband of love, and a father of love to both wife and family as well as a man of principal and truth and integrity," Soiu wrote, according to that investigator, Brian Coleman's, testimony at the preliminary hearing.
"I'm not stalking you, but just giving you an invitation to what I say as choice to consider," Soiu wrote to Paltrow in April of 2014. Deputy District Attorney Wendy Segall of the stalking and threat assessment team apparently disagrees, and has filed the stalking charge which carries a potential sentence of three years in prison.
These letters prompted investigator Coleman to serve Soiu with an arrest warrant in Columbus in February of 2015. Siou has been in jail awaiting trial since then.
Soiu's current defense attorney, Lynda Westlund, says her client "is not dangerous at all and would not hurt a fly. He's kind of an eccentric math guy. He writes letters to celebrities, which is Constitutionally protected behavior." Westlund insists Soiu's letters to Paltrow do not constitute a felony as charged.
However, during his commitment for his previous stalking charge, "the Medical Director of Metropolitan State Hospital... expressed the opinion that, by reason of mental disease, defect, or disorder, Soiu represents a substantial danger of physical harm to others," according to court records.
Sitting in a Los Angeles courtroom during jury selection last week Soiu looked grandfatherly, wearing a sweater supplied by his attorney. He is balding, with patches of salt and pepper black and gray hair, and glasses. He joked with his lawyer Westlund and her paralegal, laughing often, and sat at the defense table examining potential jurors with a broad smile.
In contrast, Paltrow told investigator Coleman prior to Soiu's arrest she was "terrified," and "feared for the safety of her children." In that preliminary hearing testimony, the investigator said Paltrow cried during their interview and told him, "she was scared of the defendant (Soiu) because she believed that he was obsessed and he wouldn't stop for anything to try to find her."
Paltrow's attorney had no comment regarding the case when reached by telephone last week.
Preliminary hearing testimony revealed that Soiu had allegedly discovered Paltrow's personal address in Los Angeles County where she lives with her children because she says in December of 2014 she received a letter from him at her home.
Paltrow said, according to investigator Coleman's testimony, that while Soiu was in a mental hospital serving time for his first stalking case against her in 2003, that she received a letter in Soiu's handwriting "impersonating a psychologist from the hospital stating that she needed to come visit (Soiu); that it would help with his rehabilitation."
One piece of evidence that Deputy District Attorney Wendy Segall presented at the preliminary hearing in July, hints she will argue during the upcoming trial that Soiu knew his letters to Paltrow could land him back in jail. It was a note investigator Coleman says he found inside Soiu's Columbus, Ohio, residence hanging above his computer, an apparent, personal warning written to himself:
"Is this letter or action worth your freedom? Do not write or send if not solicited, not appreciated, harassing, oral assault, threatening. Their perception not yours. Main reason you went to jail and will go back."
Thanks for reading CBS NEWS.
Create your free account or log in
for more features.