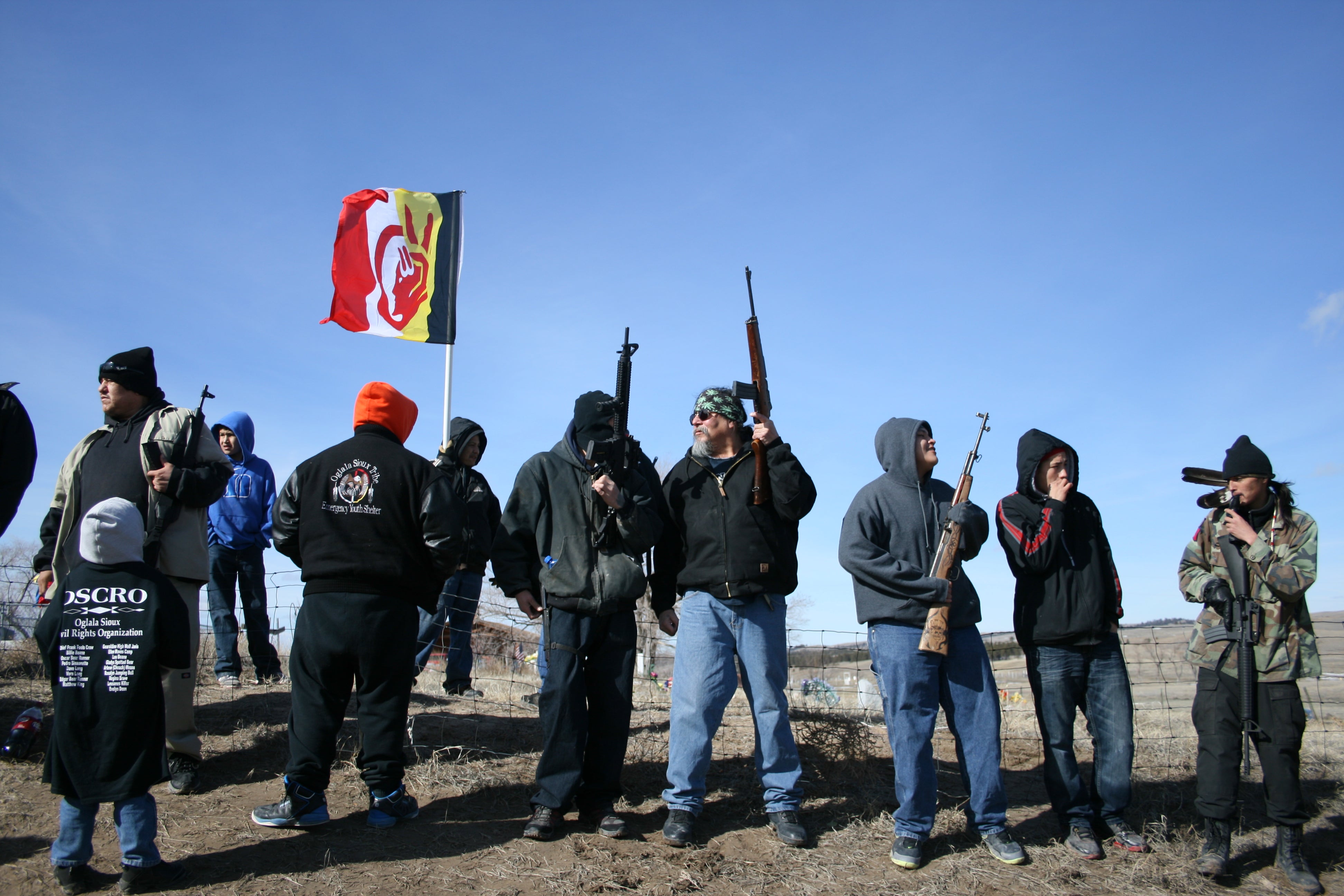 Gunfire, chants mark Wounded Knee anniversary
WOUNDED KNEE, S.D. A Pine Ridge Indian Reservation resident who found herself in the middle of the 1973 Wounded Knee occupation said Wednesday amid ceremonial gunfire and chants that little has changed since the fatal standoff.
Faith White Dress was on the Pine Ridge Indian Reservation 40 years ago when about 200 members of the American Indian Movement and their supporters huddled in houses, some with guns, to protest alleged corruption within the tribal government. Two Native Americans were killed, an activist went missing and a federal agent was wounded.
White Dress and others gathered Wednesday to remember the fatal 71-day standoff. During gunfire to mark the anniversary of the start of the occupation, she said the Oglala Sioux Tribe is still struggling.
"Unemployment is so high and the oppression is still so bad," she said. "I don't think it's going to take violence. It's going to take a gathering to determine how to bring jobs here. We need libraries. We need more of our children to have a better future."
Hundreds of people walked from nearby villages to the site of the occupation, drumming and chanting. Once at the site, the same place where in 1890 soldiers slaughtered an estimated 300 Native American men, women and children, AIM and their supporters continued to drum and chant and fire off gunshots into the air.
This year's events include memorials for AIM's charismatic leader, Russell Means, who died in October at age 72 after batting throat cancer. This is the first anniversary of the occupation since Means' death.
About 200 people gathered at a high school on Pine Ridge for the second of four planned ceremonies to honor Means. Friends, family and colleagues recalled Means as a man who taught his people how to stand up for themselves.
"He was articulate ... a proud Lakota," said Oglala Sioux president Bryan Brewer. "Today he is a version of our modern day Crazy Horse."
AIM leaders herald how much life has improved for Native Americans since the Wounded Knee occupation and other events in the 1970s. AIM was started in the late 1960s to protest the U.S. government's treatment of American Indians and demand that it honor its treaties with Indian tribes.
During the standoff, White Dress and two of her friends from the Pine Ridge Indian Reservation skipped school, sneaked through barricades and stumbled into the middle of the action. The 14-year-olds were able to find shelter with a woman who persuaded the girls to sing songs to drown out the gunfire that erupted at all hours of the day.
Tribal members such as White Dress now quietly acknowledge that although the occupation put Pine Ridge on the map, it has had little lasting effects. With unemployment on the reservation as high as 80 percent, a job in tribal government is coveted. And for those who don't have one, life can be hard, White Dress said.
"There's a lot of animosity amongst the people," added White Dress, who is unemployed and takes care of her grandchildren.
Those same divisions were evident 40 years ago at the start of the occupation and the previous decade when members of AIM and their backers fought then-tribal President Dick Wilson and his supporters, as well as the FBI, which has jurisdiction on tribal land.
"It hasn't changed at all, which is sad," said Wendell Bird Head, a tribal member who now lives in Cresent, Iowa, and teaches Lakota. Bird Head was 19 when the standoff started and tried unsuccessfully to get past the road blocks to join in.
Others, however, are adamant that the occupation brought about greater sovereignty for tribes.
"Tribes started getting independent and speaking up," said Herb Powless, 76, of Oneida, Wis.
Powless, a member of the Oneida Nation, traveled to Pine Ridge in the early 70s at the behest of AIM following the death of Raymond Yellow Thunder, an Oglala Sioux tribal member killed by four white men.
Powless later was arrested in Hot Springs after authorities found 600 pounds of dynamite and a variety of weapons in his car. Already a convicted felon, he spent a year in prison in Sioux Falls.
Thanks for reading CBS NEWS.
Create your free account or log in
for more features.