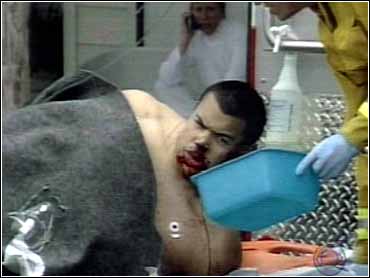 Gunfire At California School
An 18-year-old student opened fire at his high school Thursday, wounding three classmates and two teachers before he was shot by a police officer who engaged him in a running gun battle, authorities said.
The 18-year-old suspect, identified by authorities as Jason Hoffman, was shot in the jaw and buttocks, the most serious wounds in the violence at Granite Hills High School.
Shotgun pellet wounds suffered by the students and teacher were not life-threatening, hospital and police officials said. Five other students and adults were treated for various other injuries, none of them serious.
There was no immediate indication what triggered the violence, which came less than three weeks after two students were killed at a nearby school in Santee.
Eyewitnesses saw a young man with a shotgun and a handgun crouched like a sniper outside the administration building at the school and opened fire, reports CBS News Correspondent Bill Whitaker.
El Cajon police Officer Richard Agundez, stationed at the school, heard gunfire, reported it by radio and engaged the gunman, police Capt. Bill McClurg said.
---
Click here to learn more about guns in America.
---
"They had a slight running gun battle at the school," McClurg said.

The midday shooting sparked a confusing scene, with officers scrambling across the campus as many of the 2,900 students fled to a nearby park.

The violence sent a new jolt of fear through communities still shaken by a March 5 rampage seven miles away at Santana High School in Santee, where a 15-year-old student allegedly killed two classmates and injured 13 others. Both schools are in the same district east of San Diego.
"This is a nightmare," said Glorianne Pollock, mother of a Granite Hills junior. "As a parent, I'm worried to send my kids to school. I just want to lock him in a room and keep him there. This wasn't as bad as Santana, but it could have been."

Neither the officer nor a sheriff's deputy who helped take the gunman into custody were injured, police said.

There were reports that sheriff's deputies happened to be at the school taking reports on some matter, and that a police officer was also on campus for a presentation, but it was unclear if they became involved.

The suspect was taken to surgery at Sharp Memorial Hospital, said spokeswoman Eileen Cornish.

The pellet wounds were suffered by two boys, a girl and two female teachers. All were released from hospitals Thursday except for one of the boys, a 16-year-old who suffered pellet wounds to his chest, arm and head and may remain hospitalized into the weekend, officials said.

Warning Signs

The National School Safety Center says that while there's no sure way to know if a person is potentially dangerous, this list provides a good starting point.


Ryan Carrillo, a sophomore, told KGTV that he heard gunshots as he walked to a bathroom near the school office.

"It sounded like an explosion, like in a chemistry class or something," he said of the first two shots he heard. After hearing five more shots, he ran out of the school.

Junior Roger Pollock, 16, was in math class taking a test when he heard a rapid succession of about six shots being fired.

"I heard my teacher say, 'Is that a skateboard?' I said 'Nope, that's not a skateboard. That's for real,'" he said.

He said he looked outside the window and saw a young man with blood on his face. Everyone in the class then ducked. The students stayed in the room for 20 minutes, until police escorted them out.

Red Cross spokesman Mickey Stonier, who had also been at Santee, went to El Cajon to help reunite parents and kids.

"This is like pulling a scab off a fresh wound," Stonier said. "The community is responding very well."

In Los Angeles, Gov. Gray Davis condemned the shooting and said everyone needed to be more aware of signs of trouble among youth.

"Basically, we need to be better listeners," Davis said."We have to hear the signs of alarm or alienation or loneliness from kids and be able to take them aside and make them feel part of the community so these terrible incidents don't keep happening."

©MMI, Viacom Internet Services Inc. All Rights Reserved.This material may not be published, broadcast, rewritten, or redistributed. The Associated Press contributed to this report
Thanks for reading CBS NEWS.
Create your free account or log in
for more features.