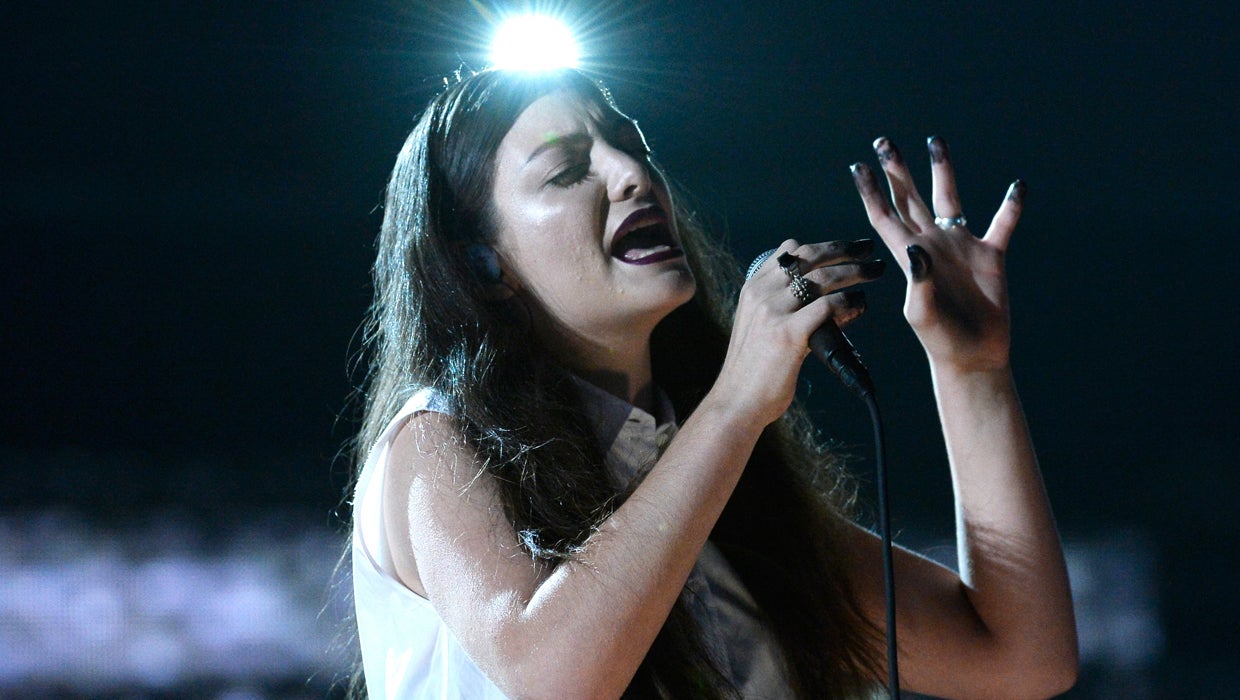 Grammys 2014: Top social moments and surprises
Chicago and Robin Thicke? Stevie Wonder and Daft Punk? Sunday night's 56th Grammy Awards featured plenty of star-studded moments (some head-scratching), countless musical pairings and even a few surprises.
Electronic French duo Daft Punk ended up winning four honors, including the ceremony's most coveted prize: album of the year for 2013's "Random Access Memories."
In the hours after the three-and-a-half-hour ceremony, viewers were buzzing about winners and Grammy performances all over social media. According to Facebook, the top five most social were:
1. Queen Latifah presides over weddings while Macklemore / Madonna perform "Same Love / Open Your Heart"
2. Kendrick Lamar and Imagine Dragons perform "Radioactive / M.A.A.D City"
3. Metallica and Lang Lang perform "One"
4. Macklemore & Ryan Lewis win best new artist
5. Beyonce and Jay Z open the show
The last one on that list didn't impress everyone, however. The power-couple kicked off the show with a sizzling version of "Drunk in Love," but not everyone was a fan. Bob Lefsetz, a music critic at Variety, told CBS News he was most surprised by "how bad the Beyonce and Jay Z's opening was."
There were a couple of surprises with the actual awards, too. Macklemore & Ryan Lewis did win best new artist, but was absent from other major categories. "Conventional wisdom was that Macklemore was going to clean up," Lefsetz said. "Ultimately a song from the first half of the year -- 'Get Lucky' -- and Daft Punk ended up winning -- I think that was totally justified. I'm totally thrilled about that, but that was unexpected…I think it's great that in a world where everything is electronic, they went back to real instruments of the '70s. While other people may criticize it as disco rehash. But at least it was an infectious track."

Lefsetz said he was also surprised when Kacey Musgraves won country album of the year for "Same Trailer Different Park."

"That shows that maybe real music can triumph," he said. "That's one thing we learned last night -- that the younger generation -- the younger people who grew up with TV believe it's about production and extras. The older generation believes it's about the music. Kacey Musgraves played without any extra production as did all the old country artists and Keith Urban and Gary Clark Jr."

Urban and Clark were just one of the musical collaborations throughout the awards show at Los Angeles' Staple Center. Carole King teamed with Sara Bareilles, and Thicke played with Chicago. Billie Joe Armstrong took the stage with Miranda Lambert, and the night ended with Dave Grohl, Nine Inch Nails, Queens of the Stone Age and Lindsey Buckingham rocking out together. Needless to say, it almost seemed like there were more pairings than not. "Can't anyone play alone? It was basically the duets Olympics," said Lefsetz, who also joked that Pink should just go join Cirque du Soleil.

Some of the stand-out performances of the night included Grammy winner Lorde taking on her hot single "Royals" and Daft Punk performing "Get Lucky" with Pharrell Williams, Nile Rodgers and Stevie Wonder. It marked only the second time the French electronic duo has ever performed on live television.

"At least we can unify over the power of music and say that was the best track of the year, along with 'Royals.' It's under-produced. It has a certain magic," said Lefsetz.

Tell us: What was your favorite Grammy moment or performance?
Thanks for reading CBS NEWS.
Create your free account or log in
for more features.