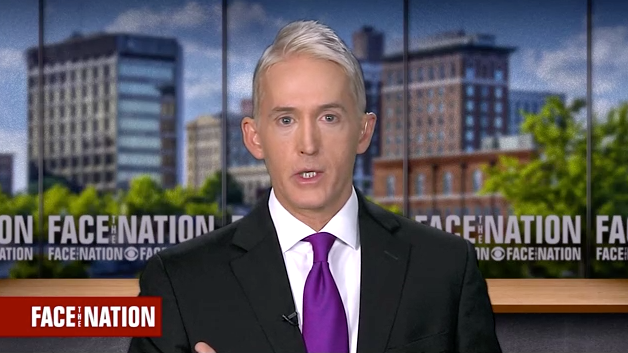 Gowdy to Trump: Ask Putin where "we can pick up the 25 Russians" indicted in Mueller probe
Rep. Trey Gowdy, R-South Carolina, says President Trump should ask Russian President Vladimir Putin where exactly "we can pick up the 25 Russians" who have indicted in special counsel Robert Mueller's probe into Russian interference in the 2016 election.
"I would ask the president to give some serious consideration, your first request of Vladimir Putin needs to be, 'Tell us which airport we can pick up the 25 Russians that tried to interfere with the fundamentals of our democracy,'" Gowdy told "Face the Nation" on Sunday.
Mr. Trump is scheduled to meet with Putin one-on-one in Helsinki, Finland, on Monday.
Gowdy suggested that Mr. Trump tell Putin: "If you really claim that you had nothing to do with it, then you should be as shocked as we were that your military being used to impact our election, tell us where your going to extradite those folks because an American grand jury indicted them for undermining our democracy."
Deputy Attorney General Rod Rosenstein announced the indictment of 12 more Russians on Friday for their alleged attempts to interfere in the 2016 presidential election. Rosenstein said the 12 defendants are all members of the Russian intelligence arm GRU, and attempted to interfere with the 2016 presidential election by "spear-phishing" volunteers and employees of Hillary Clinton's campaign.
In February, the Justice Department indicted 13 other Russians and three Russian companies for their alleged involvement in the effort to influence the 2016 race.
Gowdy noted that no American has been named in an indictment as having conspired with the Russians. Gowdy, who is a leading figure in a separate congressional probe into election interference, said that Mueller's investigation is not a "witch hunt" and instead said his focus is on what exactly did Russia do to the U.S. election system.
"This is an attack on all of us," Gowdy added of Russia's campaign.
Gowdy also weighed in on his contentious exchange with FBI official Peter Strzok during an all-day congressional hearing last week, alleging an "unprecedented level of bias" on Strzok's part.
Gowdy traded barbs with Strzok and even fellow colleagues during the joint session of the House Judiciary and Oversight Committee on Thursday, repeatedly slamming the FBI agent for his alleged bias against Mr. Trump. During a particularly fiery 15-minute exchange, Gowdy criticized Strzok's claims that he would "stop" Mr. Trump from taking office in the midst of the Hillary Clinton email investigation.
At one point, Gowdy became exceptionally frustrated with Strzok, declaring, "I don't give a damn what you appreciate, Agent Strzok, I don't appreciate having an FBI agent with an unprecedented level of animus working on two major investigations during 2016."
Gowdy told "Face the Nation" that private hearings with Strzok and Page were "much more constructive" than the public hearing on Thursday, calling similar public testimonies "a circus" and a "freak show."
Thanks for reading CBS NEWS.
Create your free account or log in
for more features.