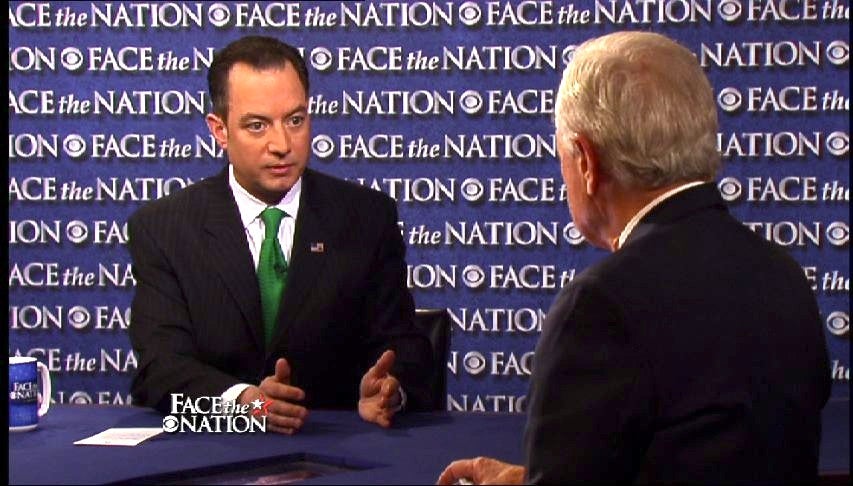 GOP Chairman Reince Priebus says "lousy job of branding," "ridiculous" number of debates led to 2012 loss
It's the age old question: "What went wrong?" How did the Republican Party lose a presidential election against a weak incumbent with a bad economy, and lost seats in both the House and the Senate, only two years after its historic gains in the 2010 midterms? What went wrong and how to fix it for the next time was the goal of a massive study to be released Monday by the Republican National Committee.
"This is unprecedented, and it's something we had to do," said RNC Chairman Reince Priebus, previewing the report on "Face the Nation." He told host Bob Schieffer the "huge" effort will include significant changes to the most high profile Republican event of the campaign.
"I'm calling for a convention in June or July," Preibus said. "We're going to set up a commission that's going to make that decision. I'm going to be a part of that. I'm going to chair that commission, but no more August conventions."
He said an earlier convention will help the eventual nominee go in stronger and come out with more time to try to win the general election.
"One of the reasons why Mitt Romney was a sitting duck for two months over the summer is under the campaign finance law he couldn't use money he had already raised until after he received nomination for president in August. I believe that our primary process is way too long. I think our calendar needs to be looked at. I think our debate calendar needs to be shrunk. I think we had way too many debates with our candidates slicing and dicing each other and I think they had to wait too long to get to the convention," Priebus said.
The GOP chairman told Schieffer the 2012 Republican primary process "hurt" the party and its nominee.
"It hurt because there was no way to control it," Priebus said. "I mean if you have 10 candidates and nine out of 10 raise their hand and say I'm going to any two hour block offered, well then you have a debate every three days and you're the only show in town. So while we were playing footsie debating each other 23 times what was the other side doing? They were spending potentially hundreds of millions of dollars on data, technology, voter outreach. They were actually getting the job done."
To fix the problem, Priebus said he wouldn't have debates start until the fall of the year before the election.
"I would do one a month, this is me talking now. I would do one a month. I would have more say over the moderators, more say over the debate partners. I would limit the debate to a reasonable amount. I don't know, maybe 7 or 8, but not 23, Bob," said Priebus, adding: "That's ridiculous."
Priebus will unveil on Monday the RNC's post-2012 election review, called the "Growth and Opportunity Project," to help the RNC get its job done. In it, the party pledges to communicate the Republican message better, through a multi-million dollar outreach program.
"Being a part of the community on an ongoing basis paid for by the Republican National Committee to make the case for our party and our candidates," he explained.
The RNC will hire hundreds of new outreach employees, including political directors for growing minority voting blocs: African Americans, Asian-Americans and Hispanics. This effort will include marketing campaigns on college campuses, including historically black colleges and universities.
"If you're not in the community, if you're not talking to people and the level of familiarity isn't there, then things -- silly things like Todd Akin and some of the goofy things that are said, the caricature becomes true if you're not there. If have unscripted moments and no relationship to explain anything, obviously, I believe you're a sitting duck," Priebus said.
Some of those moments led to some harsh criticism of the party from focus groups conducted for the review.
Preibus, in quoting some of the responses, said: "We're a little too bit mass focused and not focused on people's hearts that we don't relate to I think, average Americans more than we should. Stuffy old guys too much and it really is painful to hear, because reality is we have a very young party I mean you just had Paul Ryan on he's 42. Marco Rubio, Scott Walker, Chris Christie, Nikki Haley, I mean it's a young party. But it just kind of shows you we've done a really lousy job of branding and marketing who we are."
The party will also try to close the technology gap that became apparent after the November election. The RNC will also open up a field office in the traditionally Democratic leaning San Francisco aimed at reaching out to Silicon Valley to connect with the latest technology that can be used to connect with and track voters.
Priebus says being a part of the community will help the party change the way it sells itself, and their goal is to change the way people see the Grand Old Party.
"Listen I think we have to do a better job relating issuing to people's lives. When you're talking about -- let's just say the debt. It's not just a matter of mathematics. It's what happens in your life. Are you going to have the money to send your kids to school? Is our government spending too much money servicing the credit card payment on the debt? Are you going to be able to live the American dream?" said Priebus. "We have to relate things to people's lives. We have to win the math war, which we do a good job of but we're going to have to learn how to learn the heart war and that's what in presidential elections, what is plaguing our party."
Thanks for reading CBS NEWS.
Create your free account or log in
for more features.