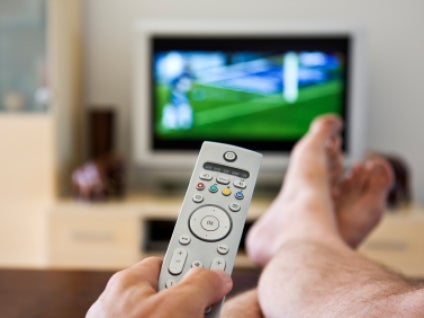 Google reveals new TV set-top box
Updated 2 p.m. EDT
Google (GOOG) announced a new television set-top box running Android software at its annual development conference, which started today. Set-top boxes are commonly used by consumers to pipe programming from a source into a television set.
The company will compete with Apple (AAPL), Amazon (AMZN), and Roku in a direct-to-consumer market.
The device will let people play games, movies, and videos, in addition to normal television programming. Consumers would be able to control the device using Android tablets or smartphones.
Google's entry will be made by another company, according to the Wall Street Journal, much as the company had others make its Nexus smartphones. In general, Google has grown its share of the mobile market by providing free software that hardware manufacturers use to power their devices and then creating opportunities to display ads.
Competition is varied. Apple TV has seen some success, but nothing like the wild popularity of the iPhone and iPad. The late Steve Jobs had called the device a "hobby," but had said to his biographer Walter Isaacson that he had finally "cracked" the challenge of creating a simple-to-use and yet powerful Internet-connected television service. Although many of the company's fans have been waiting for a major redesign, Apple has yet to announce such an upgrade to its set-top box.
Roku has seen growth in sales as well as a streaming dongle attachment for a computer that directly competes with Google's Chromecast device. Amazon released its Fire TV device, which received positive reviews. Any of these products allow the vendor to favor its own media services, strengthening their grips on consumers.
Google's previous forays into the set-top box world fell flat, as it was at odds with major television studios that did not want their content streamed from the Web. Perhaps things will be different this time. That could be especially true of Google can partner with the major heavyweights of the television set-top industry.
Such companies as Cisco (CSCO) and British manufacturer Pace sell directly to pay television carriers, which is where most consumers get their set-top equipment. If Google can get these vendors to use its software, it could open an entertainment world that consumer-oriented competitors have never been able to fully enter.
Thanks for reading CBS NEWS.
Create your free account or log in
for more features.