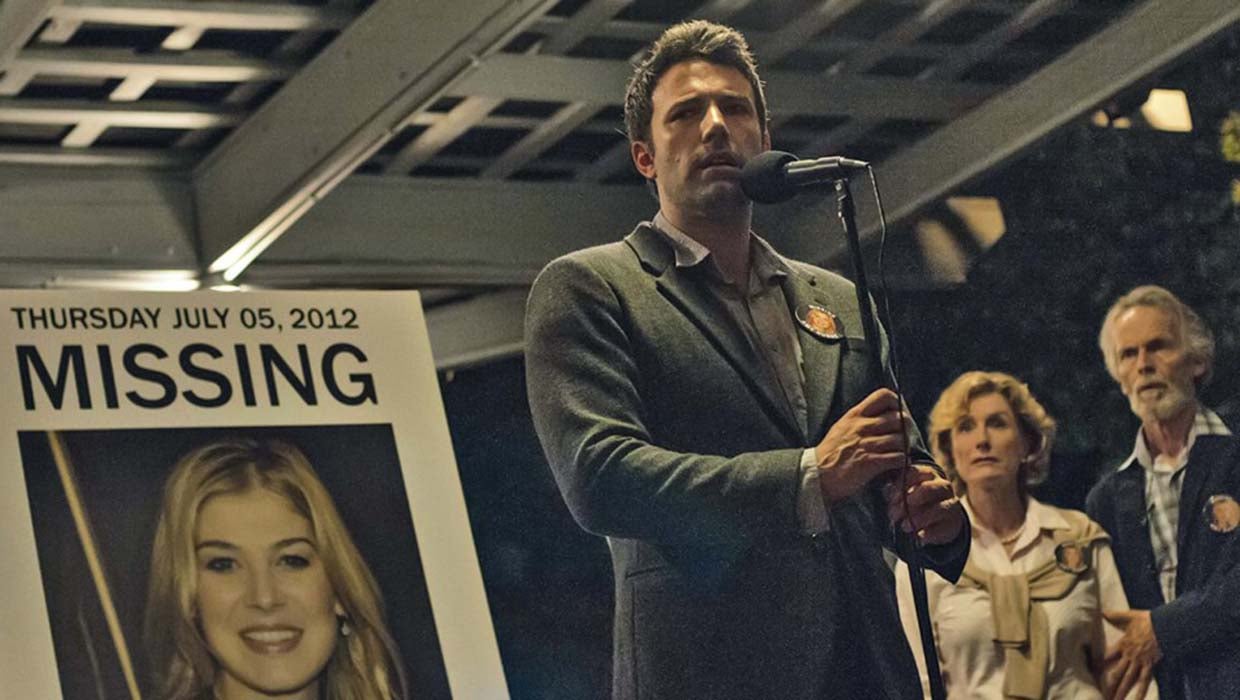 David Fincher's "Gone Girl" finds praise from critics
One of the most anticipated films of the fall has been getting killer reviews.
Based on the 2012 New York Times best-selling novel from Gillian Flynn (who also served as screenwriter), "Gone Girl" is garnering high praise for director David Fincher ("The Social Network," "Se7en") as well as stars Ben Affleck and Rosamund Pike, with some critics calling this a career-best for the trio.
Affleck plays Nick Dunne, an ex-journalist and Missouri bar owner who comes under public scrutiny following the disappearance of his wife Amy (Pike) on their 5-year wedding anniversary.
Tyler Perry and Neil Patrick Harris also star in this comedic neo-noir, that has already been stirring up early Oscars buzz.
There has been some detractors here and there but, for the most part, critics are married to the idea that "Gone Girl" is not to be missed:
Kenneth Turan, Los Angeles Times: "Superbly cast from the two at the top to the smallest speaking parts, impeccably directed by Fincher and crafted by his regular team to within an inch of its life, 'Gone Girl' shows the remarkable things that can happen when filmmaker and material are this well matched."
Peter Travers, Rolling Stone: "David Fincher's shockingly good film version of 'Gone Girl' is the date-night movie of the decade for couples who dream of destroying one another. Expect a stampede at the box office."
Justin Chang, Variety: "Making an impressive screenwriting debut...Flynn has ruthlessly streamlined but not materially altered her story, fully retaining its bifurcated, time-shuffling structure and elaborate, spoiler-susceptible twists."
Chris Nashawatay, Entertainment Weekly: "As Nick, Affleck gives what may be the most natural performance of his career. He's confident without being cocky, charming without being smarmy."
Richard Corliss, TIME: "In a movie of subtle tones and wild swerves, Pike expertly mixes a cocktail of hot and cold blood."
Randy Myers, San Jose Mercury News: "Pike is a revelation. The actress, who until now played mostly secondary roles in films from 'An Education' to 'Pride and Prejudice,' demonstrates versatility with compelling eyes that can instantly switch from innocent to detached. Oscar consideration is certainly a possibility for her."
Claudia Puig, USA Today: "If Alfred Hitchcock were alive today, he'd surely have wanted to film 'Gone Girl.' But the brilliant Fincher may just be his successor, having done the job magnificently."
Michael Phillips, Chicago Tribune: "David Fincher's film version of the Gillian Flynn bestseller 'Gone Girl' is a stealthy, snake-like achievement. It's everything the book was and more -- more, certainly, in its sinister, brackish atmosphere dominated by mustard-yellow fluorescence, designed to make you squint, recoil and then lean in a little closer."
Dana Stevens, Slate: "Like a film noir siren 'Gone Girl' is beautiful, sexy, and fascinatingly mean -- a nasty but estimable piece of work."
Stephanie Zacharek, The Village Voice: "'Gone Girl' is fun while it lasts. And if you go to the movies to admire performances and craftsmanship, there's plenty to go around."
Anthony Lane, The New Yorker: "The glum fact is that 'Gone Girl' lacks clout where it needs it most, at its core."
Rex Reed, New York Observer: "Preposterous, illogical, senselessly over-plotted and artificial as a ceramic artichoke, David Fincher's 'Gone Girl' is another splatterfest disguised as a psychological thriller about the disintegration of a murderous marriage that I find one of the year's grossest disappointments."
Lou Leminick, New York Post: "Let's just say this is the sort of having-your-cake-and-eating-it-too 'date movie' loaded with fantasies designed to appeal equally to both feminists and misogynists."
Mick LaSalle, San Francisco Chronicle: "'Gone Girl' is a great thriller until it stops being one, about 20 minutes before the finish. Until then it's brilliant, not just a triumph of story but of strategy, a movie that keeps the audience grasping and reaching in all the wrong directions, while consistently delivering something a little better, a little crazier and a little more disturbing than expected."
"Gone Girl" is now playing in theaters.
Thanks for reading CBS NEWS.
Create your free account or log in
for more features.