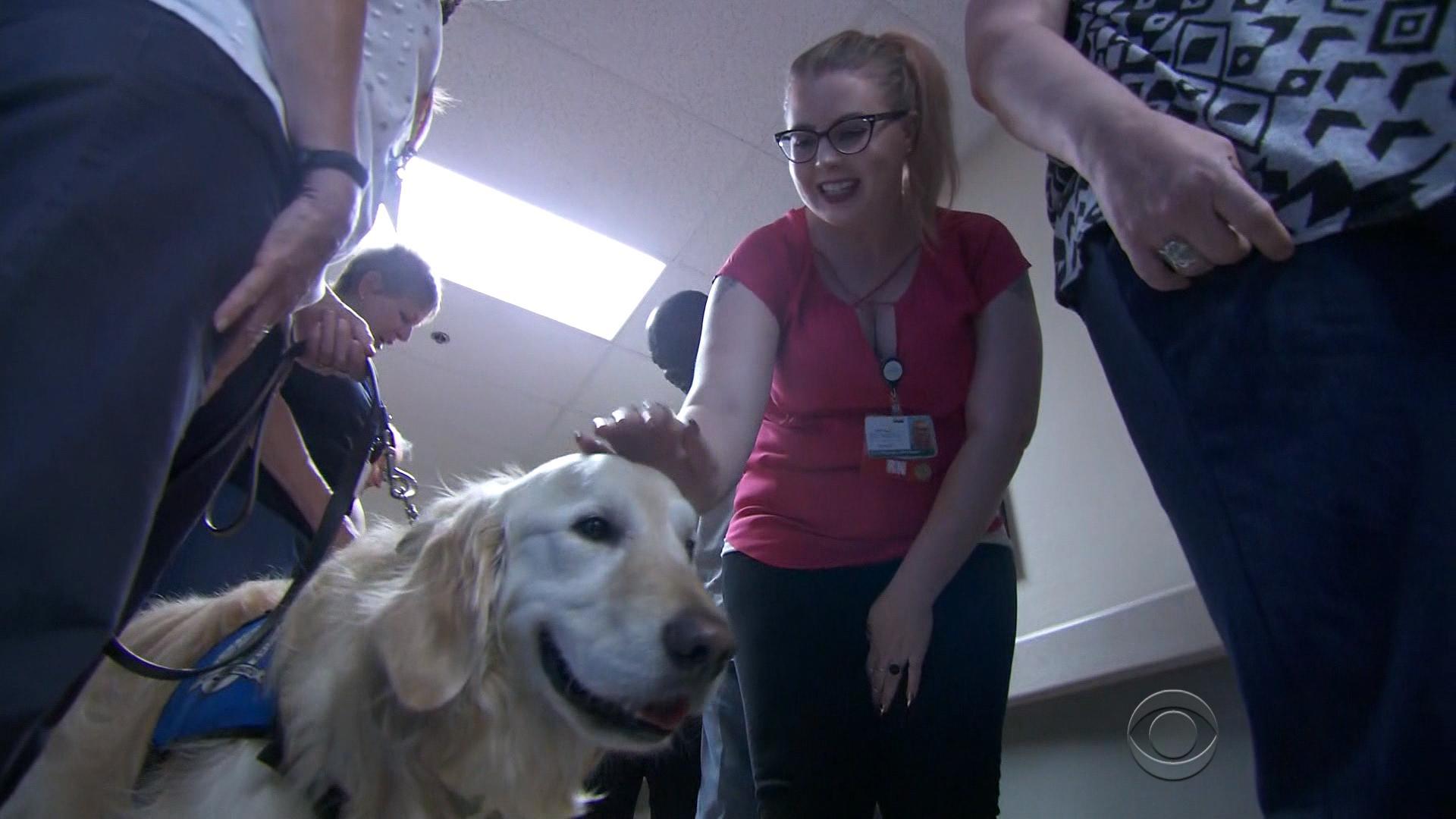 Golden retrievers bring comfort to those affected by Las Vegas shooting
LAS VEGAS -- CBS News has reported a lot this week about the heroes who emerged from the massacre in Las Vegas. They came in all shapes, sizes and species.
Meet the "second responders." Everywhere they go in the halls of Sunrise Hospital in Las Vegas, therapy dogs are helping to heal the wounds you can't see.
"I don't know if it was worse seeing what was going on at the actual site, or if it was worse seeing what was going on here," patient liaison Fabian Salazar said.
Salazar raced to work as hundreds of patients flooded in. Like most of the staff, he's worked days with little rest.
"Anyone that takes our minds off of reality for a few minutes is a nice little vacation," Salazar said.
And then there's the victims like Michael Caster. He was shot in the back and keeps reliving the horror of watching people die.
"They didn't get out," Caster said. "They just, they didn't have, for some reason or another, they couldn't get out and get help in time."
The dogs from Lutheran Church Charities have flown in from all across the country. They've been deployed after major disasters, like Hurricane Harvey and Hurricane Irma.
And now, the cavalry has arrived in Las Vegas. On Wednesday night, they were at the vigil.
"It was almost like the grief just dissipated as they touched these animals," nurse Mary Lacyk said.
Lacyk says it's easy to forget that those who provide critical care sometimes need care themselves.
"We're seeing such young, vibrant people who've been affected on such a critical, um, masochistic kind of way," Lacyk said. "It's tough."
The healing will take time, but for a few precious moments, everything feels a little bit better.
Thanks for reading CBS NEWS.
Create your free account or log in
for more features.