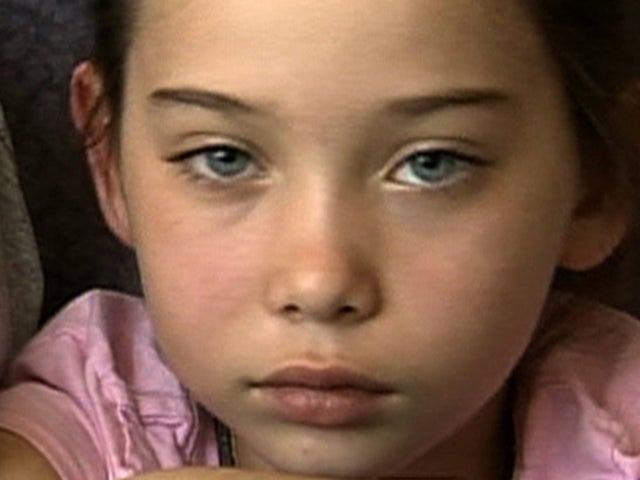 Girl survives often-fatal rabies diagnosis
Rabies is rare in the U.S., but those who may have been bitten by a rabid animal can recover if vaccinated right away. But when rabies takes hold, it's usually a death sentence. In fact, only three Americans have ever survived a rabies diagnosis. The most recent survivor is an 8-year-old California girl whose progress has doctors amazed.
On "The Early Show" CBS News Correspondent Terry McCarthy reported when Precious Reynolds, of Willow Creek, Calif., was scratched by a feral cat, she didn't think much of it and didn't tell anyone in her family. Then, days later, she started to come down with stomach aches, along with neck and back pain.
Precious' grandmother Shirlee Roby said, "It was scary not knowing what it was or anything. It was really scary."
Doctors thought it was the flu or appendicitis, but things kept getting worse, until Precious collapsed.
The girl was flown to a hospital near Sacramento and put into a medically induced coma.
Dr. Theresa Vlautin, at UC David Children's Hospital, went through every possible scenario - except one.
"Rabies did not even cross my mind," Vlautin said.
But when that diagnosis came, doctors felt it was too late for traditional treatments to save her. They were all but certain she would die.
Vlautin said, "It's very rare for a patient to survive from rabies, and the mortality is usually greater than 95 percent."
"I went through hell. I went through misery," Roby said. "Just sitting there seeing your granddaughter laying there, not being able to move. You know, not talking, and there's nothing you can do."
But somehow, Precious became stronger - against all odds.
She's taking lots of medication. And for now, she still wears a brace. But doctors say she'll soon be fine, and as early as next week, Precious could go home. And despite what happened to her, she says she's not going to be afraid of animals.
Her recovery has inspired her doctor and her family.
Vlautin said of Precious, "It's an amazing story of triumph. She's a fighter."
Roby said, "She's my hero. They gave her a 5 percent chance to live, and she showed them she could do it."
"Early Show" co-anchor Chris Wragge added doctors stress that kids should avoid any contact with wild animals that appear sick, and if they're scratched or bitten, to tell someone right away. Vaccines are effective, but the symptoms don't show up right away. And by the time rabies symptoms appear, the illness is - almost always - fatal.
Thanks for reading CBS NEWS.
Create your free account or log in
for more features.