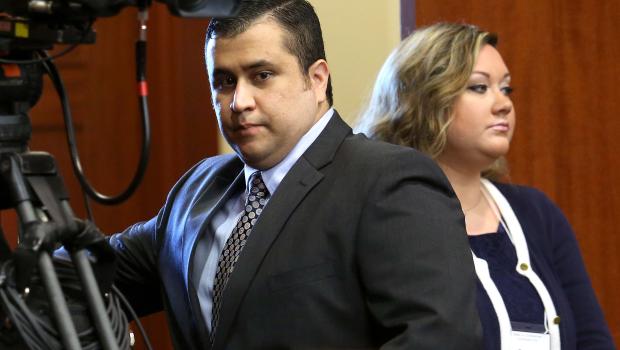 George Zimmerman's lawsuit against NBC dismissed by judge
ORLANDO, Fla. - A Florida judge on Monday dismissed the defamation lawsuit filed by George Zimmerman against NBC and three reporters, saying the former neighborhood watch leader failed to show the network acted with malice.
Judge Debra Nelson said the malice standard was appropriate because Zimmerman became a public figure after he shot 17-year-old Trayvon Martin in Sanford in February 2012, generating a national conversation about race and self-defense laws.
Zimmerman was acquitted last year for Martin's shooting. He said he shot Martin in self-defense when the teenager attacked him. Martin was black. Zimmerman identifies himself as Hispanic.
Zimmerman "voluntarily injected his views into the public controversy surrounding race relations and public safety in Sanford and pursued a course of conduct that ultimately led to the death of Martin and the specific controversy surrounding it," said Nelson, who presided over Zimmerman's criminal trial last summer.
In his lawsuit, Zimmerman said NBC's editing of a story on the shooting made it sound as if Zimmerman voluntarily told an operator that Martin was black. He was actually responding to a dispatcher's question about the Miami teen's race. Zimmerman said the broadcasts made him seem like a racist and exposed him to public ridicule and threats. He was seeking damages for emotional distress and mental anguish.
But Nelson said in her ruling that in March 2012 - the time period in which Zimmerman claims NBC defamed him - the network quoted family members and friends who emphasized that Zimmerman was not racist, reports the Orlando Sentinel.
The judge also reportedly noted that midway through Zimmerman's 911 call, Zimmerman pointed out Martin's race a second time, without prompting, and thus, the edits made by NBC were not material changes.
Zimmerman's attorney, James Beasley, was in depositions for another case Monday and didn't immediately respond to a request for comment.
NBC News spokeswoman Ali Zelenko said in a statement that the network is "gratified by the court's dismissal of this lawsuit, which we have always believed to be without merit."
Thanks for reading CBS NEWS.
Create your free account or log in
for more features.