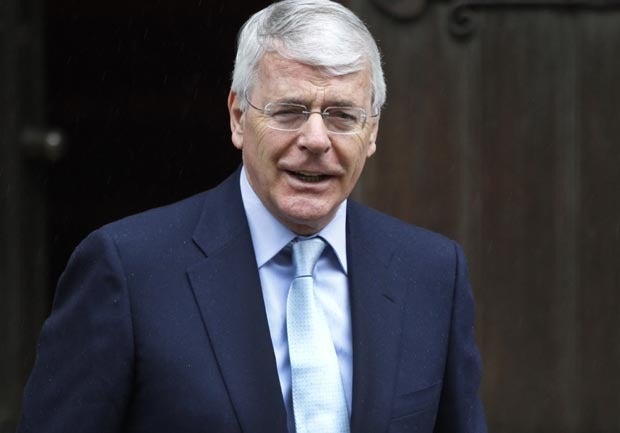 Former UK Prime Minister John Major says Rupert Murdoch tried to change government policy
(AP) LONDON - Former British Prime Minister John Major said Tuesday that Rupert Murdoch tried to influence his government's dealings with the European Union, even hinting that the politician could lose the support of the media mogul's newspapers if he didn't change direction.
Major was testifying before Britain's inquiry into media ethics, which was set up after it emerged that reporters at a major Murdoch tabloid had hacked into the voicemails of people in the news.
The scandal has since mushroomed, engulfing political leaders criticized as having too-cozy links with the media tycoon.
Gordon Brown: UK press confusing fact with opinion
Tony Blair: I ducked fight with U.K. media
U.K. TV host: Piers Morgan told me how to hack
Cameron, ex-PMs to testify in U.K. hacking probe
Major, the Conservative Party premier from 1990 to 1997, said Murdoch had made his views clear at a private dinner in February 1997, three months before the general election.
The ex-premier said Murdoch had not directly told Major to change his policies, but "made it clear that he disliked my European policies which he wished me to change. "
Murdoch said his newspapers would not support the Conservative government unless it changed direction, Major said
"So far as I recall he made no mention of editorial independence but referred to all his papers as `we,"' Major added.
Major's term in office was dominated by Europe — the British pound crashed out of a European currency exchange rate setting mechanism in 1992, and Major frequently had to fight his own party over how involved Britain should be with the European Union.
Shortly after the dinner, Murdoch's two main newspapers, News of the World and The Sun, backed Tony Blair's Labour party in the 1997 general election, which ended Major's rule.
Leveson Inquiry witness list: week of June 11
Blair and his successor Gordon Brown have also testified at the inquiry about their relationship with Murdoch's empire. Brown said Monday that Murdoch's papers had undermined the British war effort in Afghanistan.
The phone-hacking scandal that began with revelations about Murdoch's now-defunct News of the World has triggered three police investigations that have resulted in more than 40 arrests.
Thanks for reading CBS NEWS.
Create your free account or log in
for more features.