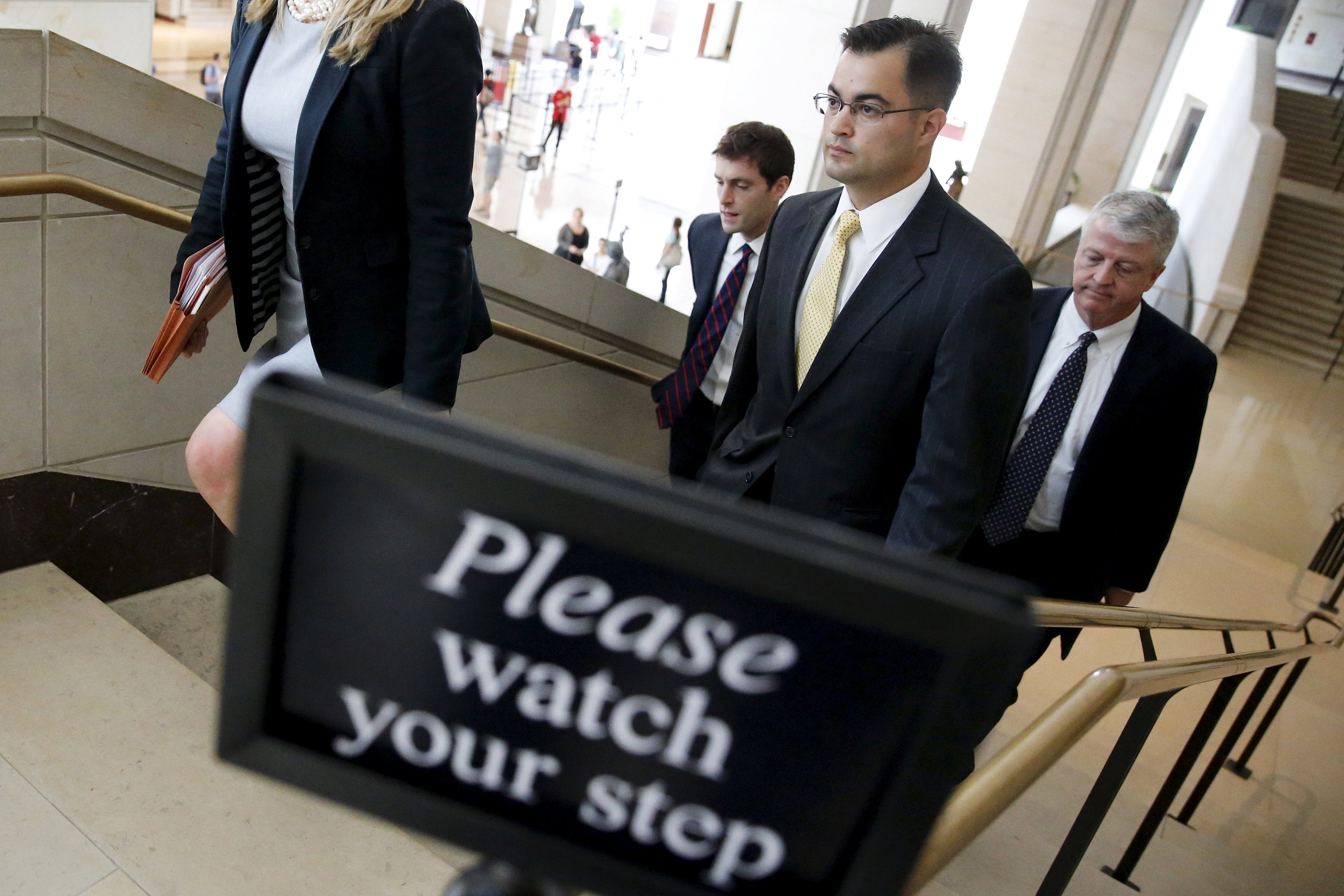 Former Clinton IT staffer Bryan Pagliano pleads the Fifth
Bryan Pagliano, a former Hillary Clinton staffer who installed and maintained the family's private email server, invoked the Fifth Amendment on Thursday during his appearance before the House Select Committee investigating Benghazi.
Pagliano was subpoenaed in August to testify before the Republican-led panel for his role in Hillary Clinton's State Department as an IT professional. He informed committee officials in a letter earlier this month that he would assert his Fifth Amendment rights and refuse to answer questions that could incriminate him.
On Thursday afternoon, Pagliano spent about 20 minutes inside a small room meeting with committee members. The panel had prepared 19 pages of questions to ask the former Clinton IT aide, who was personally paid by the family for the upkeep of the private server.
After Pagliano left the closed-door session, ranking member Elijah Cummings, D-Maryland, joined by committee chair Trey Gowdy, R-South Carolina, spoke to reporters.
Democrats on the committee repeated a refrain that calling Pagliano to testify was simply a political ruse.
""First of all I don't think he has any information about Benghazi. This is the IT guy," Cummings said Thursday. "It's been clear that he has -- he was dragged in here today and the reason being, again, politics."
Chairman Gowdy, however, said that Pagliano could potentially provide clarity to some still-unanswered questions, including who was in charge of sifting through all Libya-related emails stored on Clinton's server.
The committee head added that "the House has remedies that it could pursuer because of what happened today."
Pagliano's decision to plead the Fifth has prompted some Republicans to consider offering him immunity to compel his testimony, including Sens. Chuck Grassley, R-Iowa, and Ron Johnson, R-Wisconsin, who suggested that option last week. Pagliano's attorneys have said he would testify if immunity were given.
In the wake of softening poll numbers, Hillary Clinton said earlier this week that she was "sorry" for using a separate server, admitting that it was a mistake.
Two other Clinton aides, Jake Sullivan and Cheryl Mills, both testified in front of the committee last week.
Close Clinton confidante Huma Abedin is scheduled to appear before the committee before the former secretary herself appears on October 22.
Thanks for reading CBS NEWS.
Create your free account or log in
for more features.