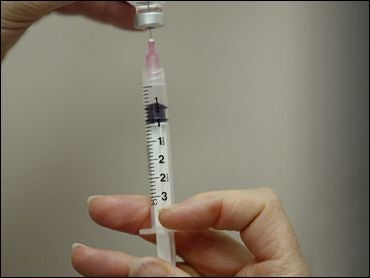 Flu Shot Shortage Tests Ethics
Who should get the flu shot first: A sick nursing home resident or a toddler? A pregnant woman or a jail inmate with AIDS?
Those are the choices health officials across the country are struggling with as the government doles out the nation's short supply of flu shots. The decisions are so daunting that federal health officials are consulting medical ethicists to help come up with clearer guidelines for the future.
But ultimately, it's up to cities, counties and states to decide.
In Sacramento, Calif., flu shots are going first to the chronically ill elderly in nursing homes, followed by health care providers of patients with compromised immune systems. The few shots in Troy, North Carolina, are being saved for the elderly and pregnant women.
In Larimer County, Colorado, shots go first to nursing home residents and staff, high-risk children under 9, and, if there's any vaccine left, jail inmates with HIV.
New Jersey Gov. James E. McGreevey this week signed legislation that would fine health care providers who give the shots to people at low risk for flu complications $500. A handful of other states impose a range of penalties, including jail time, for such actions.
Illinois officials have located 200,000 more doses of flu vaccine in Europe, but the state still hasn't received federal approval to import those or any other supplies of vaccine they have tracked down on the international market. There was no word when the Food and Drug Administration might make its ruling.
State health officials "have been dealing with a lot of ethical issues," said Dr. Jody Hershey of the National Association of County and City Health Officials, which has been monitoring the vaccine shortage along with the Centers for Disease Control and Prevention.
"They've been questioning whether to send shots to nursing homes or whether to keep them for community health clinics."
There just isn't enough vaccine to go around. Only 61 million doses are available this season, including a nasal vaccine appropriate only for healthy people. But 98 million people, including 9 million children — some of whom should get two flu shots for it to be effective — need the vaccine.
Some Americans are going to Canada, where there's enough vaccine, to get their shots, including taking a "flu cruise."
Ever since the Victoria Clipper announced its flu shot special — $105 round trip, including the shot — phones have been ringing off the hook, reports CBS News Correspondent Hattie Kauffman.
The high-risk groups include people who are most likely to suffer severe complications or death from the flu, such as babies and toddlers ages 6-23 months; anyone 65 years or older; anyone with chronic medical conditions such as heart or lung disease; pregnant women; residents of long-term care facilities; children on chronic aspirin therapy; health workers who care for high-risk patients; and caregivers and household contacts of babies under 6 months.
There's no clear answer as to which of those groups should get the flu shot first. The CDC and its Advisory Committee on Immunization Practices want each community to make those decisions.
Meanwhile the CDC is working on the best way to target the remaining vaccine "in the most equitable way possible," Gerberding said.
Luckily, the flu season seems to be off to a slow start.
Gerberding also told a panel of the nation's top flu experts and CDC officials that this year's flu shot seems to be a good match to the strain of the virus most likely to affect Americans.
"I think we're off to a good start in fighting the flu this season," Gerberding said, adding that there is no way to predict whether the flu season will be mild or severe.
The CDC's Dr. Lance Rodewald said a panel of four medical ethicists are discussing ways to set guidelines for similar kinds of crises in the future.
"At some point, we run out of evidence and may have some decisions to make" as health officials, Rodewald said. "Equity is something on a lot of people's minds."
A survey by Hershey's organization has found varying applications of CDC recommendations on who should get the shot. Nursing home residents have the top priority in Fargo, North Dakota, and Douglas County, Oregon. Residents in Longmeadow, Massachusetts, like those in Bloomfield, New Jersey, will line up to try to win a flu shot in a lottery for people at high-risk.
Health officials and flu shot makers initially planned this season on having more than 100 million doses, the biggest supply ever. But earlier this month flu-shot maker Chiron Corp. announced it could not ship its 48 million doses after British health officials suspended the maker's license because of contamination problems with the company's Liverpool plant.
Each year, the flu hospitalizes about 200,000 people and kills on average 36,000 people in the United States, the CDC says.

Thanks for reading CBS NEWS.
Create your free account or log in
for more features.