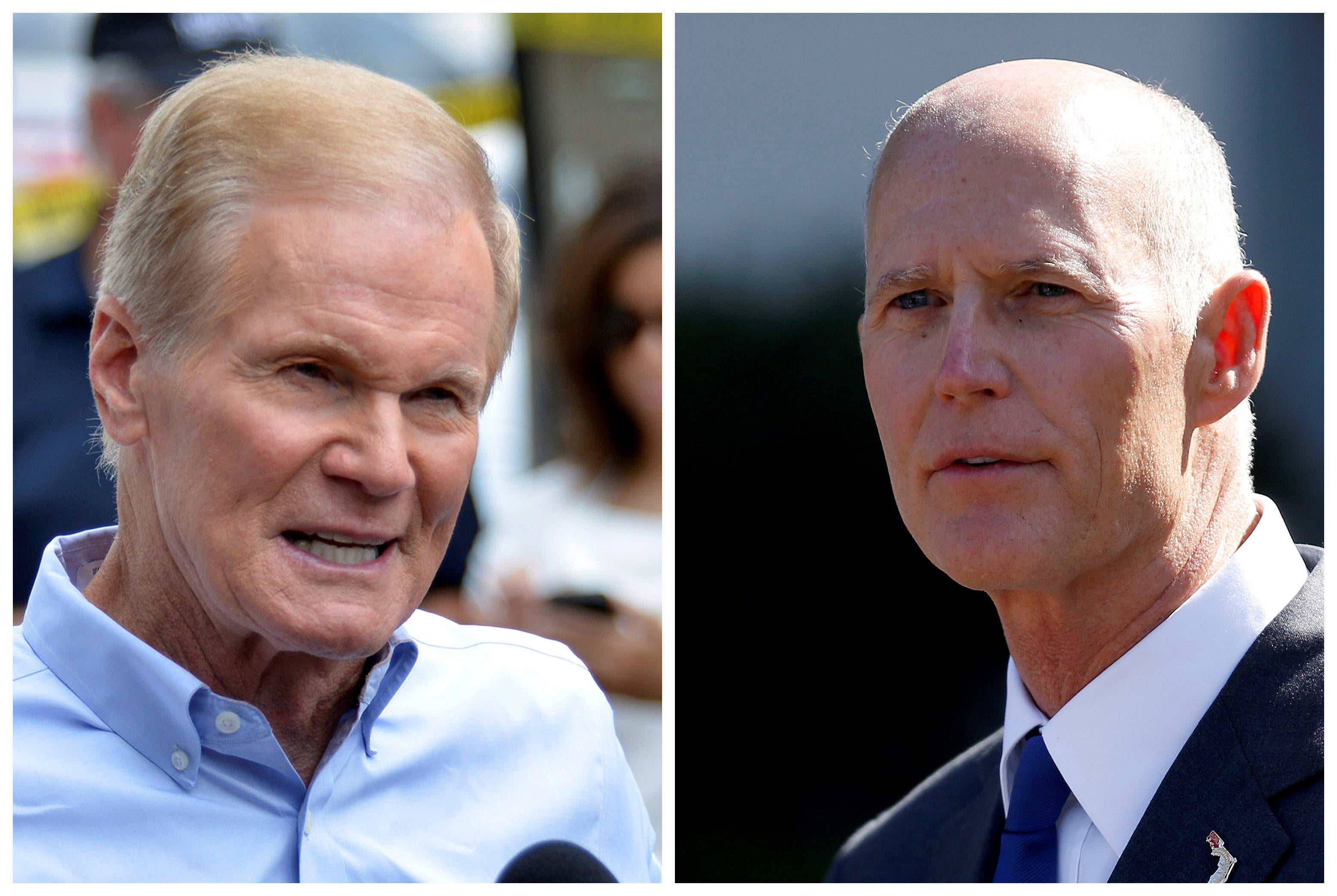 Florida official orders recounts in Senate, governor races
The Florida secretary of state is ordering recounts in the U.S. Senate and governor races, an unprecedented review of two major races in the state that took five weeks to decide the 2000 presidential election.
Secretary Ken Detzner issued the order on Saturday after the unofficial results in both races fell within the margin that by law triggers a recount.
The unofficial results show that Republican former U.S. Rep. Ron DeSantis led Democratic Tallahassee Mayor Andrew Gillum by less than 0.5 percentage points, triggering a required machine recount of ballots.
Gillum told reporters Saturday that he's not conceding yet, although he had said he was conceding on Tuesday night.
"I am replacing my words of concession with an uncompromised and unapologetic call that we count every single vote," Gillum said. "We count every vote and I say this recognizing that my fate in this may or may not change. What I do know is that every single Floridian who took time to go out, to cast their vote, to participate in this process deserve the comfort of knowing that in a democratic society and in this process, every vote will be counted."
He went on to say he's prepared to accept any outcome of the election as long as every vote is counted.
DeSantis thanked the elections workers and ignored the recount now underway. "With the election behind us, it's now time to come together as a state as we prepare to serve all Floridians," he said in a video statement. "Since Tuesday night, that is what I have been doing, that is what I have been doing, and that is what I will continue to do in the days and weeks ahead, as I prepare to take office as the 46th governor of the state of Florida."
In the Senate race, Republican Gov. Rick Scott's lead over Democratic incumbent Bill Nelson is less than 0.25 percentage points. This race, too, will be starting a machine recount. If, after that's finished, there remains margin of .25 perceent, election officials will begin a required hand recount of ballots from tabulation machines that couldn't determine which candidate got the vote.
Scott's campaign declared that he had already won the election, argued that the margin of 12,562 votes was insurmountable and urged Nelson to decline the recount.
"It's time for Senator Nelson to accept reality and spare the state of Florida the time, expense and discord of a recount," Scott campaign spokesman Chris Hartline said in a statement.
Nelson declined to end his bid and released a statement saying, "We have every expectation the recount will be full and fair and will continue taking action to ensure every vote is counted without interference or efforts to undermine the democratic process. We believe when every legal ballot is counted we'll win this election."
The ballot-counting issues are centered in Broward County and Palm Beach County, two populous counties that tend to vote Democratic. On Friday, Scott won two lawsuits -- one ordering the Palm Beach County elections supervisor to submit "over-voted" and "under-voted" absentee ballots to the Palm Beach County Canvassing Board for public review of each vote before they are counted. Over-votes are ballots in which the machines read that the voter may have selected more than one candidate, and under-votes occur when the machine does not register a vote on the ballot. The other lawsuit ordered the Broward County elections supervisor to release records of voter information.
Scott and President Trump have claimed without offering evidence that Democrats are tampering with the election. Mr. Trump wrote a tweet Saturday afternoon that seemed to allude to the recount, saying: "Trying to STEAL two big elections in Florida! We are watching closely!"
Jack Turman contributed to this report.
Editor's note: An earlier version of this story suggested that the Bill Nelson - Rick Scott Senate race would undergo a mandatory hand recount. However, there must be a machine recount first, and if, after that process is finished, there remains a margin of under 0.25 percent separating the two candidates, there would be a hand recount, The story has been updated to reflect this.
Thanks for reading CBS NEWS.
Create your free account or log in
for more features.