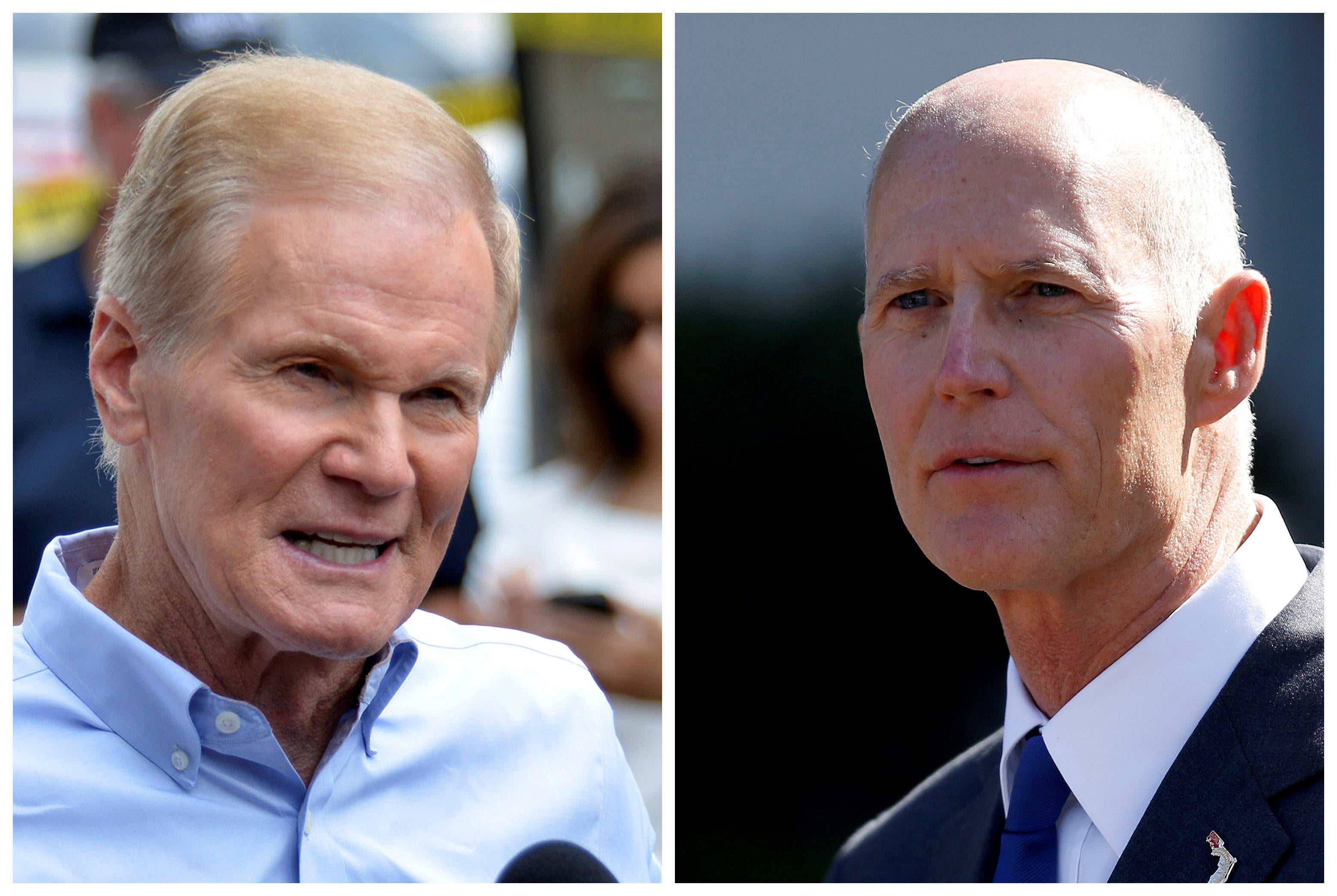 Broward County again at the center of turmoil in a Florida recount
As Florida heads towards a machine recount for the Senate and gubernatorial races, prominent Republicans are alleging voter fraud by Democrats trying to create new votes for their candidates. Republicans have not cited any evidence to back up their accusations, but both parties have expressed frustration with Broward County, whose beleaguered electoral system has been under scrutiny since ballot confusion played a major role in the 2000 presidential election.
"Every Floridian should be concerned there may be rampant fraud happening in Palm Beach and Broward counties," Republican Senate candidate Rick Scott said in a press conference Thursday evening. Scott is currently 15,000 votes ahead of incumbent Democratic Sen. Bill Nelson. "I will not sit idly by while unethical liberals try to steal this election from the people of Florida," Scott added, though he offered no proof to back up his claim.
President Trump has echoed Scott's ire on Twitter. "Law Enforcement is looking into another big corruption scandal having to do with Election Fraud in #Broward and Palm Beach. Florida voted for Rick Scott!" Mr. Trump wrote, referring also to Palm Beach County, which has also been slow in its vote-counting process.
Scott filed a lawsuit against Broward County Elections Supervisor Brenda Snipes on Thursday, claiming that Snipes is withholding information and should reveal how many ballots are left to count. He also filed suit against Palm Beach County Elections Supervisor Susan Bucher, and a West Palm Beach circuit court judge ruled in favor of Scott and granted an injunction ordering Bucher to submit "overvoted" and "undervoted" absentee ballots to the Palm Beach County Canvassing Board for an open and public review of each vote before they are counted.
Nelson filed a lawsuit Friday morning asking that the deadline for local election officials to file preliminary unofficial vote totals to the state be extended past noon Saturday, a deadline dictated by Florida law. If the margin between two candidates is half a percentage point or less by Saturday, the state must do a machine recount. Scott's campaign fired back in a statement.
"They aim to disenfranchise law abiding Florida voters by producing ballots out of thin air until they have enough to win," Scott campaign manager Jackie Schutz Zeckman said in a press release Friday, accusing Nelson's campaign of "working on voter fraud."
In a statement on Friday afternoon, Nelson countered that Scott "is abusing the full force of his public office as governor to stop a complete and accurate counting of all the votes in Florida."
Broward County is at the center of the controversy in part because nearly 25,000 more votes were cast for governor than for the Senate, a discrepancy larger than the current margin between Nelson and Scott. The Broward County ballot was designed so that the Senate race appeared in the lower left-hand corner, below the instructions, spurring the theory that many voters missed the contest.
As of Thursday morning, thousands of ballots remained to be counted. Snipes claimed that this was because of the high volume of mail-in ballots which arrived before the deadline on Tuesday. Both Snipes and Bucher claim that few ballots remain to be counted, according to the Florida Sun-Sentinel. The Elections Canvassing Boards of Broward and Palm Beach Counties were set to meet Friday afternoon. New York Times reporter Patricia Mazzei captured video of protesters chanting "lock her up" about Snipes before the meeting in Broward.
Snipes has previously been accused of mismanaging elections, and a a circuit court judge ruled that Snipes broke federal and state law by too quickly destroying ballots from the August 2016 primaries earlier this year. She also was unable to explain why ballot counting was going so slowly, telling local reporters that it was because of Broward's large population, although Miami-Dade County has a similarly large population and had votes counted more quickly.
Mr. Trump has been fuming over the situation in Florida, hinting at unsubstantiated allegations of voter fraud on the parts of Democrats, and on Friday tweeted a threat of federal intervention -- that he is "sending much better lawyers" than the Democrats have "to expose the FRAUD!"
"As soon as Democrats sent their best Election stealing lawyer, Marc Elias, to Broward County they miraculously started finding Democrat votes. Don't worry, Florida - I am sending much better lawyers to expose the FRAUD!" he tweeted on his way to Paris to celebrate Armistice Day.
Moments before that tweet, the president — who might interact with Russian President Vladimir Putin in Paris this weekend — appeared to mock allegations of Russian meddling in the 2016 presidential election as he questioned why people are "just now finding votes in Florida and Georgia."
"You mean they are just now finding votes in Florida and Georgia – but the Election was on Tuesday? Let's blame the Russians and demand and immediate apology from President Putin!" he tweeted.
He continued to tweet about Broward County specifically on his flight to France. "Mayor Gillum conceded on Election Day and now Broward County has put him "back into play." Bill Nelson conceded Election - now he's back in play!? This is an embarrassment to our Country and to Democracy!" Mr. Trump tweeted. Nelson actually did not concede to Scott, but Democratic gubernatorial candidate Andrew Gillum did concede to Republican Ron DeSantis on election day. A concession is largely symbolic and not legally binding.
"In the 2016 Election I was winning by so much in Florida that Broward County, which was very late with vote tabulation and probably getting ready to do a "number," couldn't do it because not enough people live in Broward for them to falsify a victory!" Mr. Trump said in another tweet. In 2016, Broward's electronic voting system was later found to have been targeted by Russian government hackers, although it's unclear if that had an effect on election results.
When CBS News' chief White House correspondent Major Garrett asked Friday morning — before the president suggested he'll send lawyers down to Florida — whether the federal government will get involved, the president said that "could be." Mr. Trump blasted the records of Broward County in particular, saying they're "finding votes out of nowhere" now.
"Well it could be because if you look at Broward and Palm Beach to a lesser extent, if you look at Broward County, they have had a horrible history," the president told reporters on the White House South Lawn.
"And Rick Scott who won by, you know it was close, but he won by a comfortable margin, every couple of hours it goes down a little bit," he added.
Mr. Trump has raised the possibility of voter fraud in the past, after the 2016 elections, creating an entire commission to investigate it nationwide. The president ultimately disbanded the commission, which issued a report suggesting voter fraud is not nearly as widespread as the president claims.
Thanks for reading CBS NEWS.
Create your free account or log in
for more features.