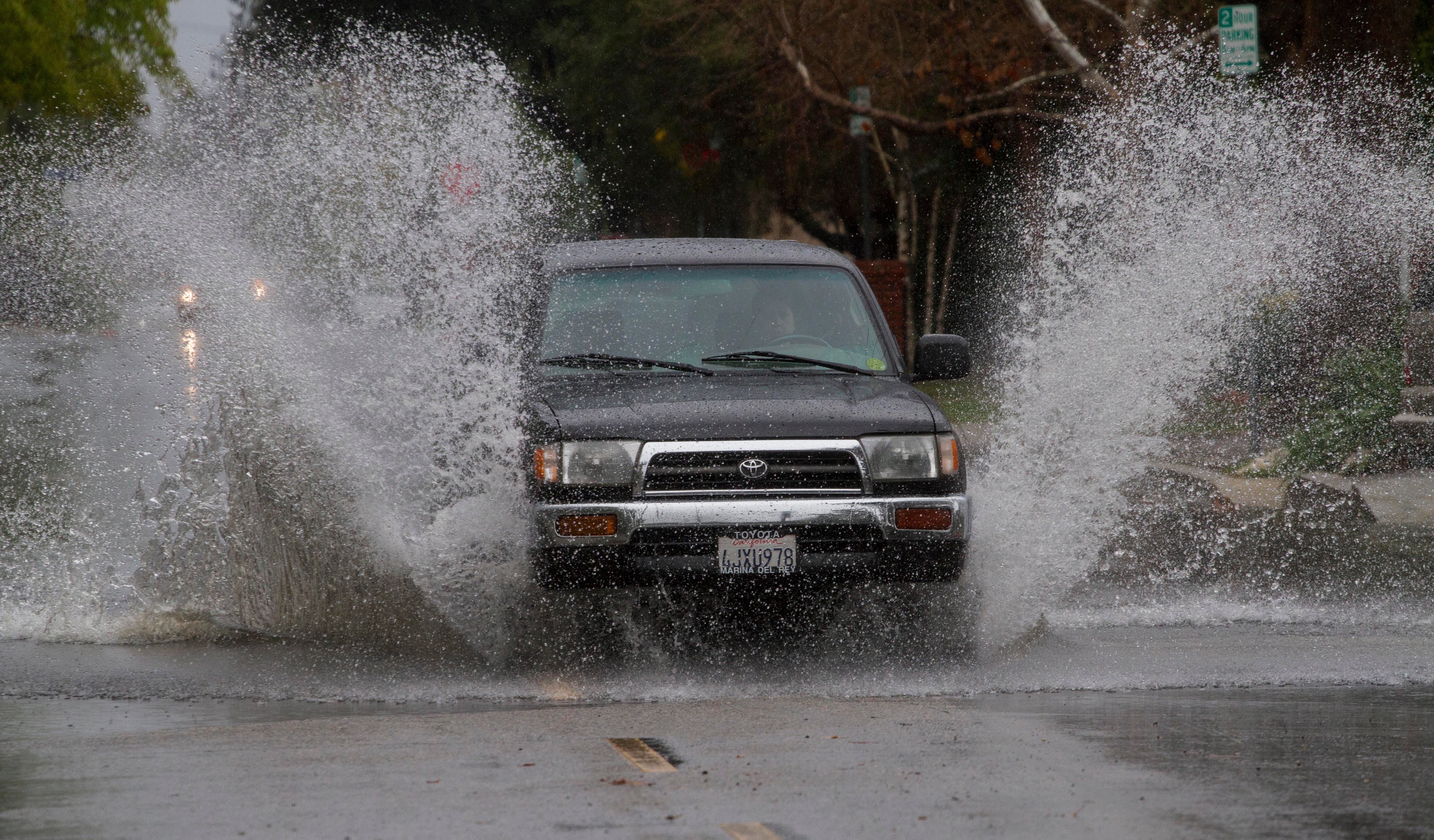 Flooding, evacuations, scenes of disaster as Pacific Storm pounds Southern California
GLENDORA, Calif. -- A deadly Pacific storm, the biggest to hit the area east of Los Angeles in nearly three years, flooded streets with mud and debris Friday.
Most areas are expecting to see anywhere from 2 to 4 inches of rain before the storm moves out Saturday night, inundating a region that has been suffering from a drought. In the foothills of Glendora, the rain fall could top 7 inches.
At times, the rain came down at up to an inch an hour, turning streets into muddy streams and creating scenes of disaster. Two men and their dogs had to be rescued from the raging L.A. River as the water was rapidly rising. On a rain soaked freeway, the driver of a truck was thrown through the windshield and killed when he crashed on an overpass.

City crews are trying to quickly clear the messy streets to prevent storm drains from clogging.

In San Jose, they warned homeless people to clear creek beds before the storm surge. More than 1,000 homes are under mandatory evacuation in hillside towns threatened by mudslides. Those who chose to stay were told they are on their own.
"I repeat, we cannot go into moving mud and debris and risk our personnel to get to you and your homes," said L.A. County Assistant Fire Chief Steve Martin.

"We're going to have to wait until it stops."
Some of the debris coming down the hills is still smoking from a wildfire here last month.
"This is not really mud, it's the sludge from the fire," said Ed Heinlien, whose basketball court was full of it, and it was creeping closer to his house. He fears the hillside may not hold.
"It looks small but it's huge and all that is gonna come down on these 10 homes here and wipe out Rancho Vasquez. That's the worst case scenario."
Downtown Los Angeles is expected to get almost as much rain from these storms as it did all of last year. The problem is that when the rain comes as hard and as fast as it has, the city's drainage system washes nearly 90 percent of it into the Pacific Ocean, and creates a mess.

The irony is that the heavy rain is hitting an area that has been in desperate need of precipitation. CBS News talked to one homeowner who could end up with mud in his house.

He said that the area needs the rain, so he's willing to take one for the team.
Thanks for reading CBS NEWS.
Create your free account or log in
for more features.