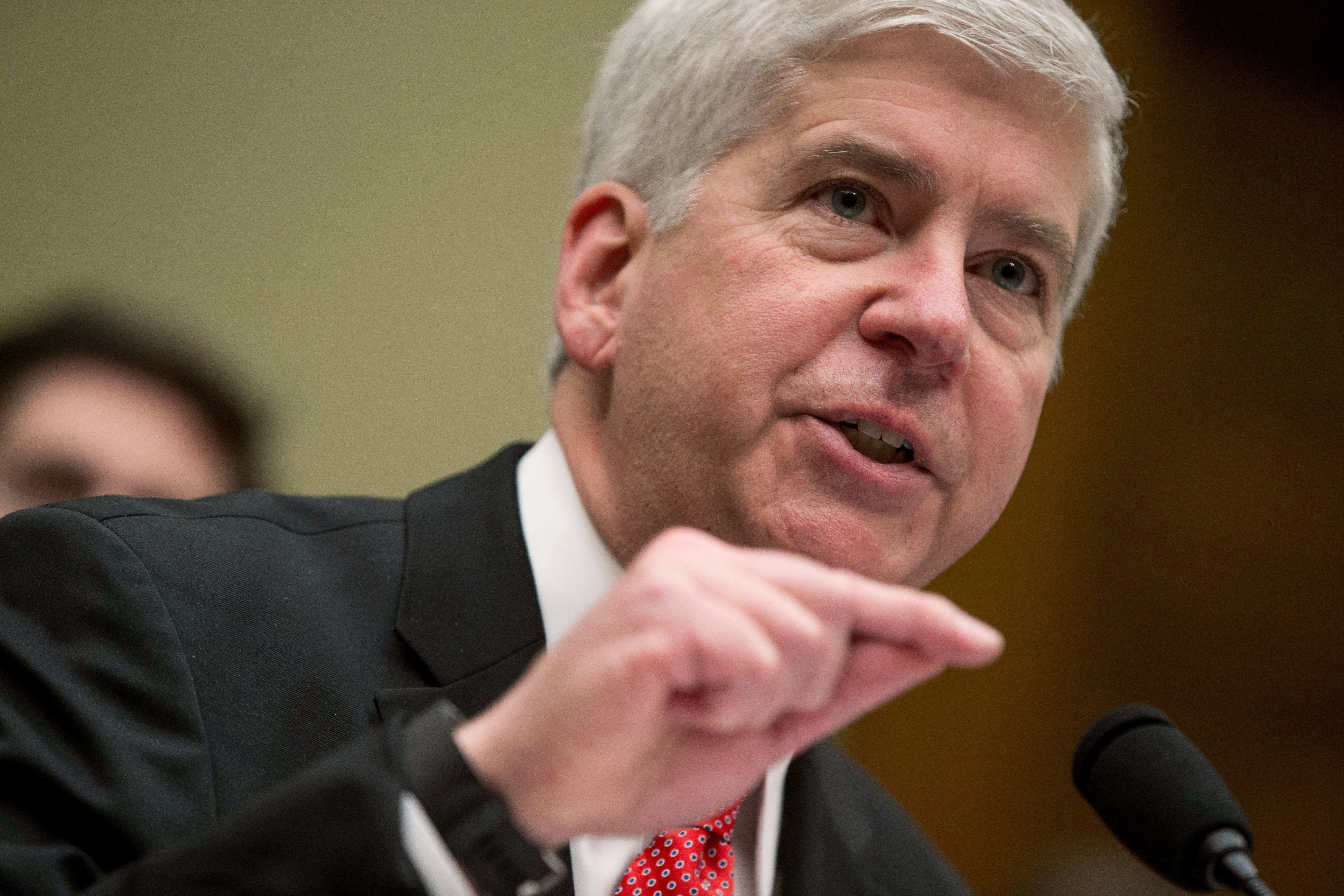 Here's how Michigan governor plans to fix Flint water crisis
LANSING, Mich. -- Michigan Gov. Rick Snyder says new comprehensive action plans will help resolve Flint's lead-tainted water crisis in the coming years.
Snyder on Monday announced the plans to improve public health, deal with old infrastructure, support educational services and boost employment.
Plans include replacing drinking water fixtures, replacing some lead service lines, boosting health and educational resources and developing new home mortgage options for the city. Some of the shorter-term steps announced already are taking place.
The Republican governor says in a statement that Michigan is "committed to addressing immediate concerns and finding long-term solutions to improve the quality of life for the people of Flint."
The announcement follows Snyder's testimony last week in Washington, where he came under intense questioning by Congress about the crisis.
Genesee County wants the state of Michigan to give it more than $1 million as reimbursement for money the county spent in response to the water crisis.
The county's board of commissioners sent a letter Monday to Snyder demanding to be reimbursed, arguing the water emergency was man-made.
At a news conference Monday in Flint, county board Chairman Jamie Curtis said that, to date, the county has spent more than $1.1 million to remediate and mitigate the effects of the water emergency.
Curtis says the county needs the money as soon as possible so it doesn't have to lay off workers and to maintain its bond rating.
Meanwhile, Flint Mayor Karen Weaver issued an update Monday on her "Fast Start" program, saying crews are expected to replace lines at two houses a day through the end of March if weather permits.
The first line was replaced with a new copper line under the program earlier this month, two are expected to be replaced on Monday and other homes getting replacements have been identified.
Weaver said in a statement that: "Now that the homes have been identified and the permits are secured, crews can get to work replacing more pipes."
The goal of the program is to replace thousands of lead-tainted service lines in the city. She says galvanized steel lines also will be replaced.
The beginnings of the lead problem can be traced to shortly after April 25, 2014, when former Flint Mayor Dayne Walling flipped a switch -- moving the city's water supply from Detroit to its own system, where the main water source was the Flint River.
"Not a day or night goes by that this tragedy doesn't weigh on my mind," Snyder told members of the House Committee on Oversight and Government Reform last week.
Thanks for reading CBS NEWS.
Create your free account or log in
for more features.