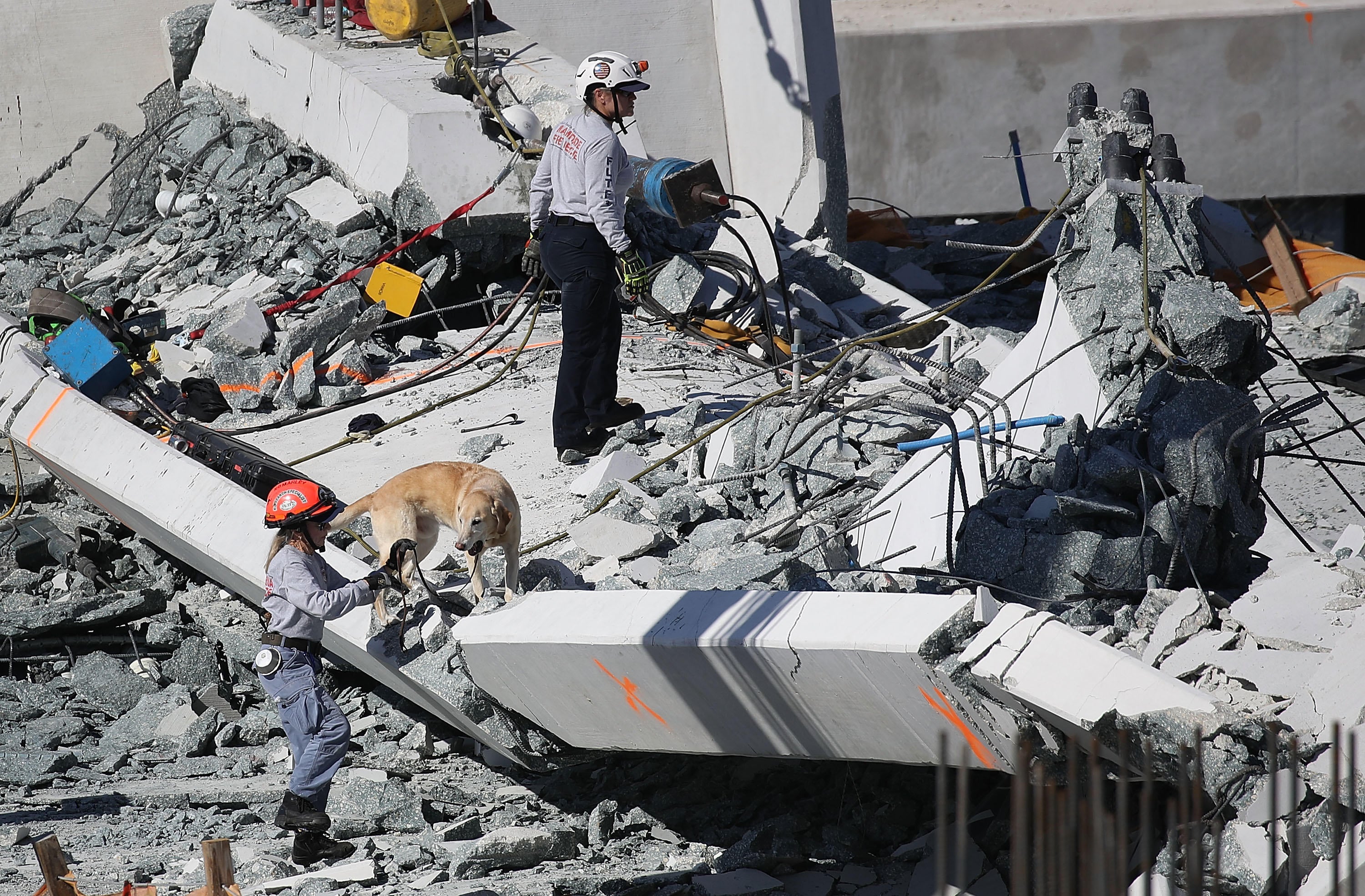 Firms behind construction of collapsed Miami bridge have history of safety complaints
A special construction method was used on the pedestrian bridge that collapsed in Florida on Thursday, killing several people. The method is known as "accelerated bridge construction," and it's meant to minimize traffic disruption and maximize safety.
But CBS News has learned that two firms involved in the construction have been accused of unsafe practices in the past.
This past Saturday, it was a moment of celebration for Florida International University (FIU) when the pedestrian bridge was put into place. FIU posted a time-lapse video showing of the event.
"This is a dream come true for our university," FIU president Mark Rosenberg said.
Rosenberg hailed the design of the bridge. It was supposed to last 100 years and be able to withstand a Category 5 hurricane. At 174-feet long and 950 tons, the main span of the bridge was lifted from its temporary supports and rotated 90 degrees across eight lanes of highway. It would become the largest pedestrian bridge moved this way in U.S. history.
Munilla Construction Management (MCM) -- a federal military contractor for the U.S. Army and Navy -- partnered with the FIGG Bridge Group to complete the bridge. FIGG has contracts with the Kennedy Space Center and NASA.
MCM'S president Jorge Munilla was full of pride Saturday because of the quick installation of the span.
"On Friday morning, we closed 8th Street and there was no bridge," Munilla said. "And on Monday morning the bridge will be in place."
But just 10 days ago, the company was sued in South Florida by a TSA employee who was hurt at the Fort Lauderdale airport. The employee's lawyer alleges that a makeshift bridge MCM built for workers to use while the company does construction at the airport broke under his weight.
As for FIGG, a 90-ton portion of a bridge the company was assembling in Virginia in June 2012 fell apart while under construction. The Virginian Pilot reports four workers were hurt and that state regulators fined FIGG $28,000 for safety violations saying it was "pure luck no one was killed."
Both MCM and FIGG said they will cooperate with investigators on the scene. FIGG added they are stunned, and that in their 40-year history nothing like this has ever happened before. Workers at the scene report that Thursday the bridge was reportedly undergoing some sort of stress test.
Thanks for reading CBS NEWS.
Create your free account or log in
for more features.