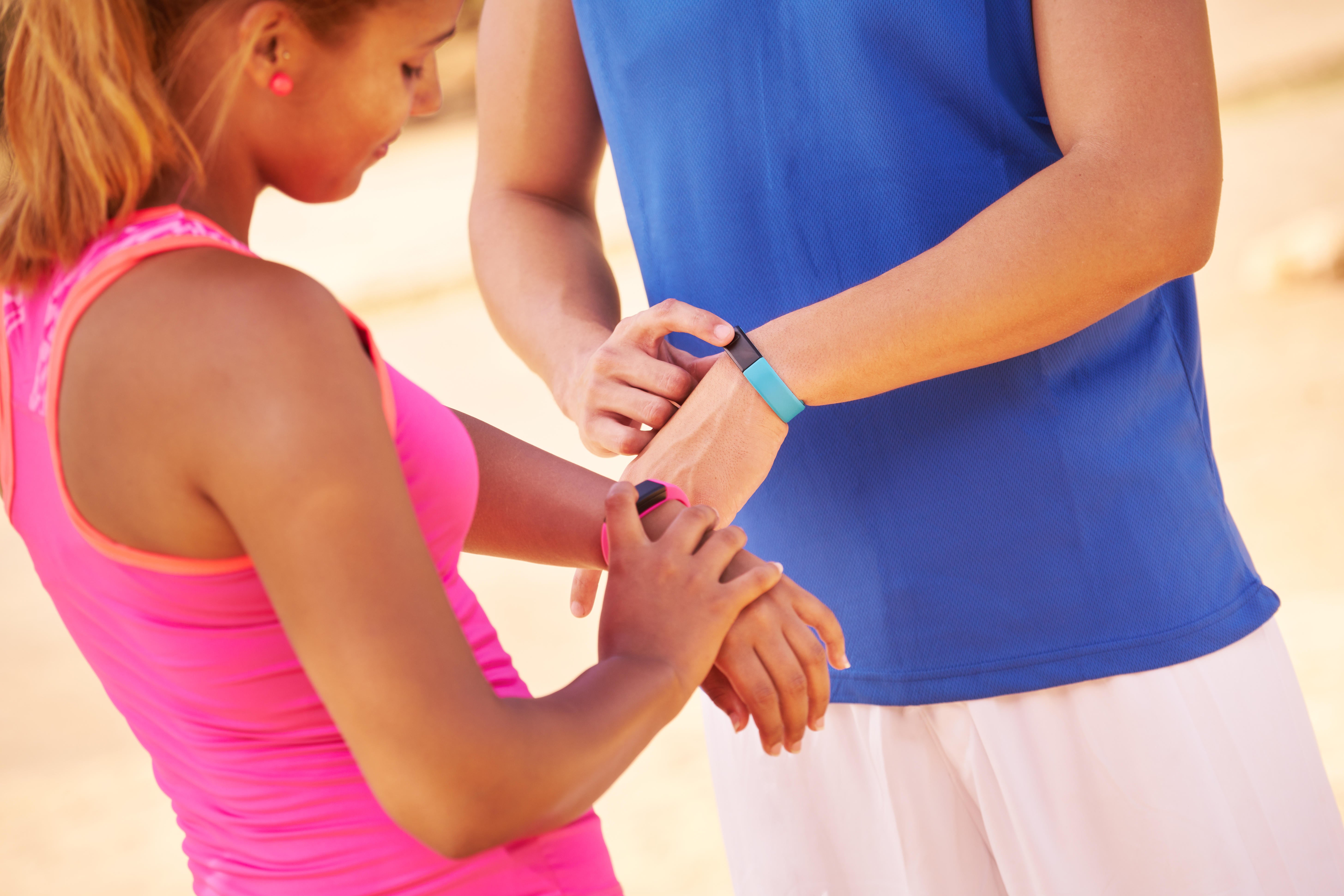 Will a fitness tracker really help you lose weight?
If you got a fitness tracker to keep tabs on your diet and exercise to help you lose weight, and were disappointed by the results – you're not alone. A new study suggests the devices don't improve weight loss for many people.
In fact, overweight young adults who did not use fitness trackers during a two-year weight loss study dropped more pounds than those who did use them, report researchers from the University of Pittsburgh.
The study, published in the Journal of the American Medical Association, included 471 people – about three-quarters of them women – ages 18 to 35 who were all overweight. For the first six months of the study, they followed a low calorie diet​​, got regular exercise and attended weekly group counseling sessions to help support their efforts.
At six months, everyone in the program started receiving telephone counseling sessions, text messages with motivational advice and access to online support. Weekly group sessions were reduced to once-a-month meetings.
At the same time, half the participants were randomly placed in an "enhanced" group and given a wearable device​ that helped them monitor diet and exercise. The device could be synced up to their computers where they could see their progress – or lack of it – as the weeks and months went by.
The device used was called BodyMedia and was purchased and renamed by Jawbone after the study was launched. Participants wore it on their upper arms, said study author John Jakicic, director of the Physical Activity and Weight Management Research Center at the University of Pittsburgh.
"Based on information from other studies, we knew people would wear the technology. It provides information on steps​, on your physical activity​, and it's pretty accurate information on your energy expenditure – how many calories you're burning in the day. Then it had an interface that allowed you to go online and see things in a much more detailed way. You could also track nutrition with it, what you're eating, and it would prompt you, hey you haven't eaten breakfast today," Jakicic told CBS News.
He said about three-quarters of the participants made it all the way through the 24-month study, and that he and colleagues were surprised by the results: it turned out people in the fitness-tracker group actually lost less weight than the others.
The participants who followed the standard program lost an average of 13 pounds, starting at an average weight of 210 pounds and ending up at about 197. The device-wearing "enhanced" group, by comparison, lost an average of 7.7 pounds, going from an average starting weight of 212 pounds at the beginning of the study to 205 pounds by the end.
"We went in with the hypothesis that they would do better – that it [the device] would help us improve their outcomes. We were a little bit surprised," said Jakicic, who is also a distinguished professor and chair of the Department of Health and Physical Activity.
"So we stepped back and said wait a minute, maybe these devices​ aren't as effective for everyone. Anecdotally, after a few months people start to find these devices less useful. They become stagnant. It lasted about 12 weeks and then lost its luster. Sometimes between three and maybe six months they used them less and less​," said Jakicic.
Both groups had significant improvements in the ratio of muscle to body fat, fitness, physical activity and diet, with no significant difference between groups, the authors noted.
The findings may an explain why other studies have indicated that fitness trackers often end up being given away or dumped in a drawer. An editorial published last year in the Journal of the American Medical Association suggested that more than half of the people who buy fitness trackers eventually stop using them – about one-third giving up on their devices after about six months.
Dr. Reshmi Srinath, assistant professor of endocrinology, diabetes and bone diseases at the Icahn School of Medicine at Mount Sinai in New York, runs a weight loss program. She told CBS News she was also surprised by the results of the new study.
"I think it's really interesting because in my experience, most of the patients I've had are very motivated to lose weight and use wearable devices such as the Fitbits and online programs like My Fitness Pal and most have been successful and have had the best outcomes," said Srinath.
The study comes "at a really crucial time" she added. "We know there's more and more technology out there and the field is growing and growing. We need to do interventional studies."
Srinath also pointed out that most of the study's participants were female and a majority of them were white. The results might not be the same for everyone. "With every study, you want to get the maximum patients possible, but we have to interpret those results in a certain context. We may not be able to generalize it to the greater population," she explained.
Jakicic agreed more studies are needed. "There's so much more we need to understand."
The goal is to learn how to sustain healthy behaviors because for many people, current weight loss programs aren't doing the job.
"I think we need to build a better interface. We don't need a different device. The interface is what keeps you interested," he said. "We have engineers able to build these devices well, but we need to tie them strongly to clinical behavior professionals."
Thanks for reading CBS NEWS.
Create your free account or log in
for more features.