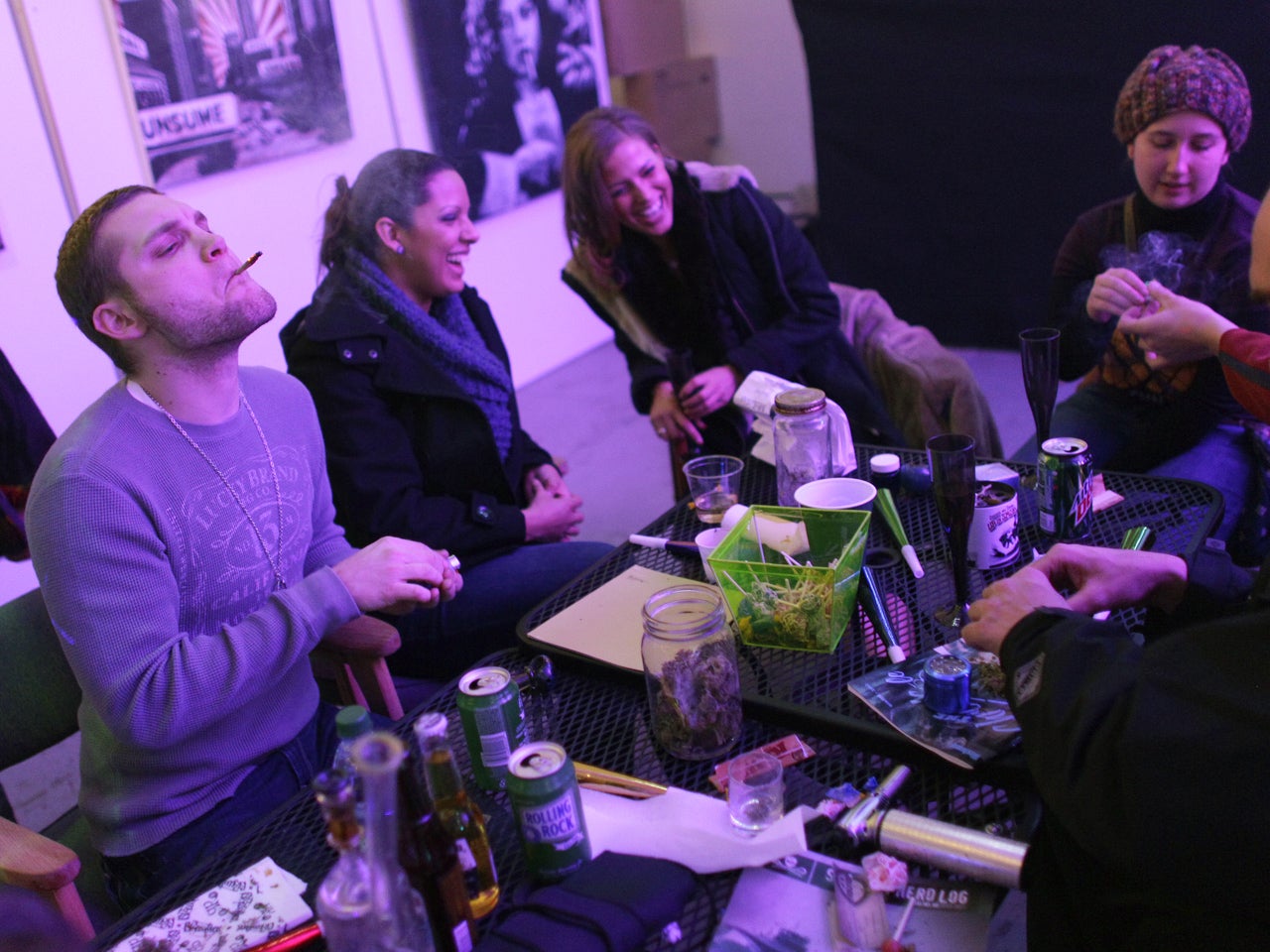 First private marijuana clubs open in Colorado
DENVER With reggae music pumping in the background and flashing disco-style lights, members of the recreational pot club lit up in celebration of the new year — and a new place to smoke legally among friends.
Club 64, in an industrial area just north of downtown Denver, opened at 4:20 p.m. on Monday, with some 200 people signed up. The opening came less than 24 hours after organizers announced they would charge a $29.99 admission price for the bring-your-own pot club.
"Look at this!" Chloe Villano exclaimed as the club she created over the weekend opened. "We were so scared because we didn't want it to be crazy. But this is crazy! People want this."
The private pot dens popped up less than a month after Colorado's governor signed into law a constitutional amendment allowing recreational pot use. Club 64 gets its name from the number of the amendment.
Two Colorado clubs were believed to be the first legal pot dens in the nation. The Denver Post reported that a similar pot club opened earlier Monday in the small southern Colorado town of Del Norte. However that club was quickly shutdown by the landlord of the building it was in, reports the Post.
Colorado's marijuana amendment prohibits public consumption, and smoke-free laws also appear to ban indoor smokeouts. But Club 64 attorney Robert Corry said private pot dens are permissible because marijuana isn't sold, nor is it food or drink.
Villano, the club owner, said the pot club would meet monthly at different locations, with the $29.99 membership fee good for only one event. On Monday, the pot club was meeting in a hemp-based clothing store near downtown. Hooded sweatshirts and backpacks were shoved to a corner. In the main area, a few small tables sat next to a screen showing "The Big Lebowski."
A bar decorated with blue Christmas lights handed out sodas and Club 64's official snacks — Goldfish and Cheetos. The snacks were inspired by Colorado Gov. John Hickenlooper, who warned marijuana users the night of the marijuana vote, "don't break out the Cheetos or Goldfish too quickly."
Corry said the pot clubs are intended for people who can't use marijuana at home because of local ordinance or because their landlords threaten eviction.
"It's just a place for adults to exercise their constitutional rights together," Corry said. "We're not selling pot here."
Among the new Club 64 members planning to ring in the New Year was Joe Valenciano of Denver. He heard about Club 64 a day ago and signed up immediately.
"We need more clubs like this," Valenciano said.
Thanks for reading CBS NEWS.
Create your free account or log in
for more features.