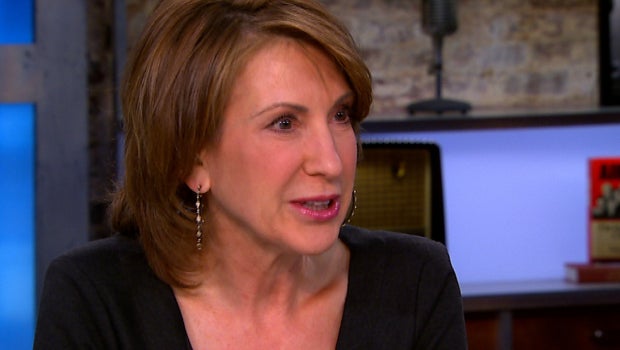 Fiorina: Rush Limbaugh's comments about student "insulting," "incendiary"
California Republican Carly Fiorina said Friday it is "insulting" for radio host Rush Limbaugh to call a student activist a "slut" and "prostitute" because she is pushing for employers to pay for contraception.
"That language is insulting in my opinion," said Fiorina, who launched an unsuccessful Senate bid against longtime California Democratic Senator Barbara Boxer in 2010, on "CBS This Morning."
"It's incendiary and most of all, it's a distraction. It's a distraction from what are very real and important issues," the former chief executive of Hewlett-Packard said.
At least one advertiser, The Sleep Train, has pulled its advertising from Limbaugh's radio show as a result of his comments.
"We don't condone negative comments directed toward any group. In response, we are currently pulling our ads from Rush with Rush Limbaugh," the mattress retailer said via Twitter.
Limbaugh has come under fire in recent days for comments he made Wednesday about Sandra Fluke, a Georgetown Law School student who had hoped to testify earlier this month in a House oversight committee hearing on the White House contraception rule.
Fluke, a women's health activist who says her friend lost an ovary due to lack of contraceptive care, was turned away from the hearing by Republican leadership, but told her story in a mock congressional hearing later in the month. In her testimony, Fluke largely discussed the high cost of contraception and the important medical benefits it can offer women.
Limbaugh on Wednesday called Fluke a "slut" and a "prostitute" on his radio show. He doubled down on the comments Thursday, saying he thought it was "hilarious" that the "left has been thrown into an outright conniption fit" as a result of the remarks.
"The reaction that they are having to what I said yesterday about Susan Fluke -- or Sandra Fluke, whatever her name is -- the Georgetown student who went before a congressional committee and said she's having so much sex, she's going broke buying contraceptives and wants us to buy them," Limbaugh said on his show. "I said, 'Well, what would you call someone who wants us to pay for her to have sex? What would you call that woman? You'd call 'em a slut, a prostitute or whatever.'"
Fluke, in her testimony, was making a larger point about her belief in the importance of providing women with free contraception, and stressed the "vital medical service" it provides to women in addition to birth control.

After Democrats urged House Speaker John Boehner to repudiate Limbaugh's remarks on Thursday, his spokesman released a short statement Friday calling Limbaugh's language "inappropriate." But the spokesman suggested Democrats were attempting to capitalize on the issue monetarily.
"The speaker obviously believes the use of those words was inappropriate, as is trying to raise money off the situation," Boehner spokesman Michael Steel in the statement.
On Thursday, Boehner had declined to comment on Limbaugh's remarks.
Fiorina, who opposes the White House rule on contraception, said she thought Limbaugh's remarks were "completely distracting."
"You know, the Senate had an important vote yesterday. There are some who are calling this a vote on a woman's right to choose and a woman's access to contraception. I think that's fundamentally backwards," Fiorina said. "This is a vote about protecting the conscience clause, which used to have broad bipartisan support. That's a hugely important issue in this country. So those kinds of comments are completely distracting."
In an interview with NBC on Friday, Fluke said she was "stunned" and "outraged" by Limbaugh's comments.
"I think my reaction was the reaction a lot of women have had historically when they've been called these types of names: Initially to be stunned by it, and then to quickly feel outraged and very upset," she said.
Thanks for reading CBS NEWS.
Create your free account or log in
for more features.