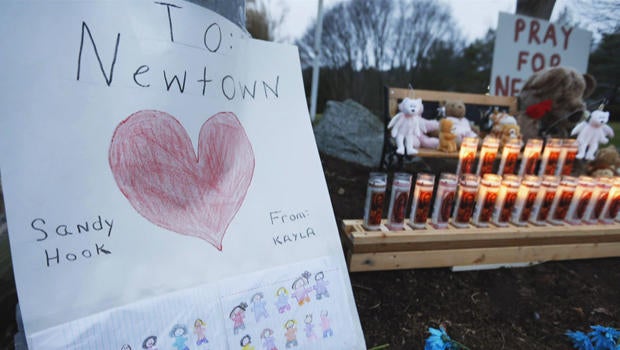 Fighting the Sandy Hook lies
A battle currently pits parents still mourning the loss of their children in the Sandy Hook school shooting against purveyors of the most mean-spirited and outlandish of myths. Our Cover Story is reported by Tony Dokoupil:
Six-year-old Jesse Heslin was looking forward to Christmas. "Every holiday was a special event for Jesse," said his dad, Neil Heslin.
David Wheeler's son, Benny, was also only 6 years old. Wheeler said, "Benny had a bit of a cold that morning, he woke up with the sniffles." But he went to school anyway.
In December 2012, a young man walked into Sandy Hook Elementary School, in Newtown, Connecticut, and opened fire.
"They were just little babies," said Heslin. "They were no more than babies. They had no self-defense, or knew what self-defense was."
Those are the facts of the story, and every day since then, the entire community of Newtown – and all 26 families who lost a child or a loved one – have slowly tried to move forward.
But Heslin and Wheeler are part of a small band of Sandy Hook families that feel they have no choice but to look back, to stare down an outlandish myth and the people who spread it.
For years the online provocateur Alex Jones and others have suggested that the shooting at Sandy Hook Elementary never actually happened … that it was staged, with paid "actors" including Heslin and Wheeler themselves, as well as dozens of other people. Residents, law enforcement and journalists … all actors.
And as for the children who died, the fiction argues they never lived in the first place.
Wheeler said, "For me personally, it has, in my more vulnerable moments, felt like a complete denial of my life. In my more vulnerable moments, it has felt like salt in the wounds. And it can take a big chunk out of your faith in humanity, if you let it."
Which is why, earlier this year, both fathers, along with other Sandy Hook families, filed lawsuits against Alex Jones, whom they feel is mainly responsible for spreading all these bogus stories.
"As Daniel Patrick Moynihan famously said 30 years ago, many times, repeatedly, 'You're entitled to your own opinions but not to your own facts,'" said Kurt Andersen. "He was kind of joking back then. And we've come to this place where many, many, many millions of people feel absolutely entitled to their own facts."
Andersen, the author of "Fantasyland: How America Went Haywire" (Random House), a history of delusional thinking in our country, says all sorts of unusual ideas took hold after the free-wheeling Sixties, such as "I can think what I want," or "What you say is true isn't my truth."
It then exploded with the rise of the internet.
"Suddenly, those hundreds and then thousands and then tens of thousands and then hundreds of thousands of people could find each other, recruit more people, set up websites, put out legitimate-looking arguments for these things," Andersen said.
But he says the "Sandy Hook deniers," as they're called, are a special breed, motivated, he thinks, by their own fears that a mass shooting of young children might result in stricter gun laws.
"If you had to point to a single reason why Sandy Hook in particular has become a focus of conspiracy theorists, what's the reason?" asked Dokoupil.
"It's guns," Andersen said. "If 26 people had been killed by a guy running them down with a car, it wouldn't have taken off the way this one did."
David Wheeler believes Andersen may be right. He said, "I don't remember exactly when this particular piece of mail came, but it was a simple envelope with a piece of ruled notebook paper in it. All they had done on this piece of paper was to transcribe the text of the Second Amendment. That's all they did."
Still, at first both fathers say they tried to laugh off the fake claims, even one suggesting Wheeler had not one but two roles in the massacre, playing both an aggrieved father and an FBI agent. Images showing two men, allegedly both Wheeler, were circulated online.
Dokoupil asked, "Have you seen the picture of you, split screen, with the FBI [guy]?
"Yes," he said. "Congratulations, you found two middle-aged, jowly, white guys in Fairfield County, Connecticut. Remarkable!"
Then last year, Neil Heslin went on television, he says, to directly address the Sandy Hook deniers. "I lost my son. I buried my son. I held my son with a bullet hole through his head," he said.
After which, the harassment only got worse. To hear Heslin tell it, that's because Alex Jones' falsehoods, shared with an audience estimated to be in the millions, got even more personal, and that became dangerous.
"I've had many death threats," Heslin said. "People say, 'You should be the ones with a bullet hole in your head.'"
Heslin said the lawsuit emphasizes his interest in putting an end to what has now become years of despair, made worse by the deniers labeling him a liar and his son a fake.
But when asked if he regrets giving the interview that led to the most recent round of denials by Jones, Heslin said, "No, I don't. I don't regret it. It's part of my story. It's part of Jesse's legacy, or his story, or his history. And it's a fact."
David Wheeler says his lawsuit was prompted by his belief that Alex Jones is profiting by his lies and fabrications. "That's when I thought, 'I have to do, we have to do something. As a society, collectively, we have to do something,'" he said.
"What about people like him? There's always another," said Dokoupil.
"Well, if there's another like him that tries to do the same thing using the same tactics, then he'll have to go away, too. We need to make sure that everyone understands that this is not okay. There are limits."
Floyd Abrams is a respected First Amendment lawyer, famed for defending The New York Times' publication of the Pentagon Papers. "This is a very tough case for Alex Jones to win," he said, "because what he has said is so appalling."
He says Jones may have gone beyond the protections of free speech, and the consequences may be severe.
Dokoupil asked, "If the fathers win, if the families win, how much money could somebody walk away with in a libel suit like this?"
"This is the sort of case in which a jury could say, 'We have to award vast amounts of money to punish him, and to tell other people that saying such things is simply unacceptable,'" Abrams replied.
"Do you think the outcome of these cases could put Alex Jones and Infowars out of business?"
"Whatever money they have and whatever the level of insurance they have, this is a deeply threatening case to persisting in their business," he said.
"Sunday Morning" asked Alex Jones' legal team to comment on this story. We got no response.
But since these lawsuits were filed, Jones seems to have changed his views on Sandy Hook.
Still, his rhetoric has gotten him kicked off every major social media platform. Apple has stopped offering his show, and most recently PayPal, which handles transactions for Jones' online store, has said, no more.
As for the Sandy Hook families, they're still trying to heal and go forward, guided by the memory of those they have lost, and something else, says David Wheeler: "The lasting lesson in all of this is that we are really only here for one reason," he said. "We are here to take care of each other. And that is the legacy of this town."
For more info:

Story produced by Mary Raffalli.
Thanks for reading CBS NEWS.
Create your free account or log in
for more features.