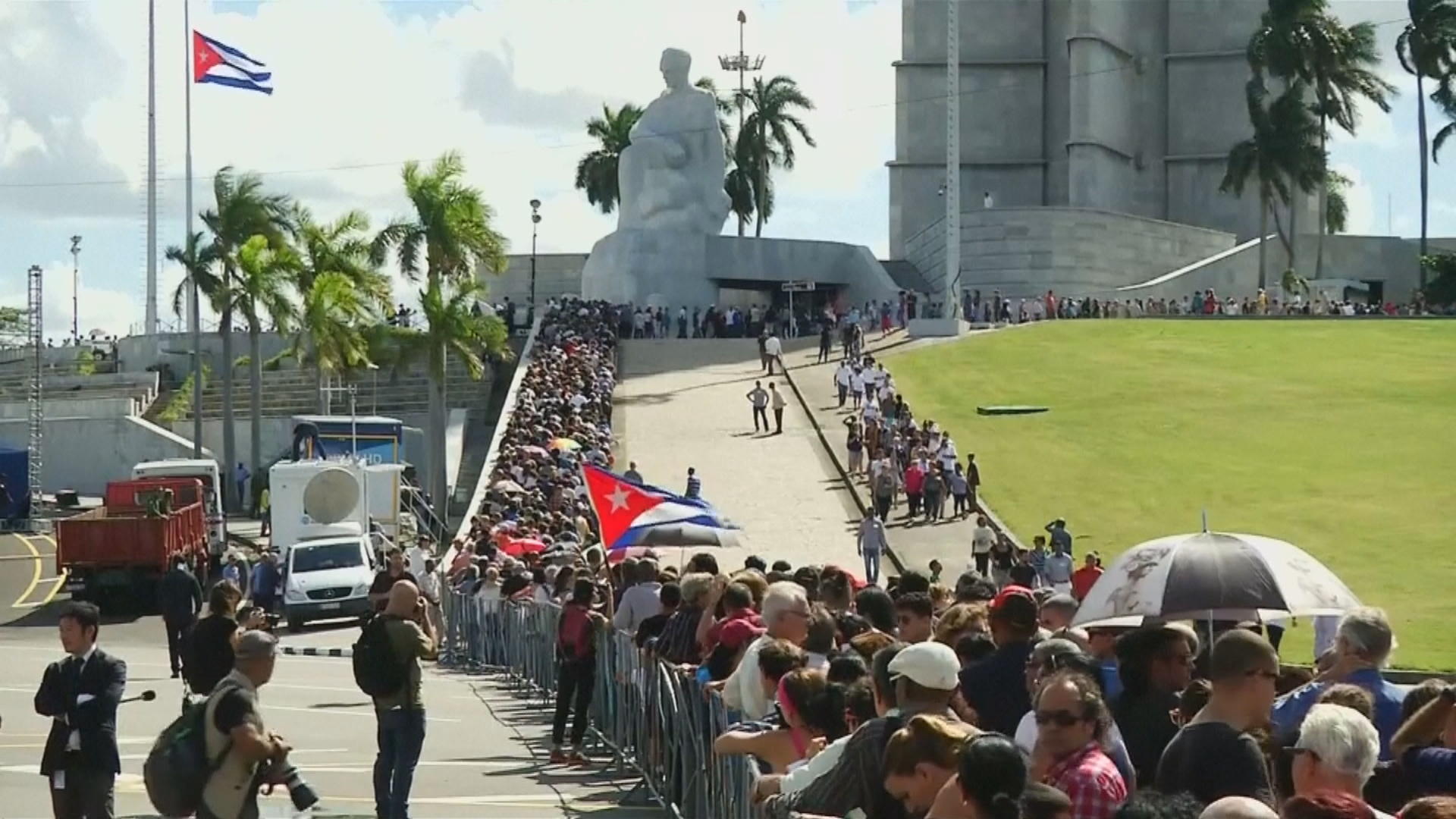 Hundreds of thousands of Cubans pay last respects to Fidel Castro
World leaders are arriving in Havana ahead of Tuesday night's rally to honor Fidel Castro. Spain's former king and the presidents of Mexico, South Africa, Nicaragua, Ecuador and Venezuela all plan to attend Castro's funeral.
During his nearly 50-year rule, massive crowds gathered on Revolution Square in Havana to hear Castro's thunderous speeches. Hundreds of thousands came here Monday to bid him farewell, and the crowds are expected to be even bigger Tuesday, reports "CBS This Morning" co-host Charlie Rose.
Hundreds of mourners remained well after the sun set on Revolution Square in Havana.
Fidel's brother and Cuban President Raul Castro placed a flower by his picture. Several other Cuban officials also paid tribute to the man who led the country for nearly 50 years.
The lines of mourners Monday grew longer as the day wore on. Many were overcome, either by the heat or by grief.
"He is living eternally now," one man said in Spanish.
Mourners stood hours in the sun for the chance to file past a photo of the man known as "El Comandante" and view his medals.
The moment may have lasted only seconds, but the anguish was evident.
"I tell you this from my heart," a farmer said in Spanish, crying. "I'd like it to have been me instead of him."
Castro's ashes were kept out of public view. Even in death, he is surrounded by secrecy.
Alcohol sales and celebratory music are banned during this period of mourning. Schools and government offices have been shuttered.
Many mourners -- who also signed an oath of loyalty to Castro's revolution – are state employees or students.
Around the world, Castro is seen as a murderous and repressive dictator. But to these mourning Cubans, he is a father figure and a national hero.
Tuesday's rally will be a kind of sendoff. On Wednesday, Castro's remains leave Havana one last time. It will embark on a cross-country tour before arriving at his final resting place in Santiago de Cuba, the birthplace of the Cuban revolution.
Thanks for reading CBS NEWS.
Create your free account or log in
for more features.