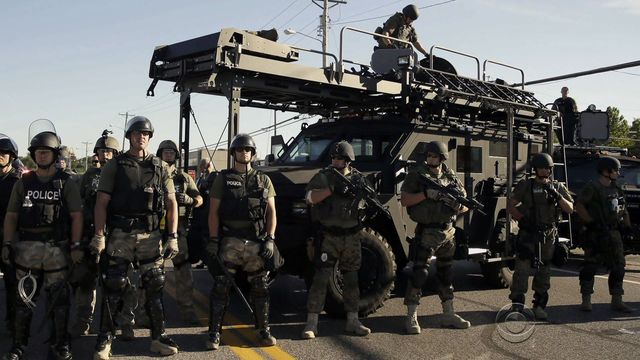 Why Ferguson, Mo., looked like a war zone this week
For several nights this week, tanks, combat gear and assault rifles were seen in Ferguson, Missouri.
It looked like a military operation. That's because police departments in the St. Louis area -- like those across the country -- are arming their officers with equipment once on the battlefields of Iraq and Afghanistan. Much of it is free of charge or bought with federal grant money authorized by Congress, CBS News' Jan Crawford reports.
In the past year, the Department of Defense has given local law enforcement over 600 MRAPs, the armored vehicles designed to withstand roadside bombs. Texas alone has received 68, Florida 45.
The Warren County Sheriff's Department in upstate New York also got one.
"I'm hoping I never have to use this vehicle, but if I do have to use it, I'm not going to have to worry about my people or possibly the public being injured because it certainly can save them," Sheriff Bud York said.
The Pentagon program has given departments over $5 billion worth of surplus equipment since the program launched in 1991: helicopters, firearms, protective gear, night vision, even computers and camouflage clothing.
The local police also get federal grant money to buy the military-style equipment.
One recent study by The Center for Investigative Reporting found the federal government has doled out more than $34 billion to local police departments since the Sept. 11 terrorist attacks.
But critics say local police aren't the military, and that some of the equipment and tactics involved should not routinely be used against American citizens.
Former New York City Police Detective Bo Dietl said the answer is proper training.
"If you're going to have all these advanced weaponry, you must train the people," he said. "That must come part and parcel. You're going to buy it, know how to use it and know when to use it."
Thanks for reading CBS NEWS.
Create your free account or log in
for more features.