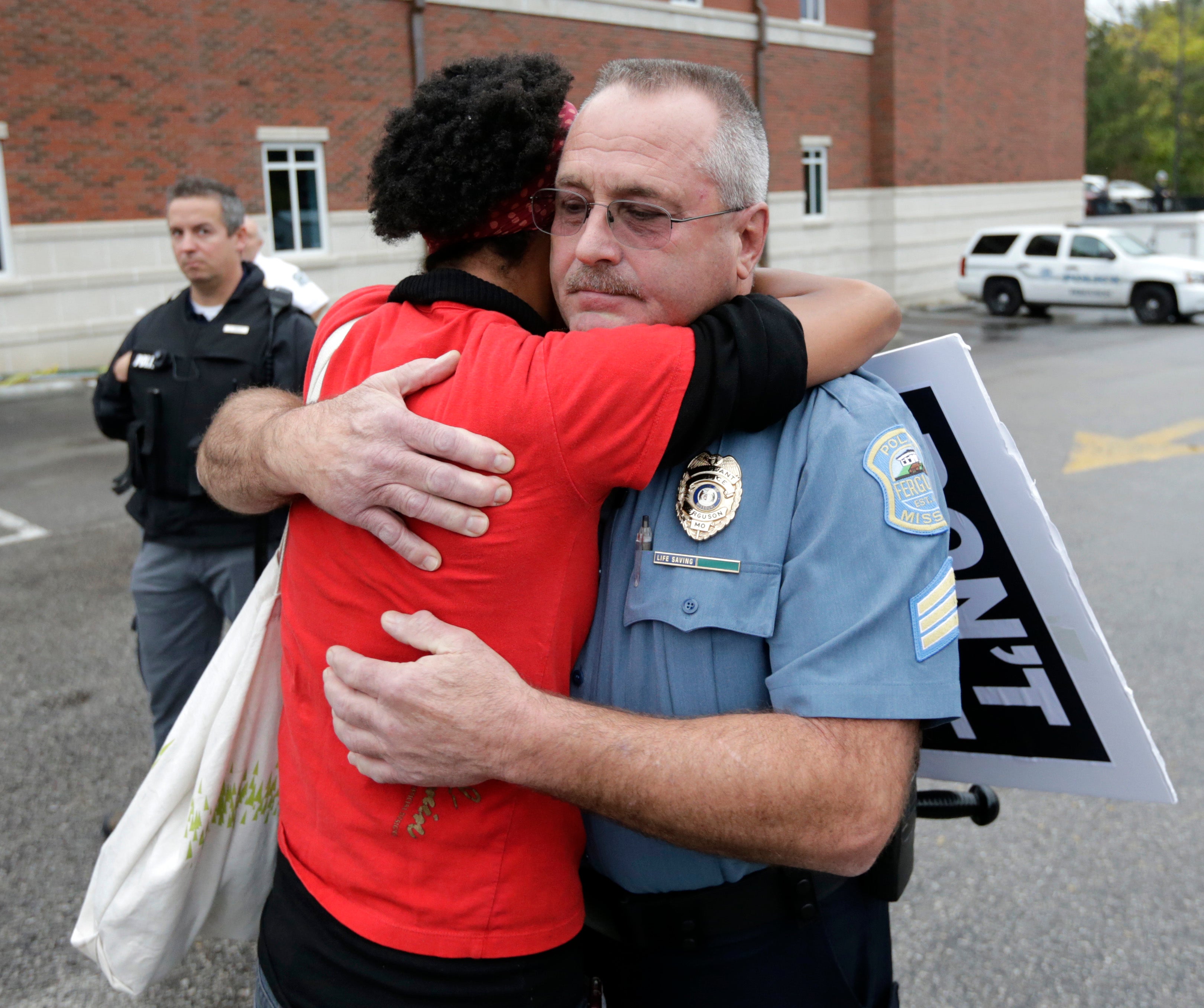 Police nationwide brace for protests after Ferguson decision
BOSTON -- From Boston to Los Angeles, police departments are bracing for large demonstrations when a grand jury decides whether to indict a white police officer who killed an unarmed black teenager in Ferguson, Missouri.
The St. Louis County grand jury, which has been meeting since Aug. 20, is expected to decide this month whether Officer Darren Wilson is charged with a crime for killing Michael Brown after ordering the 18-year-old and a friend to stop walking in the street on Aug. 9.
The confrontation between Wilson and Brown lasted less than 90 seconds, according to emergency radio calls. The St. Louis Post-Dispatch published a timeline Friday night, based on an analysis of police and EMS calls.
Meanwhile, newly-released video shows Wilson leaving a St. Louis-area hospital shortly after the shooting, according to the newspaper.
Attorneys for the Brown family issued a statement Saturday, saying the video showed that "it would appear the initial descriptions of (Wilson's) injuries were exaggerated" and the audio showed the "initial interaction with the officer and Brown had nothing to do with the incident at the convenience store."
"We will wait for the grand jury's decision and continue to develop a plan to change the system that now works entirely in favor of law enforcement and against citizens," the statement said.
Wilson has not been seen in public since the shooting, which has led to tension with police and a string of unruly protests there and brought worldwide attention to the formerly obscure St. Louis suburb, where more than half the population is black and yet few police officers are.
For some cities, a decision in the racially charged case will, inevitably, reignite long-simmering debates over local police relations with minority communities.
"It's definitely on our radar," said Lt. Michael McCarthy, police spokesman in Boston, where police leaders met privately Wednesday to discuss preparations. "Common sense tells you the timeline is getting close. We're just trying to prepare in case something does step off, so we are ready to go with it."
In Los Angeles, rocked by riots in 1992 after the acquittal of police officers in the videotaped beating of Rodney King, police officials say they've been in touch with their counterparts in Missouri, where Gov. Jay Nixon and St. Louis-area law enforcement held a news conference this week on their own preparations. Brown's family is urging people to stay calm.
"Naturally, we always pay attention," said Cmdr. Andrew Smith, a police spokesman. "We saw what happened when there were protests over there and how oftentimes protests spill from one part of the country to another."
In Las Vegas, police joined pastors and other community leaders this week to call for restraint at a rally tentatively planned northwest of the casino strip when a decision comes.
And in Berkeley, Missouri, a town neighboring Ferguson, officials this week passed out fliers urging residents to be prepared for unrest just as they would a major storm - with plenty of food, water and medicine in case they're unable to leave home for several days.
In Boston, a group called "Black Lives Matter," which also has chapters in other major cities, is organizing a rally in front of the police district office in the Roxbury neighborhood the day after an indictment decision.
In October, the group, as part of a larger coalition, rallied in front of police headquarters protesting the department's "racially biased stop, frisk, and search practices" and expressing solidarity with protesters in Ferguson.
Organizers at the time pointed to an American Civil Liberties Union report that concluded Boston's black residents are more likely to be stopped, questioned or searched by police, an assertion the department has strongly disputed, saying it was based on old data.
In Albuquerque, New Mexico, police are expecting demonstrations after having dealt with a string of angry protests following a March police shooting of a homeless camper and more than 40 police shootings since 2010.
Philadelphia police spokesman Lt. John Stanford anticipates his city will see demonstrations, regardless of what the grand jury returns. "We're not oblivious to the fact that ... there are going to be protests," he said.
But big-city police departments stressed they're well-equipped to handle crowds.
Indeed, many saw large, mostly peaceful demonstrations following the 2013 not-guilty verdict in the slaying of Florida teen Trayvon Martin by George Zimmerman, who was not a police officer but coordinated the local neighborhood watch.
In Los Angeles, protesters briefly shut down part of a freeway and caused some vandalism in city neighborhoods. In New York City, hundreds marched from Union Square north to Times Square, where a "sit-in" caused gridlock in one of the world's busiest pedestrian intersections.
"We're the largest police department in the nation, we're trained to move swiftly and handle events as they come up," said Stephen Davis, a New York City Police Department spokesman.
In Boston, McCarthy said the city's 2,200 sworn police officers have dealt with the range of public actions, from sports fans spontaneously streaming into the streets following championship victories to protest movements like Occupy.
"We've had a lot of practice," he said. "The good thing is that our relationships here with the community are much better than they are around the world. People look to us as a model. Boston is not Ferguson."
Many churches plan to offer prayer, shelter, food and a sanctuary for protesters, residents, students and others affected by potential unrest.
A suburban St. Louis school district says schools will get early notice once the grand jury reaches a decision.
Thanks for reading CBS NEWS.
Create your free account or log in
for more features.