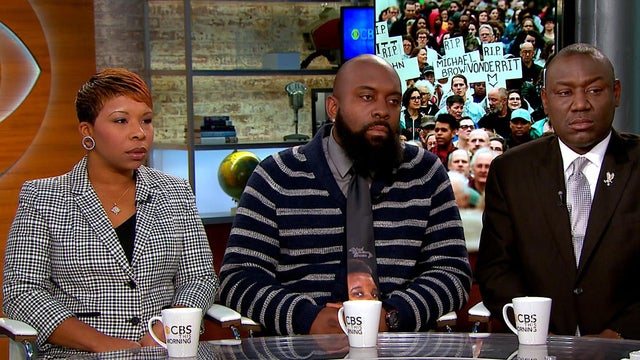 Brown's mother: "How could your conscience be clear?"
Michael Brown's parents are expressing their frustration after Officer Darren Wilson spoke out about having a "clear conscience" following a grand jury decision not to charge Wilson for the Aug. 9 shooting of their son.
"His conscience is clear? How could your conscience be clear after killing somebody even if it was an accidental death?" mother Lesley McSpadden said Wednesday in an emotional interview on "CBS This Morning."
Wilson spoke to ABC News' George Stephanopoulos on Tuesday, saying, "I know I did my job right." In the interview, Wilson said he feared for his life as he tried to defend himself against the 18-year-old, who was allegedly throwing punches at him while Wilson was inside his police vehicle. The altercation then shifted outside the vehicle, where Wilson said Brown charged at him after initially running away. That's when the fatal shots were fired. While witness accounts heard by the grand jury differed, there were some that appeared to back up Wilson's version of events.
Still, McSpadden said she doesn't "believe a word" of Wilson's account.
"I know my son far too well. He would never do anything like that. He would never provoke anyone to do anything to him and he would never do anything to anybody."
McSpadden said her son does not have a history of violence.
"One image does not paint a person's entire life," she said.
Despite the heartache Brown's parents have faced dealing with the death of their son and the grand jury decision, McSpadden said that they have yet to receive personal condolences from Ferguson officials.
"Ferguson has never even come to me and even gave a condolence to me," she said. "No one, no one, and when I say come to me, like you and me are sitting here."
"We've just been disrespected all the way around," father Michael Brown Sr. said.
While their lawyer Benjamin Crump agreed that physical evidence is irrefutable, he still questions Wilson's story.
"You just gotta go look at his statements and see what the detectives said, seems like his stories get embellished every time he tells it," Crump said. "If it would have even done the normal way, he writes a report within 48 hours, that would have been good, but that's not what happened, and they didn't cross examine him."
Brown Sr. said that Wilson is "known for falsifying his reports," though he didn't elaborate.
McSpadden said that her son should not be defined by this case, and said that Wilson's response to the reported robbery in the convenience store should have been handled differently.
"If something happened in that store - and that's a big if - that could have been dealt with," she said.
Despite the evidence that has since been released to the public, McSpadden said Wilson's actions were not warranted.
"We couldn't even have our sons organs donated, you understand that?" she said. "They wrong, they know they wrong."
Since the grand jury announcement, protesters across the country are questioning the decision. Both Brown Sr. and McSpadden were present at the protests, but do not take responsibility for the violence that has occurred.
"We continue to ask for calm and we continue to get out there and protest in a peaceful manner," McSpadden said. "Anything that happened we when weren't there, we can't be held accountable, we can't be held for anybody's actions if they were not our actions."
It has been three months since their son died, but they are hopeful something positive will come out of these events.
"Change, that's all we're asking for," Brown Sr. said. "There are other families that went through the same situation and we all just want change all over."
Thanks for reading CBS NEWS.
Create your free account or log in
for more features.