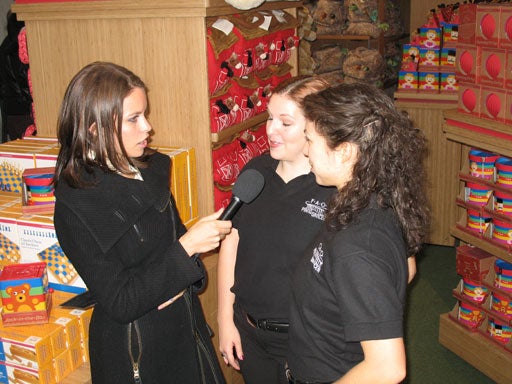 FedEx Copies UPS, Buys Kinko's
Shipping giant FedEx Corp. agreed to buy business services provider Kinko's for $2.4 billion in cash from buyout firm Clayton, Dubilier & Rice Inc., the companies announced Tuesday.
"The FedEx and Kinko's combination will substantially increase our retail presence worldwide and will enable both companies to take advantage of growth opportunities in the fast-moving digital economy," said Frederick W. Smith, chairman, president and CEO of FedEx Corp.
The 1,200 Kinko's locations worldwide will offer new or expanded FedEx shipping options. More than 400 of them are open 24 hours a day.
The transaction is expected to close in the first quarter of 2004, and FedEx said the acquisition would begin to add to its bottom line in fiscal 2005, which begins June 1, 2004.
Memphis-based FedEx runs the world's largest express transportation company. Kinko's is the leading provider of copying and other business services.
Smith told The Associated Press Tuesday morning that the acquisition makes sense financially and is a "good fit" for the package delivery company because it will diversify and improve access to FedEx services.
CBS MarketWatch's John Wordock says FedEx is trying to keep up with UPS, which bought Mail Boxes Etc. in March 2001.
That was a good move for UPS, A.G. Edwards analyst Donald Broughton told Wordock, and it should be good for FedEx as well, because it will give the company more access to customers.
"The more access you have to their company, the easier it is to use their services, the more likely it is that you will use more of their services," Broughton said.
"It will be an important channel for small and medium customers," Smith said. "Kinko's 1,200 locations will provide a lot access for people who want to pack and ship. It's particularly important to FedEx Ground."
And to small businesses and home offices, said Broughton.
"It's not so much a copying center as it is a small business-home office resource provider," he told CBS MarketWatch. "If you look at what UPS is doing with its Mailboxes Etc. conversion, they're providing an outlet for small businesses and home offices to have their own photocopying center, their own shipping and receiving department, out-sourced."
FedEx has been Kinko's exclusive shipping provider since 1988 and operates staffed counters in 134 Kinko's stores. After the purchase, FedEx will have full-service counters in all Kinko's stores.
The Kinko's management team is expected to remain in place, and company headquarters will continue to be located in Dallas.
Kinko's CEO Gary Kusin said FedEx branding and deep financial reserves will bring a boost for his company.
"We currently are the 'back office' for hundreds of thousands of midsize businesses in copying, printing and computer services," he said. The acquisition will turn Kinko's into a "a one-stop back office," Kusin said.
Clayton, Dubilier & Rice owns approximately 75 percent of privately held Kinko's outstanding shares.

Thanks for reading CBS NEWS.
Create your free account or log in
for more features.