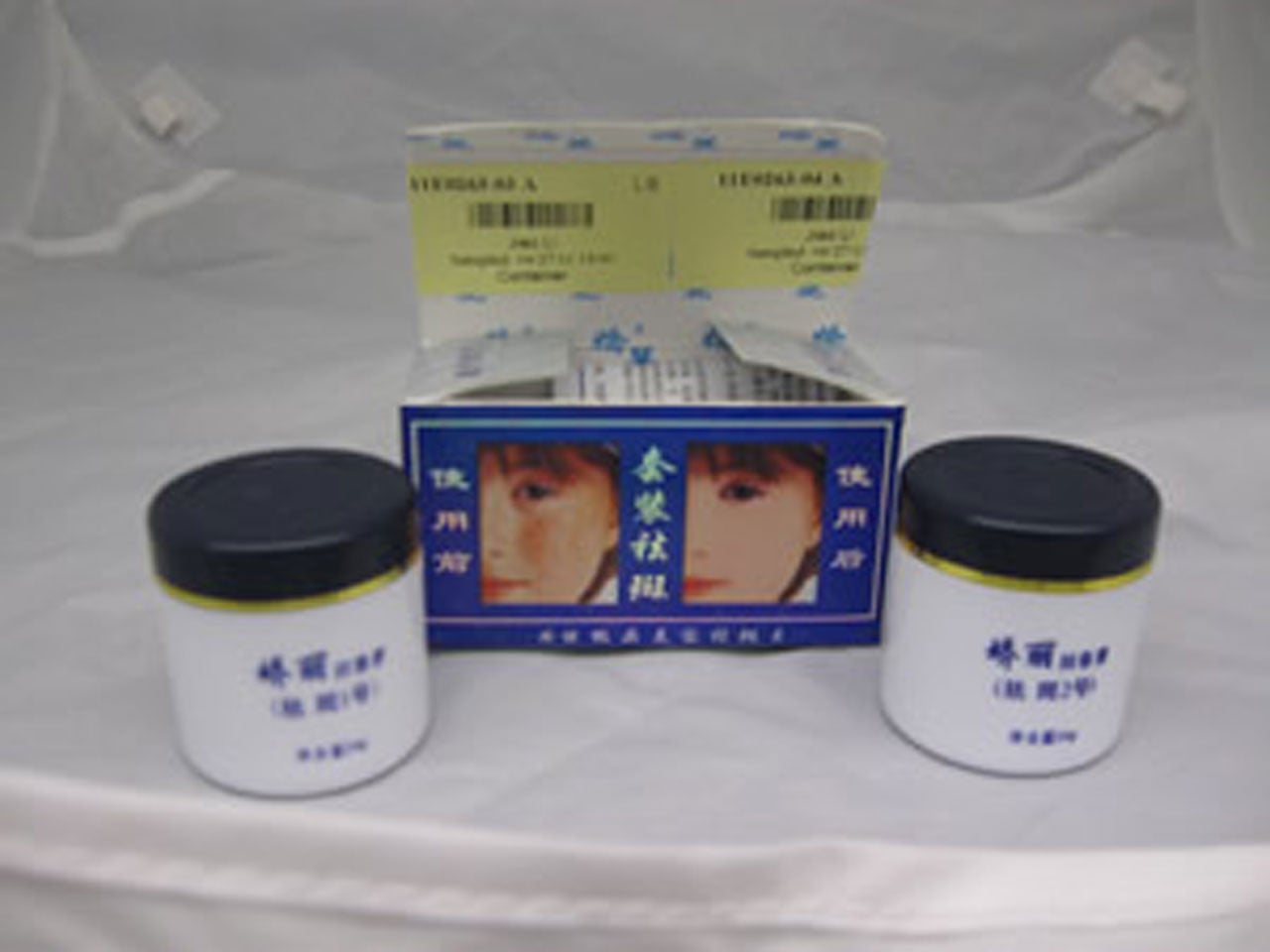 FDA warns of imported skin creams containing mercury
(CBS News) Skin creams, soaps and lotions that are manufactured overseas and sold in some U.S. shops might contain toxic amounts of mercury, the U.S. Food and Drug Administration warns.
PICTURES: Sunscreen hall of shame: 11 iffy productsPICTURES: Poisonous puckers? Top 10 lead-filled lipsticks
The products are usually marketed as skin lighteners or anti-aging creams to remove blemishes and acne creams, Gary Coody, national health fraud coordinator at the FDA, said in a statement. The agency says skin products containing mercury have been found in at least seven states.
How did they get there? The products are manufactured abroad but sold illegally in U.S. shops -- often in Latino, Asian, African or Middle Eastern neighborhoods, the agency said. In the past few years, more than 35 products that contain "unacceptable" levels of mercury have been found by FDA and local health officials.
According to the FDA, one 39-year-old Northern California woman had more than 100 times the average amount of mercury in her urine and had symptoms of mercury poisoning. An investigation by Minnesota Department of Health officials found 11 of 27 imported skin products taken from store shelves contained mercury. Photos of these products can be found here.
"Many of these products are coming into the country through channels we can't easily track, such as international mail and personal baggage," Coody said. "That's why it's so important for consumers and sellers to know about the dangers of possible mercury poisoning associated with the use of these skin products."
According to the Agency for Toxic Substances and Disease Registry, mercury poisoning causes tremors, changes in vision or hearing, memory problems, depression, irritability, or numbness and tingling in the extremities or around the mouth.
The FDA warns people who may have these products should stop using them immediately.
Dr. Kenneth R. Spaeth, director of the occupational and environmental medicine center at North Shore University Hospital in Manhasset, N.Y., told HealthPop that these creams pose health risks from not only absorbing mercury through the skin, but also through inhaling the vapors. That means other people who are near the products are potentially at risk, he said.
Spaeth says pregnant women and young children are especially at risk for heightened exposure because of the harm mercury can do to brains that are still developing.
What should people look for on these labels? Spaeth said some might not mention mercury as an ingredient, but may note mercurial salts have been used in these products. It can be mercuric salts, cinnabar, calomel, mercuris chloride, or other mercury derivatives that aren't easily recognized. Some products manufactured in countries with loose regulation might not mention anything.
To protect yourself, the FDA says to not use any unlabeled skin care products, and to stop using any products that mention any of the previously mentioned ingredients. If you suspect you've used a mercury-containing skin product, wash your hands and the area immediately and call your doctor or local health department. Don't just throw it away - seal it in a plastic bag or leak-proof container and check with your local waste agency about disposal.
This isn't the only FDA cosmetic announcement to gain attention in recent weeks. An FDA analysis showed more than 400 popular types of lipstick contained traces of lead, but the agency said the products are safe, HealthPopreported.
The Environmental Protection Agency has more on mercury poisoning.
Thanks for reading CBS NEWS.
Create your free account or log in
for more features.