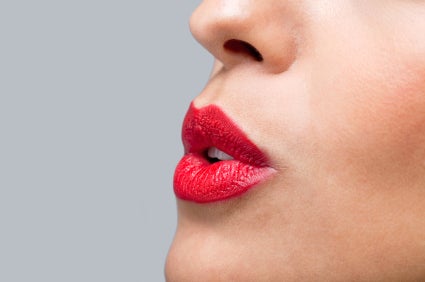 Lead found in 400 types of lipstick: Which has most?
(CBS) When applying lipstick - or puckering up to made-up lips - you might have more to worry about than stained teeth.

Four hundred of the most popular lipsticks on the market contain traces of lead according to a U.S. Food and Drug Administration analysis, the Washington Post reported.
PICTURES: Poisonous puckers? Top 10 lead-filled lipsticks
The FDA's response? We know.

"Reports about lead in lipstick are not new," The FDA said on its website, referencing lab tests from the 1990s, as well as a 2007 report from the Campaign for Safe Cosmetics. The campaign at the time tested 33 red lipsticks at the time and found that 60 percent of them contained lead.

The FDA followed-up on that study by testing 20 lipsticks in 2008, and found trace levels of lead, but said the levels were within range of what's expected from lipsticks formulated with color additives. The FDA then conducted a large-scale follow-up of 400 lipsticks and in December 2011 concluded:
"Lipstick, as a product intended for topical use with limited absorption, is ingested only in very small quantities," the FDA said. "We do not consider the lead levels we found in the lipsticks to be a safety concern."
The Campaign for Safe Cosmetics maintains that any amount of lead in cosmetics is too much.

"Lead builds up in the body over time and lead-containing lipstick applied several times a day, every day, can add up to significant exposure levels," Dr. Mark Mitchell, co-chair of the environmental health task force for the National Medical Association, said in a Safe Cosmetics written statement.
Too much lead can affect nearly every system in the body, according to the CDC. Lead poisoning can damage the nervous, muscular and reproductive systems, and has been tied to kidney damage and reduce IQ in kids.
What did the FDA report find? The average lead concentration in the 400 lipsticks tested was 1.11 parts per million, according to the Post, but some products far exceeded that.

Children's products in the U.S. cannot contain more than 100 parts per million of lead, according to the U.S. Consumer Product Safety Improvement Act. The lipstick with the most lead in the report contained 7.19 parts per million, more than 275 times the amount of lead than the least-contaminated brand, Wet & Wild Mega Mixers Lip Balm.
Five L'Oreal and Maybelline lipsticks, owned by L'Oreal USA, were among the top 10 lead-containing lipsticks.
"L'Oreal maintains the highest standards for safety and consumers can use all of our products with complete confidence," L'Oreal spokeswoman Rebecca Caruso, told Bloomberg, saying the products comply with FDA and European safety regulations.
The Personal Care Products Council, a Washington D.C.-based trade group that represents the cosmetic industry, said in a statement that "Lead is ubiquitous and found naturally in air, water, and soil. Using lipstick containing lead at this level would result in exposure 1000 times less than from daily consumption of water meeting EPA drinking water standards."
Which 10 lipsticks contain the most lead? Click below to find out.

Thanks for reading CBS NEWS.
Create your free account or log in
for more features.