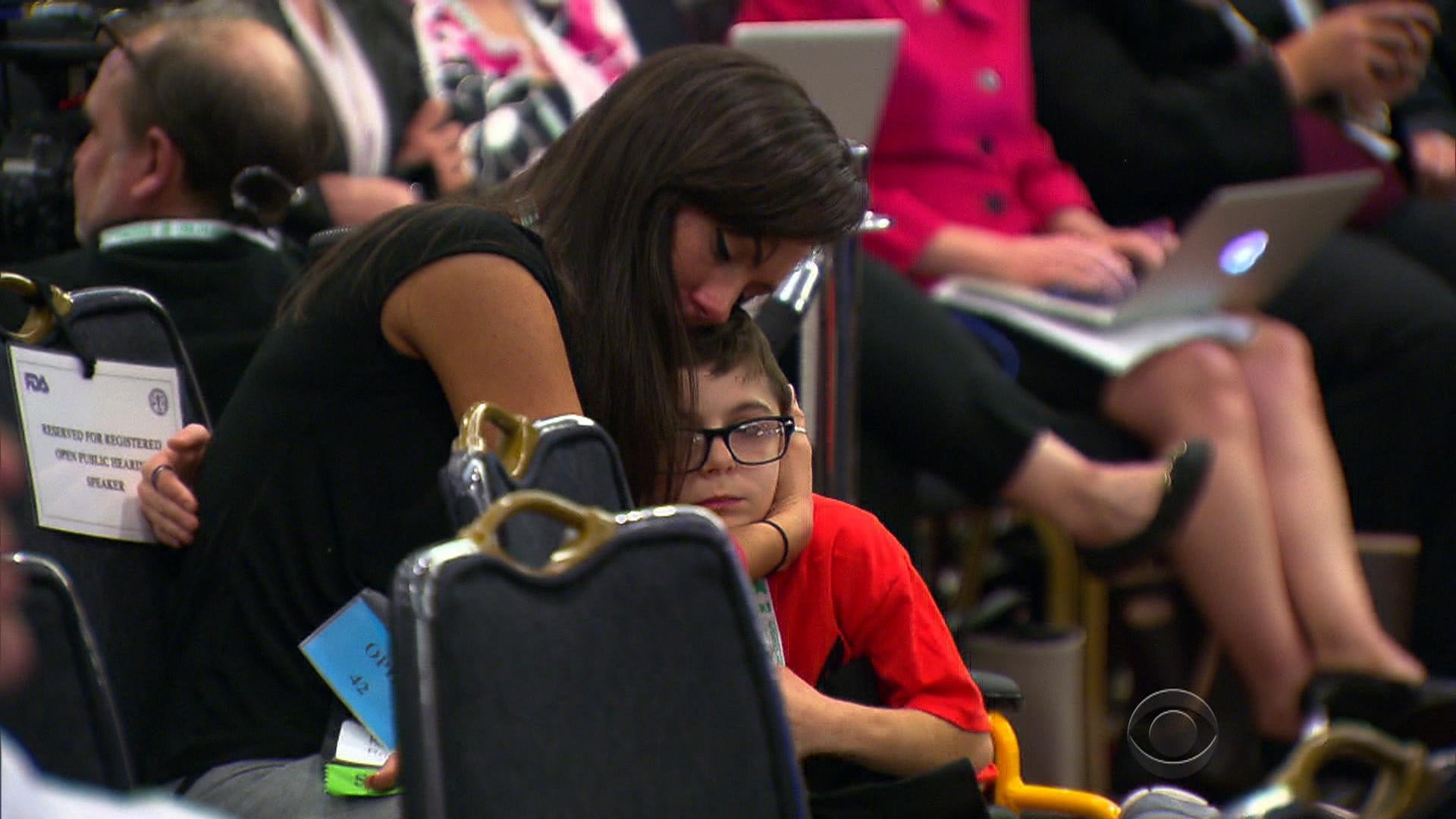 FDA panel rejects pleas of parents whose children suffer from fatal disease
WASHINGTON, D.C.-- An FDA panel has rejected the pleas of parents whose children suffer from a rare, always fatal disease. An experimental drug has shown promise, but the panel wasn't convinced.
Austin Leclaire's view from his wheel chair is dire.
"Most kids my age with my disability are on death's row," he said. "They're basically towards the end of lives."
Both he and his brother Max suffer from Duchenne Muscular Dystrophy, a rare muscle-wasting disease that's fatal, typically by age 25.
For Austin, he says the roughest part of all of this is, "Everybody else not being able to be on the drug."
The drug -- "Eteplirsen" -- isn't a cure, but slows down Duchenne's progression by helping to restore a missing protein. Up to 15,000 boys in the U.S. have Duchenne. Austin and Max are two of roughly 100 kids in clinical trials.
Jennifer McNary is Austin and Max's mother. She's seen Austin able to maintain certain functions while on the drug and regain others like raising his arm above his head.
"I do believe that this is holding the kids back from the edge of the cliff," she said.
Max -- one of the first to get Eteplirsen -- is still walking four years later.
"It's almost worse to be shown something that could treat your children, and then be told it could be taken away, than it is to just come to terms with having children who are ill," McNary said.
On Monday, an FDA advisory committee held a hearing before voting on whether to recommend the drug's approval.
But the small size of the trial raised red flags for the committee, as well as questions about the drug's effectiveness, which didn't sit well with Austin.
"I can only guess you don't know anything about Duchenne," said Austin at the hearing.
Even tossing a football around inside the hearing room to demonstrate the drug's benefits didn't sway the committee. They voted against approval 7-3.
The family's were devastated.
"It's an incredibly disappointing day," said McNary. "Because if we have to go through this for every drug, for every ...rare disease drug, we don't have it in us."
Should the FDA go along with the committee's recommendation and deny approval of the drug -- the maker of Eteplirsen could go start over with another trial.
But that could take years -- time these boys who suffer from Duchenne -- just don't have.
Thanks for reading CBS NEWS.
Create your free account or log in
for more features.