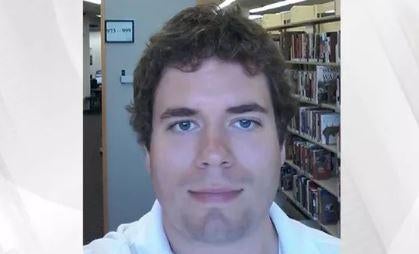 FBI was warned about Okla. restaurant shooting suspect's disturbing YouTube rants
OKLAHOMA CITY -- The FBI says it was warned about a man suspected of opening fire at an Oklahoma restaurant Thursday apparently at random, wounding four before being fatally shot by armed bystanders, reports CBS affiliate KWTV. The FBI told the station it was contacted twice with concerns about disturbing content on a YouTube channel associated with suspect Alexander Tilghman.
Investigators are still trying to determine a motive for the Thursday night shooting at Louie's on the Lake in Lake Hefner. Oklahoma City Police Capt. Bo Mathews said the shooting appeared to be random but noted that Tilghman drove to the restaurant and wore protective gear for his ears and eyes.
"It looked like his mind was made up that he was going to discharge his firearm once he got there," Mathews said during a Friday news conference. Mathews stressed that the investigation was ongoing and confirmed that Tilghman's mental health was being looked into.
Over the past month, Tilghman posted more than two dozen bizarre videos, the station reports. In the videos, Tilghman talks about demons taunting him. He also talks about suicide, losing his mind and needing help.
"So yeah, I'm definitely losing it," Tilghman said in one video , according to KWTV. "I really can't go on. I really need some help. Please."
In a statement, the FBI told the station a call was made to their Public Access Line earlier in May regarding the disturbing posts.
"The caller reported concerns about a YouTube channel associated with the subject, but did not report any potential threat of violence and did not have any knowledge of the subject possessing any weapons," the statement said. "Based on this information, and following our standard protocol, no further investigation was warranted."
The FBI says its Oklahoma City Division received an "informal tip" regarding the same YouTube channel earlier this year.
"The content found on this channel at that time was identified as First Amendment-protected speech, and no further action was taken," the statement said.
On a Facebook page that police said belonged to Tilghman, the man posts a video in which he claims his television is possessed by the devil. The page uses the same profile photo as a YouTube channel where a man that appears to be Tilghman also describes demons possessing his TV and being surrounded by computers. Oklahoma City Police confirmed to USA TODAY that a photo of Tilghman used on his Facebook and YouTube accounts was the restaurant shooting suspect and said the department is investigating the videos.
In one video, Tilghman speaks of a drone that's been watching him sent by a "demon child," and in another, he says he is under "hardcore demonic attack." He talks about believing that most people are clones or demons and that he might be part of a computer program.
He calmly begs for help from "a real human," saying he's suicidal.
"I mean there's no point in living if I can't find a real human," he says.
The director of the LGBT rights group Freedom Oklahoma, Troy Stevenson, said Tilghman is the same man who distributed flyers across Oklahoma City earlier this year warning of demons taking over people's bodies. And a reporter with the LGBT publication The Gayly conducted an interview in January with Tilghman, who warned of "demons in cloned transexual (sic) bodies."
Flyers with similar messages were plastered all over a vehicle that Tilghman drove, said Ryan Beaulac, who said he frequently saw Tilghman at his apartment complex in northwest Oklahoma City.
Beaulac said he saw Tilghman acting strangely Wednesday night.
"He was twitchy, grabbing his hair and acting weird," the 35-year-old Beaulac said. "I was uncomfortable and definitely wanted to get away from him."
A man who identified himself as Tilghman's brother told television station KOCO that Tilghman needed mental health treatment, saying: "Nobody reached out to him, you know. He was crying for help."
A woman who asked not to be identified told KWTV she saw the fliers and the videos and called police in December, but felt like she was blown off.
"I felt like I was wasting her time. I felt like she didn't take it seriously. And I was just like no, just look at these videos. Like somethings wrong with him. He's not stable," Katy said. "I feel like it could have been prevented. Even if they had just looked at his videos where he was crying out for help, saying he was suicidal."
A spokeswoman for Oklahoma Children's Hospital said Sunday that the 12-year-old girl shot in the stomach during the attack remained hospitalized in good condition.
The girl's mother and a 14-year-old family friend were also shot. The mother was treated after being grazed by bullets. They had been at the restaurant attending a birthday party, the girl's grandfather told CBS News' David Begnaud.
Tilghman was licensed as an armed security guard, which authorized him to carry a firearm, said Gerald Konkler, general counsel for the Oklahoma Council on Law Enforcement Education and Training. The council certifies law enforcement officers and other armed personnel across the state.
Obtaining such a license requires a background check and at least 72 hours of training.
On Friday, Mathews praised the two citizens who shot Tilghman outside the restaurant. Mathews said each man retrieved a firearm from his vehicle. Tilghman's body was discovered about 50 to 75 feet from the restaurant's front door, almost in the parking lot.
"They were able to shoot the suspect and put an end to a very dangerous situation," Mathews said.
Thanks for reading CBS NEWS.
Create your free account or log in
for more features.