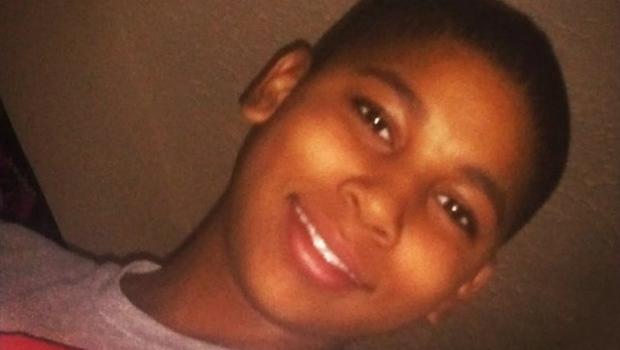 Family of Tamir Rice files lawsuit in deadly Cleveland police shooting
CLEVELAND -- The family of a 12-year-old who had a pellet gun when he was shot by a Cleveland police officer filed a wrongful death lawsuit Friday, saying two officers acted recklessly when they confronted the boy in a terrifying manner and fired within seconds.
The federal lawsuit filed against the city and the two officers also said they waited four minutes before anyone provided medical help to Tamir Rice after he was shot outside a city recreation center.
Surveillance video released by police shows Tamir being shot within 2 seconds of a patrol car stopping within a few feet of him at a park on Nov. 22. It shows the boy reaching in his waistband for what police later discovered was an airsoft gun, which shoots nonlethal plastic projectiles. He died the next day.
Police were responding to a 911 call about a gun at a playground. The officers had a chance "to safely initiate their encounter from a safe distance but instead stopped their cruiser immediately next to young Tamir," the lawsuit said.
Police have said rookie officer Tim Loehmann believed the boy had a real firearm. The officer's father has said his son had no other choice. A grand jury will consider whether charges are merited.
"Young boys playing with replica guns are commonplace in America and police are expected to approach them safely if an investigation is warranted, not shoot them dead within two seconds," said the lawsuit filed in U.S. District Court. It seeks unspecified monetary damages.
A spokesman for the city declined to comment on the lawsuit. Court documents did not list the name of Loehmann's attorney.
The shooting has sparked protests across Cleveland.
On Thursday, the U.S. Justice Department released findings from a nearly two-year investigation of Cleveland police, which found its officers use excessive and unnecessary force far too often.
The report did not look into Tamir's death, but U.S. Attorney General Eric Holder, while announcing the report's findings, said that the deaths of young blacks, including in New York City and Ferguson, Missouri, have raised urgent national questions about the sense of trust between police and communities.
Loehmann joined Cleveland police in March after spending six months in 2012 with the police department in suburban Independence.
The lawsuit noted that personnel files released earlier this week showed that police supervisors in Independence decided Loehmann lacked the maturity needed to work in their department. A letter in his file said there was a pattern of a lack of discretion and not following instructions.
"In law enforcement there are times when instructions need be followed to the letter, and I am under the impression Ptl. Loehmann, under certain circumstances, will not react in the way instructed," the letter said.
Loehmann resigned from the Independence Police Department in December 2012 after meeting with his supervisors about their concerns.
Thanks for reading CBS NEWS.
Create your free account or log in
for more features.