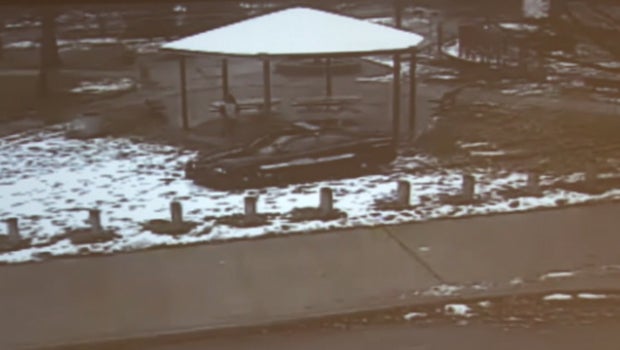 Police release video in fatal shooting of 12-year-old Cleveland boy
CLEVELAND -- A Cleveland police officer fatally shot a 12-year-old boy within seconds of arriving in his patrol car Sunday, police said Wednesday.
Surveillance video, a 911 call and police dispatch audio released today recount the final minutes of young Tamir Rice's life. The boy was shot in a park Saturday by rookie police officer Timothy Loehmann, after a 911 caller reported seeing the 12-year-old waving what authorities now know is an Airsoft replica gun.
Crimesider is publishing the video, which may be disturbing to some.
Rice's family released a statement Wednesday saying they have seen the video. "It is our belief that this situation could have been avoided and that Tamir should still be here with us," the statement read.
Loehmann, 26, shot Rice between 1.5 and 2 seconds after pulling up in a patrol car, according to Deputy Chief Ed Tomba. The vehicle was driven by veteran Cleveland police officer Frank Garmback, 46.
As their car pulled toward the gazebo where Rice stood, Loehmann yelled from the moving car three times, "Show us your hands," Tomba said.
In the statement, family said the video shows the police reacted quickly.
"It is our hope that the City of Cleveland Division of Police and the Cuyahoga County Prosecutor's Office thoroughly examine the events outside of the Cudell Recreation Center on Nov. 22, 2014," the statement read.
Loehmann and Garmback were dispatched to the scene Saturday after a 911 call, made by a man who can be seen in surveillance video sitting not far from the spot where Rice and Loehmann would have their deadly confrontation.
Rice can be seen in the footage, videotaped in a park near Cleveland's Cudell Recreation Center, holding and pointing the replica gun, playing with snow and talking on his cell phone.
The caller told the dispatcher that it was unclear if the weapon was real or not.
"It's probably fake, but you know what, it's scaring the [expletive] out of me," the caller said.
"He's pulling it in and out of his pants, and pointing it at people. He's probably a juvenile," he added. The caller then left the area.
Soon after, a police dispatcher called officers to the scene, but didn't mention the 911 caller's suspicion that the gun might be fake.
"In the park by the youth center, there's a black male sitting on the swings. He's wearing a camouflage hat, a gray jacket with black sleeves. He keeps pulling a gun out of his pants and pointing it at people," the dispatcher said.
Authorities initially declined to release the video, but announced yesterday it would be made public at the request of Rice's family.
Rice's death sparked protests in Cleveland that coincided with nationwide demonstrations related to a grand jury's decision Monday not to indict a white police officer who killed Michael Brown, a black 18-year-old in Ferguson, Missouri.
Hundreds of demonstrators blocked traffic in parts of downtown Cleveland Tuesday, while sitting in a major intersection. They then marched past city hall and chanted in support of Rice's family.
The crowd chanted, "No justice, no peace" and, "Hands up, don't shoot," a rally cry first coined in the days after Brown's August death.
In the statement, the family urged calm.
"We understand that some of you are hurt, angry and sad about our loss," the statement read. "But let's use those emotions in a way that will contribute to positive efforts and solutions that bring change to Cleveland, Northeast Ohio and cities across the nation as it relates to how law enforcement officials interact with citizens of color."
Thanks for reading CBS NEWS.
Create your free account or log in
for more features.