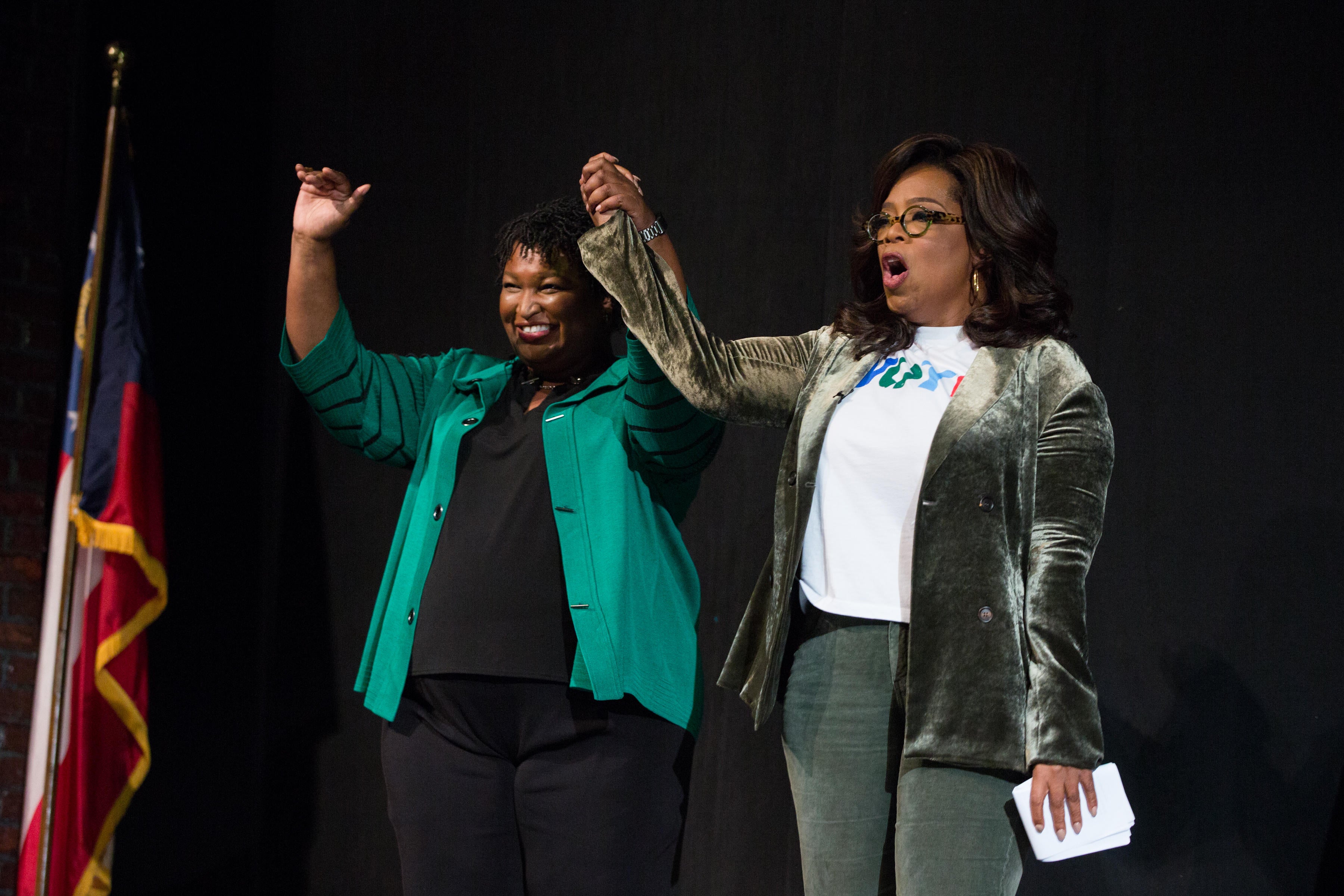 Fake Oprah stars in racist robocall in Georgia in final days of Abrams-Kemp campaign
A fake Oprah Winfrey, Aunt Jemima, a "magical negro," and "Jews who own the media" are featured in a new robocall that is hitting Georgia voters in the final days of the campaign for governor between Democrat Stacey Abrams and Republican Brian Kemp.
The robocall was the work of an Idaho based-group called the Road to Power that has been labeled a white supremacist and anti-Semitic broadcasting outlet. In the robocall, a male voice says: "This is the magical negro, Oprah Winfrey, asking you to make my fellow negress, Stacey Abrams, the governor of Georgia." Audio of the robocall was posted on social media.
The call also refers to Abrams as a "poor man's Aunt Jemima" who "white women can be tricked into voting for, especially the fat ones."
If elected, Abrams would be the nation's first black female governor. She got a boost last week when Winfrey joined her for two campaign appearances. Former President Barack Obama has campaigned for her as well.
The real Winfrey responded to the calls Monday night in an Instagram video, saying she is "100% for" Abrams, and urging people to vote. "Jesus don't like ugly. And we know what to do about that: Vote."
Kemp, the Georgia secretary of state, has had his own high-profile campaign visits from President Trump and Vice President Mike Pence. In a statement Friday, Kemp said the robocall was "vile" and "absolutely disgusting."
"This automated call is absolutely disgusting," said Kemp. "I stand against any person or organization that peddles this type of unbridled hate and unapologetic bigotry. These vile efforts to degrade and disparage others are contrary to the highest ideals of our state and country. We unequivocally condemn this group and their horrible actions."
The governor's race in Georgia has also raised repeated accusations of voter suppression. On Sunday, Kemp's office said it had launched an investigation into the state Democratic Party over "a failed attempt to hack the state's voter registration system." Abrams dismissed the investigation as lacking evidence and part of a pattern of voter suppression efforts. "There is no evidence, there's not even a conversation about Democrats having anything to do with this," Abrams said in a "CBS This Morning" interview.
A similar racist robocall has targeted voters in Florida, where Democrat Andrew Gillum, vying to become the state's first black governor, is running neck-and-neck with Republican Ron DeSantis.
According to the Anti-Defamation League, the Road to Power records campaign robocalls and also posts "racist and anti-Semitic videos and commentary on bitchute and Gab, platforms that have voiced no objection to hosting white supremacist and extremist ideologues."
Thanks for reading CBS NEWS.
Create your free account or log in
for more features.