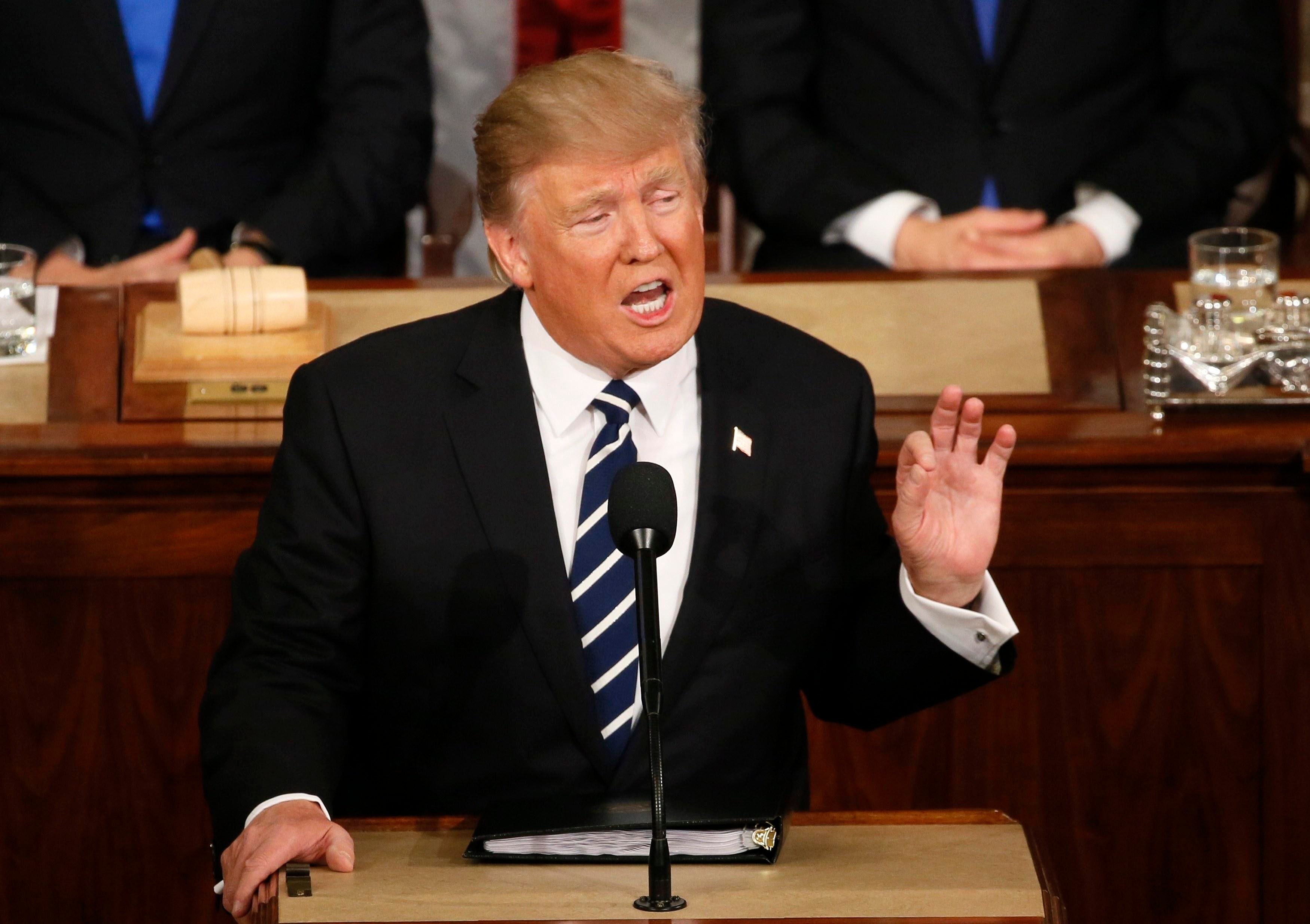 Fact check: Trump's address to joint session of Congress
As President Donald Trump delivered his address before a joint session of Congress Tuesday night, he made claims about the country and what's changed since he was elected.
How many of his claims were true and how many weren't?
CBS News looked into some of Mr. Trump's facts and statements. Here are the facts:
CREATING JOBS
Mr. Trump said his administration has coincided with announcements from top companies saying they will create new jobs in the U.S., claiming eight companies have announced they "will invest billions and billions of dollars in the United States and will create tens of thousands of new American jobs." The eight countries to which Mr. Trump specifically referred are Ford, Fiat-Chrysler, General Motors, Sprint, Softbank, Lockheed, Intel and Walmart.
The verdict on this claim? Somewhat true, somewhat false.
Mr. Trump is correct that the companies he mentioned in his speech have announced they will be creating new U.S.-based jobs. However, many of these new jobs he mentions from each of these companies had been previously planned, not brought about by input or influence from Mr. Trump or his administration.
For example, Mr. Trump touted new jobs from Sprint and OneWeb back in December, taking credit for the companies' U.S. investments. However, both companies had previously announced the job increases.
Another example: Fiat-Chrysler announced in January that it would invest $1 billion in expanding plants in Michigan and Ohio, a move that is expected to create 2,000 jobs. However, company executives billed the announcement as a continuation of previous commitments and plans, rather than something affected by the new administration.
"This plan was in the works back in 2015," Jodi Tinson, a spokeswoman for FCA, said to the site ThinkProgress. "This announcement … was just final confirmation."
And Ford's decision to abandon its plans for a new factory in Mexico is expected to create approximately 700 new jobs at its Michigan plant -- but the company made that decision separately from the Trump administration. Asked by Fox's Neil Cavuto whether Ford would have made the same choices if Mr. Trump were not president, Ford CEO Mark Fields replied, "Yes, absolutely."
IMMIGRATION'S IMPACT ON ECONOMY
President Trump blamed immigration for higher taxpayer costs, claiming that "[a]ccording to the National Academy of Sciences, our current immigration system costs America's taxpayers many billions of dollars a year."
The AP points out that this is not exactly what that report says. It says immigrants "contribute to government finances by paying taxes and add expenditures by consuming public services."
The report found that while first-generation immigrants are more expensive to governments than their native-born counterparts, primarily at the state and local level, immigrants' children "are among the strongest economic and fiscal contributors in the population." This second generation contributed more in taxes on a per capita basis, for example, than did non-immigrants in the period studied, 1994-2013.
STOCK MARKET
Mr. Trump claimed in his speech that stocks have increased in value by $3 trillion since he was elected.
This is true.
Mr. Trump appears to be correct on this, according to Bloomberg, which noted Tuesday, "Almost $3 trillion has been added to the value of U.S. stocks since Nov. 8, as the S&P 500 Index has surged 11 percent to a record and the Dow Jones Industrial Average just capped a 12th day of closing at an all-time high, matching its longest-ever streak set in 1987."
F-35 COSTS
Mr. Trump claimed during his speech that his administration has "saved taxpayers hundreds of millions of dollars by bringing down the price of the fantastic new F-35 jet fighter."
Our fact check? Somewhat true, somewhat false.
Similar to Mr. Trump's claims on job creation, this claim is true on its face: Lockheed Martin is reducing the costs of its F-35s. However, Aviation Week notes that Mr. Trump has overstated his role in the reductions: the plans to lower costs on the F-35 program were announced before Mr. Trump met with Lockheed Martin's CEO.
MURDER RATE
Mr. Trump claimed the U.S. murder rate in 2015 "experienced its largest single-year increase in nearly half a century."
What's the verdict on this claim? It's true but misleading.
Yes, the increase in the murder rate year-over-year is among the biggest spikes in 47 years. But the murder rate itself is among the lowest it's been over that same time period.
The Associated Press points out the murder rate in 2015, "stood at 4.9 murders per 100,000 people, a far cry from the rates in the 1970s, 1980s and most of the 1990s, when they were typically over 6 per 100,000, peaking at over 10 in 1980."
In fact, the AP noted, the murder rate has dropped sharply in that period time, despite a recent spike.
Mr. Trump has said in previous speeches the murder rate is "as high as it's been in 45 years." That claim is false, according to FBI crime statistics.
FEDERAL DEBT
Mr. Trump claimed that "in the last 8 years, the past Administration has put on more new debt than nearly all other Presidents combined."
The verdict? Somewhat true, somewhat false.
It is true that the national debt nearly doubled under President Obama's administration, going from $10.626 trillion when he took office to $19.947 trillion when he left office.
But the Committee for a Responsible Federal Budget notes it's more complicated than that:
"It is a vast overstatement to place the entire blame on Obama; rather, it's complicated," the organization said. "Some of the debt increase was already projected to occur before anything was signed by Obama. Moreover, spending and tax decisions are primarily the responsibility of Congress – at least officially – and often end up being the result of actions (or inactions) agreed upon by both Congress and the president."
MIDDLE EAST SPENDING
Mr. Trump claimed during his speech that the U.S. has spent "approximately $6 trillion in the Middle East, all this while our infrastructure at home is crumbling.
The verdict? Somewhat true, somewhat false.
According to Politifact, this oft-cited statistic from Mr. Trump takes into account both U.S. spending in the Middle East that's already taken place as well as spending that is expected in the coming years. So while the U.S. may eventually spend $6 trillion in the Middle East, it hasn't yet reached that level.
Using data from the Congressional Research Service and a study from Brown University, among other sources, Politifact estimated in October that spending in the Middle East through 2017 would add up to approximately $4.79 billion -- more than $1 trillion below Mr. Trump's estimate.
TRADE DEFICIT
Mr. Trump claimed the trade deficit last year was "nearly $800 billion."
Our fact check? False.
According to the U.S. Census Bureau and the U.S. Bureau of Economic Analysis in December:
"For 2016, the goods and services deficit was $502.3 billion, up $1.9 billion from $500.4 billion in 2015," a report from the agencies said. "Exports were $2,209.4 billion in 2016, down $51.7 billion from 2015. Imports were $2,711.7 billion in 2016, down $49.9 billion from 2015."
Thanks for reading CBS NEWS.
Create your free account or log in
for more features.