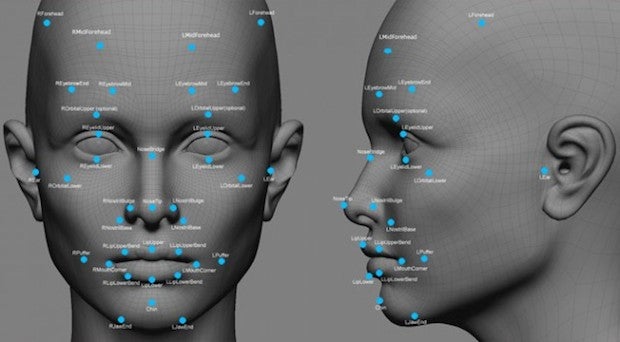 Facial recognition software is scanning you where you least expect it
Anyone who's ever been tagged in a photo on Facebook is familiar with facial recognition technology. That same technology, though, has gone well beyond identifying friends on social media and is now being used to track us as we shop, travel and even go to church.
Government agencies including the Department of Homeland Security are using it to secure borders and catch drug smugglers at airports, and police departments have reportedly used it to nab criminals. Casinos are using it to track their high-rollers and keep out card cheats while retailers are using it to catch shoplifters and get to know their shoppers.
Facial recognition software captures an image of an individual's face from a photo or video and identifies him or her by matching the picture with one on a database of faces.
"Anywhere that has a camera could end up employing face recognition technology," said Chris Calabrese, vice president for policy at the Center for Democracy and Technology, an advocacy group aimed at protecting individual privacy and liberty especially online.
And that could mean big business for companies that sell the capability. One such company, FaceFirst, says on its website that it "can effectively enhance your business security, public safety, law enforcement and customer recognition" with a system capable of processing more than 1 million facial matches per second per server.
Moshe Greenshpan, the founder & CEO of the Israeli facial recognition company Skakash, said its subsidiary Face-Six has clients around the world including airports, law enforcement agencies, casinos and even homeowners. A video on its site demonstrates how the technology was used to identify members of the 2013 World Series champion Boston Red Sox from a video of them attending a White House ceremony.
Churchix, a division of Face-Six, provides the technology to about 30 churches in the United States, Europe and Africa, to help them keep a digital roll call of parishioners who attend services and other events.
Greenshpan told CBS News that retailers also use his software. At dozens of malls in the United States and abroad, cameras are surreptitiously watching shoppers and using his technology to count and categorize them based on demographic attributes such as age, gender and ethnicity.
"This is very important information for the mall," Greenshpan told CBS News. "On top of that, we can target advertising. If we did facial analysis and found out you were 50-year-old white male, we can display targeted advertisements at the mall."
The growth of this technology has far outpaced any efforts to regulate it and that has raised concerns among privacy advocates. Only two states - Illinois and Texas - have laws regulating the collection and use of biometric data and both were written long before the emergence of facial recognition technology.
"Face recognition allows secret tracking so any time you're in public - whether you are attending a protest rally or visiting your doctor or entering a church or a bar - it could allow you to be identified and your movements tracked," Calabrese said.
"We have fundamentally enjoyed an expectation of privacy even in public," he continued. "We don't expect a database created when we do something sensitive, like when we go to the doctor."
Such concerns prompted privacy groups and those representing the industry to meet last year at the behest of the Commerce Department's National Telecommunications and Information Administration to hash out voluntary standards for facial recognition technology.
But privacy groups walked away from 16 months of talks last week, over what they said was a refusal by the industry to consider a proposal requiring users of the technology to seek the consent of people before their faces were scanned.
"Consent is crucial because people may want facial recognition technology to allow them to be identified in a picture or as part of their employment agreement," Calabrese said. "But the fact is the individual must be able to choose. If they can't, lots of entities - whether they are companies or governments relying on company databases - can use this technology to spy on people. They will never know and they will never have any ability to control it."
Carl Szabo, policy counsel for NetChoice, an e-commerce trade association, which includes Yahoo, Google and Facebook, argued that the consent demand made little sense when the software is being used increasingly to track criminals.
"Having a default for consent doesn't necessarily make sense for all the different uses of facial recognition technology," Szabo said. "For example, if you had to have a default option for facial recognition technology to identify known shoplifters, I don't know a single criminal who would opt in."
The privacy groups had offered to include "a narrow exemption" for security uses but that was also rejected, Calabrese said.
Rather than consent, Szabo said the industry would be willing to embrace increased transparency - requiring a store, for example, to post signs when it is using facial recognition technology.
"If it turns out consumers love it, they will embrace it. If they hate it, they will walk away and that store will stop doing it," Szabo said.
Facial recognition companies have been among those who oppose regulations, with Greenshpan suggesting that there has been "great hype around privacy issues" which hasn't been borne out among his clients.
"I understand the feeling that people might get that someone is spying on them and invading their privacy," he said. "But you know from our experience and best practices, we haven't encountered any misuse or abuse of the data. Nobody is selling the data to third parties."
But concerns over privacy are likely to only grow as the technology improves. Facebook, for example, is working on a new algorithm that can recognize a person even when his or her face is obscured.
As with many new technologies, questions of regulations can create chicken or egg situations, with one side pushing to preempt wrongdoing and others arguing that we have to see what a new technology can do before writing laws to control it.
"I don't think we are there yet for any calls for legislation," Szabo said. "Theoretical fears make for bad laws. We also don't want to strangle this new technology."
But Szabo acknowledged that a failure to do anything at all could come back to haunt the industry. Fresh talks are scheduled for July and Szabo said he was optimistic guidelines could be finalized in the "near term."
"Without guidelines, the risk exists that consumers may become fearful of an otherwise beneficial technology and legislators would over-regulate a burgeoning technology before it has a chance to shine," he said.
Thanks for reading CBS NEWS.
Create your free account or log in
for more features.