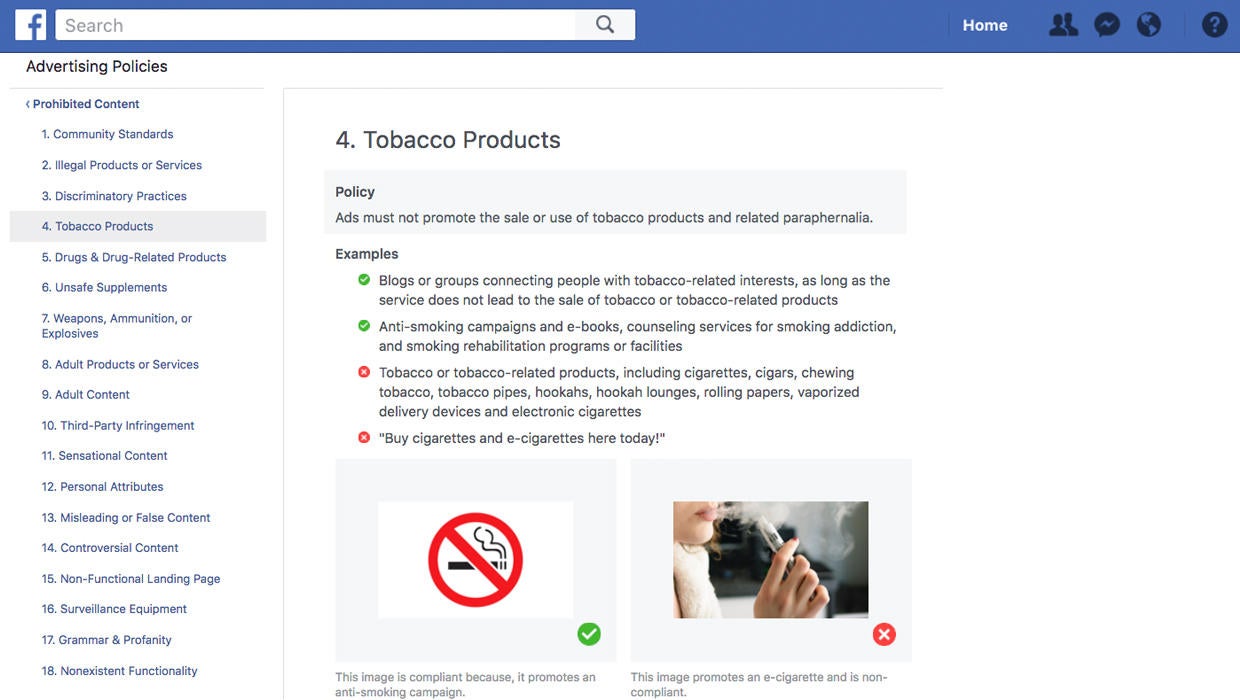 Facebook is used to promote tobacco, despite policies against it, study finds
New research finds tobacco products are being marketed and sold through unpaid content on Facebook despite policies from the social media company restricting or prohibiting the promotion of these items. In many of these instances, there is no safeguard in place to prevent access to minors.
"Facebook has a portfolio of policies with the laudable intent of keeping tobacco promotion and sales out of the Facebook platform," lead study author Robert Jackler, M.D., principal investigator of Stanford Research Into the Impact of Tobacco Advertising, told CBS News. "These policies are voluntary, and they're a sign of Facebook's commitment to social responsibility. Unfortunately, these policies are inconsistently enforced and a large volume of tobacco promotion exists on Facebook."
Facebook bars paid tobacco advertisements, including ads for cigarettes, cigars, chewing tobaccos, tobacco pipes, hookahs, hookah lounges, rolling papers, vaporized delivery devices and electronic cigarettes. According to its advertising policy, images of tobacco and related products, as well as links to sites where such items can be purchased, are not permitted.
The social media giant does allow "blogs or groups connecting people with tobacco-related interests," as long as they're not selling tobacco or tobacco-related products. But it has an array of rules in place that apply to sales and commercial activity.
However, new research from the Stanford University School of Medicine finds many tobacco companies are getting around these restrictions through unpaid or "organic" posts, mainly on their brand-sponsored Facebook pages.
Out of 108 company-sponsored Facebook pages for leading brands of cigars, e-cigarettes, hookah tobacco and smokeless tobacco, the study authors found more than half included purchase links, such as a "shop now"-type button. Roughly two-thirds of the pages offered sales promotions, including coupons and discounts. All but one featured images of tobacco products.
While none of the 21 top traditional cigarette brands had Facebook pages, the study found 10 of 14 online tobacco stores with company-maintained pages promoted popular cigarette brands, such as Marlboro, Camel, Newport, and American Spirit, and included links to purchase them. The results of the study are published online in The BMJ Tobacco Control.
Facebook has what it calls an "age-gate requirement" for the private sale of regulated goods, including tobacco, alcohol, and firearms. This means anyone under the age of 18 should not be able to access pages promoting the private sale of these items. Facebook notes that the age restriction applies only to private individuals selling items "peer-to-peer," not licensed retailers.
The researchers found only 48 out of the 108 tobacco brand-sponsored Facebook pages had a safeguard in place to restrict access to minors.
This is important, Jackler says, because younger people are more likely to begin using tobacco, with the risk of becoming addicted to nicotine.
"As the vast majority of smoking initiation occurs during teen years, the tobacco industry has a long history of targeting adolescents," he said. "If you want to reach teens in 2018, the place to do it is via social media, especially Facebook, because such a high fraction of youth use it on a daily basis. "
Recent figures show 5.8 million U.S. teens aged 13-17 use Facebook, and 65 percent of them say they check it every day. The social network has over 2 billion users worldwide.
The researchers also analyzed the number of "likes" for each company-sponsored Facebook page. At the time of the study, 30 of the pages had accumulated 10,000 or more likes, with four of the pages having more than 50,000 likes.
Jackler said he and his team were not surprised that tobacco companies found ways around Facebook's restrictions to promote the sale of their products.
"What did surprise us was the volume and variety of unpaid tobacco promotion we encountered on Facebook and the passivity of Facebook in sustaining its own policies," he said. "While Facebook was vigilant in excluding paid tobacco advertisements, which appear to receive special scrutiny, it seems to have no systematic monitoring of tobacco brand sponsored promotion on its pages."
Facebook took issue with some aspects of the study, for example noting that its commerce policies only apply to the "Shop Section" of a company's page, while the researchers considered a broader array of posts.
In a statement provided to CBS News, Facebook said:
"Selling or advertising tobacco products is not allowed on Facebook. We use a combination of technology, human review and reports from our community to find and remove any content that violates these policies, and provide tools that make it easy for our community to report content they think may violate. Our enforcement is not perfect, but we continue to find ways to strengthen our review and enforcement of our policies."
However, Jackler says the issue is not principally with Facebook, but with the tobacco companies.
"It is primarily focused upon exposing yet another example of the cynical way the tobacco industry circumvents any and all attempts to constrain its never ceasing efforts to promote its products," Jackler said.
He said ultimately, the study exposes loopholes within Facebook that the social network has the opportunity to close.
"Our hope is that our study, by highlighting the degree to which tobacco marketers evade their intended restrictions, will encourage Facebook to make a renewed effort to implement their well-intentioned policies," Jackler said.
Thanks for reading CBS NEWS.
Create your free account or log in
for more features.