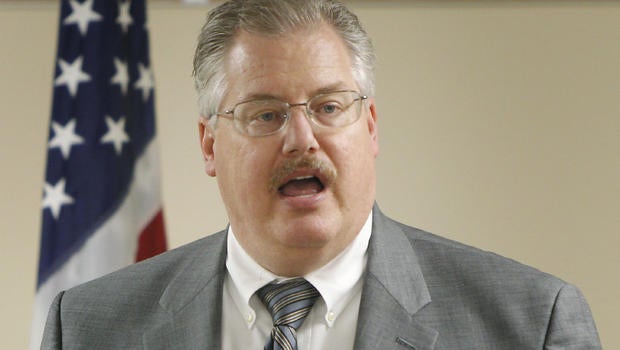 Ex-DA Ken Kratz's law license suspended in sexting scandal
MADISON, Wis. - A former state prosecutor and victims' rights advocate who tried to spark a sexual relationship with a domestic abuse victim and made sexual remarks to social workers cannot practice law for four months, the Wisconsin Supreme Court announced Friday.
As well as suspending Ken Kratz's law license, the court called his actions "appalling" and ordered him to pay $23,904 to cover the costs of the disciplinary proceedings.
"This was exploitative behavior, harassing behavior, and a crass placement of his personal interests above those of his client, the State of Wisconsin," the court wrote in a collective decision that wasn't signed by any single justice.
Kratz now works as a defense attorney. He didn't immediately return a message left at his office Friday morning. He had argued in court filings he didn't deserve a suspension, saying he has suffered enough.
Kratz's 18-year stint as Calumet County district attorney came to an end in 2010 after The Associated Press reported that he sent a barrage of racy text messages to a 25-year-old woman a year earlier while he was prosecuting her ex-boyfriend for abusing her. Kratz, then 50, called the woman a "hot nymph" and advertised himself as "the prize" with a $350,000 house and a six-figure salary. He told her he wanted her to be "so hot" and "treat me so well that you'd be THE woman. R U that good?"
The woman went to police, who referred the case to the state Department of Justice. That agency found Kratz hadn't committed any crimes but told Kratz he should step aside from the domestic abuse prosecution and self-report his conduct to the state Office of Lawyer Regulation (OLR).
Kratz removed himself from the case, reported his behavior to the OLR and agreed to resign as chairman of the state Crime Victims' Rights Board. OLR decided he acted inappropriately but didn't commit any ethical violations and quietly closed his case in March 2010.
An AP story on the case that September set off a firestorm of outrage. Kratz resigned in October 2010 as then-Gov. Jim Doyle began a little-used process to remove him from office. More women came forward and accused him of making sexual remarks to them; one social worker said he made a comment about oral sex to her before she testified in court and later told her he wanted the case to end so he could go to Las Vegas and have "big-boobed" women serve him drinks. Another social worker said he told her that he thought a court reporter had big breasts.
The OLR reopened its case against him. Kratz ultimately filed a no-contest plea to six misconduct charges. The agency recommended the Supreme Court suspend his license for six months. A referee found a four-month suspension would be more appropriate, noting Kratz has never tried to justify his behavior, he was abusing prescription drugs and was seeking treatment for a sex addiction.
The Supreme Court agreed with the referee's recommendation.
"The recommended four-month suspension is deserved," the court wrote. "In short, whatever his qualities and accomplishments as a lawyer, Attorney Kratz proved himself during the period in question to be sanctionably sophomoric."
Justices Shirely Abrahamson and David Prosser each wrote separately saying the court should review OLR's practices. Prosser also said Kratz, who has filed for bankruptcy, shouldn't have to pay the "extravagant" costs of the process. He called the costs "manifestly unfair."
Thanks for reading CBS NEWS.
Create your free account or log in
for more features.