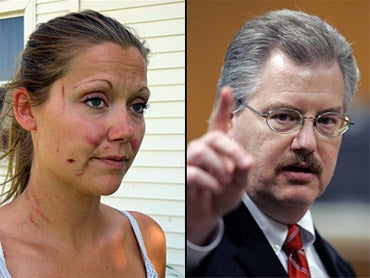 Prosecutor Sexted Choking Victim, Won't Resign
A Wisconsin prosecutor known for two decades as an advocate for crime victims says he is embarrassed about sending sexually suggestive text messages to a younger woman while he was prosecuting her ex-boyfriend in a domestic abuse case, but will remain in office.
Calumet County District Attorney Kenneth Kratz issued that statement Wednesday after The Associated Press reported on the 30 texts he sent to a 26-year-old woman who had complained to police last year. A police report shows he repeatedly sent Stephanie Van Groll text messages in October 2009 trying to spark an affair.
"Are you the kind of girl that likes secret contact with an older married elected DA ... the riskier the better?" Kratz, 50, wrote in one message. In another, he wrote: "I would not expect you to be the other woman. I would want you to be so hot and treat me so well that you'd be THE woman! R U that good?"
Kratz was prosecuting Van Groll's ex-boyfriend on charges he nearly choked her to death last year. Kratz also was veteran chair of the Wisconsin Crime Victims' Rights Board, a quasi-judicial agency that can reprimand judges, prosecutors and police officers who mistreat crime victims.
In a combative interview in his office, Kratz did not deny sending the messages and expressed concern their publication would unfairly embarrass him personally and professionally. He said the Office of Lawyer Regulation found in March he did not violate any rules governing attorney misconduct, but refused to provide a copy of what he said was the report clearing him. That office cannot comment on investigations.
"This is a non-news story," Kratz shouted. But he added, "I'm worried about it because of my reputational interests."
Hours later, Kratz issued a statement acknowledging sending the messages and saying he "was embarrassed at this lapse of judgment."
"I have never been the subject of attorney discipline during my entire 25-year career, and until today, have enjoyed a spotless reputation as a vigorous advocate for crime victims," he said.
Van Groll told police in Kaukauna, Wis., where she lived, that she felt pressured to have a relationship with Kratz or he would drop charges against her ex-boyfriend.
Kratz said he "immediately removed himself" from the prosecution after learning about the complaint, and the state Department of Justice took over. Kratz said he resigned from the crime victims board, which he helped create, after more than a decade as chair as a "self-imposed sanction." He and his wife filed for divorce last December.
Kratz has served in Chilton since 1992 and earns a $105,000 salary. Kratz, a Republican, isn't up for re-election until November 2012.
"Nothing really happened to him and I had three days of hell," Van Groll said in a phone interview with the AP. "They gave him a slap on the wrist and told him not to do it again. If it was anybody else that did something like this, they'd lose their job."
Domestic violence experts called Kratz's text messages disturbing and unethical for several reasons, including the power differential between a prosecutor and a younger abuse victim.
"If what's being alleged is true, it's sad a prosecutor would use the same sort of power and control over a woman who has already experienced that in her personal life," said Patti Seger, executive director of the Wisconsin Coalition Against Domestic Violence.
Kratz, who flirted with a run for Congress in 2008, may be best known for prosecuting Steven Avery in the 2005 killing of Teresa Halbach, a 25-year-old photographer. The case received national attention because Avery had spent 18 years behind bars for a rape he did not commit in a separate case before DNA evidence implicated someone else.
A spokeswoman said the victims' rights board has not received a complaint about Kratz and is not investigating his conduct toward Van Groll.
Kratz cited an undisclosed conflict of interest in stepping away from the abuse case after Van Groll reported the text messages, court records show. A special prosecutor won a conviction on one felony count of strangulation against the man, Shannon Konitzer.
Van Groll said Kratz sent the first text minutes after she left his office, where he had interviewed her about the case.
He said it was nice talking and "you have such potential," signing the message "KEN (your favorite DA)." Twenty minutes later, he added, "I wish you weren't one of this office's clients. You'd be a cool person to know!" But he quickly tried to start a relationship and told her to keep quiet about the texts.
Van Groll at first was polite, saying Kratz was "a nice person" and thanking him for praise. By the second day, she responded with answers such as "dono" or "no." Kratz questioned whether her "low self-esteem" was to blame for the lack of interest.
"I'm serious! I'm the atty. I have the $350,000 house. I have the 6-figure career. You may be the tall, young, hot nymph, but I am the prize!" he texted.
Kratz told her the relationship would unfold slow enough for "Shannon's case to get done." "Remember it would have to be special enough to risk all," he wrote.
Van Groll said she went to police after the messages started becoming "kind of vulgar." She provided copies of 30 messages and her responses, which the department released in response to an AP request.
The department referred the complaint to the state Division of Criminal Investigation. Van Groll, a college student and part-time preschool teacher who has moved to Merrill, said she has been told Kratz won't be charged because "they didn't think he did anything criminally wrong."
Thanks for reading CBS NEWS.
Create your free account or log in
for more features.