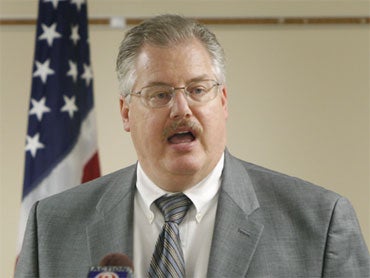 Wisconsin Governor Seeks to Oust DA for Sexting
Wisconsin's governor said Monday he would start the process of removing a district attorney caught sending sexually harassing text messages to a domestic abuse victim.
At a news conference after The Associated Press reported the messages, Gov. Jim Doyle said he was "deeply, deeply troubled" by Calumet County District Attorney Ken Kratz's behavior and would appoint a commissioner to review the matter as soon as he receives a verified complaint. He expects to receive that complaint from a local taxpayer, which is required under state law, in coming days and "act swiftly."
Doyle's office also made public a letter sent last week from a second woman who says Kratz abused his position in seeking a relationship with her earlier this year. In the letter, the woman said Kratz gave her confidential details of a high-profile investigation and invited her to a slain woman's autopsy "provided I act as his girlfriend and would wear high heels and a skirt."
"Sexting" D.A. Ken Kratz Goes on Medical Leave
His office redacted the name of the woman who complained, but the governor said it was released after his office talked with her. Doyle, a former district attorney and attorney general, called that behavior "unimaginable."
Kratz has acknowledged sending 30 text messages in three days last year to a woman while he was prosecuting her ex-boyfriend in an abuse case. In them, he asked whether she was "the kind of girl that likes secret contact with an older married elected DA," and called her a "tall, young, hot nymph."
Kratz apologized and said he would get therapy last week. He announced Monday he's going on medical leave indefinitely.
Wisconsin governors have the power to remove county officials like Kratz for cause. Kratz would have the opportunity to contest his removal at a public hearing, and Doyle said he would then make a decision on whether his behavior warrants removal.
CBS affiliate WISC in Madison reports that Doyle said he plans to move "very swiftly" with the process, but noted that he's going to make sure that all the correct procedures are followed. He said he will make a decision on removal at the end of the legal process.
Kratz has rejected calls to resign from lawmakers, his peers and victims' advocates and signaled Monday he will continue to fight to keep his job. Kratz, 50, has been the district attorney in the rural eastern Wisconsin area since 1992, when he was appointed by Republican Gov. Tommy Thompson. He is not up for re-election until November 2012.
His attorney, Robert J. Craanen, said Kratz was not charged with a crime, did not violate rules governing attorney conduct and has been a successful prosecutor for 25 years. He said he would argue that other district attorneys have committed more serious misconduct related to withholding evidence and kept their jobs.
"This is just a really inappropriately bad mistake by this DA after many years of commitment to the community," Craanen said. "It's got nothing to do with evidence, with misdoing, he was never charged with anything. ... He's the first to admit this was quite a mistake, but it shouldn't really define his career. And he's been a great DA."
Thanks for reading CBS NEWS.
Create your free account or log in
for more features.