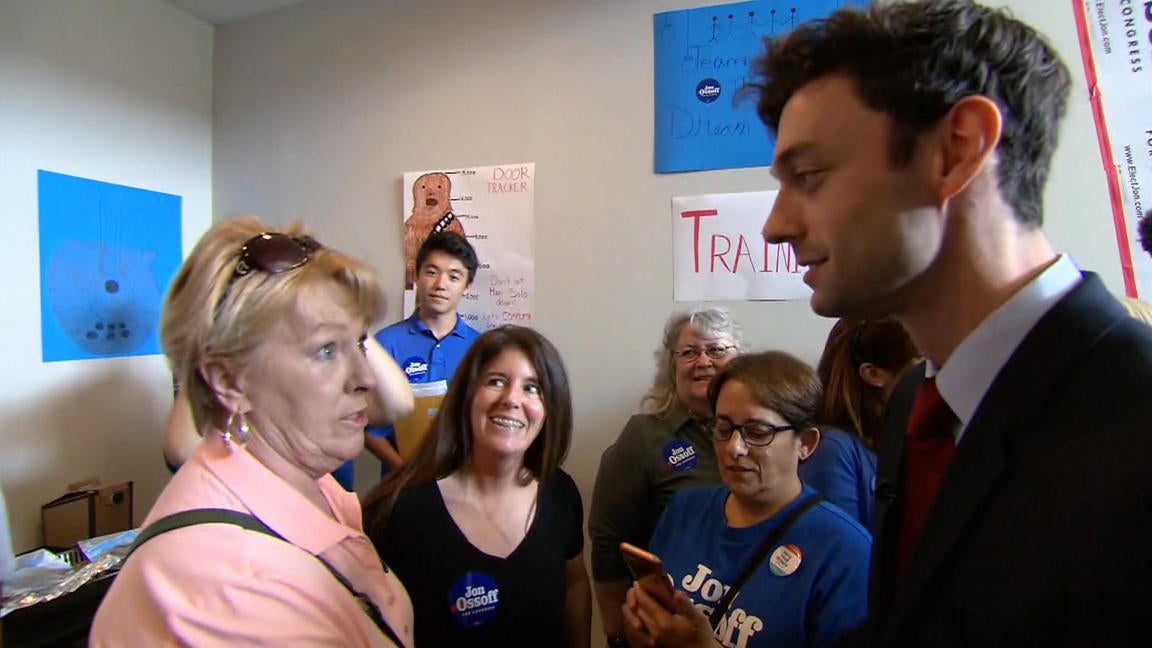 Everything you need to know about Georgia's special election
A Republican has represented Georgia's 6th Congressional District, located in Atlanta's well-heeled northern suburbs, since Newt Gingrich won it in 1978. Dr. Tom Price, a staunch conservative, represented it from 2005 to earlier this year, when he became the new secretary of Health and Human Services.
But 30-year-old Democrat Jon Ossoff, a former Capitol Hill staffer, now has a rather good chance of winning the seat. Tuesday is the first round of voting in what's known as a "jungle primary," in which the top two candidates -- regardless of party -- go on to face each other in a runoff election on June 20 – unless one candidate can get 50 percent of the vote.
In every poll conducted, Ossoff has far more support than any of the 17 other candidates, and if he gets 50 percent of the vote or more Tuesday night he'll avoid a runoff and become the district's next congressman. If he comes in under 50 percent, he'll face off against whichever one of the Republicans gets second place.
Why is Ossoff a contender?
For one thing, he's running against 11 Republicans, meaning that the conservative vote is split while Ossoff has the Democratic vote essentially tied up. For another, the district – while reliably Republican – isn't particularly well suited to Mr. Trump's populist approach.
Price easily won re-election in November with 62 percent of the vote. Mr. Trump, however, just barely held on to the district, beating Democrat Hillary Clinton by less than two percent.
So why is the district leaning blue these days?
A lot of it comes down to demographics. Georgia's 6th is one of the best-educated districts in the country, with 58 percent of its residents having a bachelor's degree or better, according to The Wall Street Journal. And college-educated whites are a group Mr. Trump has had trouble with – he won their vote by just 3 points in 2016, while Mitt Romney won them by a landslide 14-point margin in 2012.
This is the flip side of Mr. Trump's ability to win some typically Democratic districts in the Rust Belt; his style of politics works well among some working-class voters, but turns off people in wealthy, well-educated, and otherwise GOP-leaning suburbs. Romney did much better in Georgia's 6th back in 2012, winning the district by over 23 points against then-President Barack Obama.
Is there any chance Republicans can hold on to the seat?
There's a very good chance, assuming Ossoff doesn't win the 50 percent of the vote needed to avoid a run-off. If he falls short, Republicans are likely to coalesce around whatever Republican comes in second place -- and that might be enough to stop Ossoff in this Democratic-leaning district.
That Republican will probably be either former Georgia Secretary of State Karen Handel, state Sen. Judson Hill, businessman Bob Gray, or former state Sen. Dan Moody. But given how few voters tend to show up in these elections, it's hard to predict which Republican will come out on top. Whoever it is, they'll likely have a lot of money at their disposal as national Republican groups put money into the race.
How much money has been spent already?
A lot. Ossoff raised $8.3 million in the first quarter of the year alone, with most of that money coming from small donors – and the vast majority of it coming from outside the state. That's been met by millions in anti-Ossoff spending from outside groups affiliated with the GOP, including the National Republican Congressional Committee and the Congressional Leadership Fund, who have together dumped more than $5 million into the race.
Has Trump weighed in?
Yes, and he wants people to know that he's no fan of Ossoff. This is what he tweeted Monday morning:
Ossoff, for his part, responded to the tweet by saying he's "glad" Mr. Trump is interested in the race, but that the president is "misinformed" about the Democrat's agenda. On Tuesday, Mr. Trump tweeted about the race again just hours before the polls closed.
Ossoff says he lives some "10 minutes" outside the district in order to live with his girlfriend, a student at medical school, but grew up in the district and will live again in it soon.
What does this mean for control of the House?
If Ossoff ends up winning, or even if he loses narrowly, expect Democrats to start sounding very bullish about their chances of taking the House come 2018. That's because Georgia's 6th is exactly the kind of suburban red district Democrats need to be able to compete in if they're going to pull off that feat. Democrats will also be sure to point to the race as a referendum on the first few months of Mr. Trump's presidency.
But there's a danger in reading too deeply into races like this. This is just one seat in one area of the country, and turnout in special elections like this tend to be quite small. Plus, special elections don't always point to a greater trend on the horizon -- in 2010, for example, Democrats were able to hold onto a conservative district in Pennsylvania vacated by the late Rep. Jack Murtha in a special election. Democrats hoped this was a sign that they could hold onto the House later that year. Instead, they got walloped in a historic wave election that cost them dozens of seats and control of Congress.
There's a lesson here for the Republicans as well. Even if they manage to hold onto the district, the race has arguably been a lot more difficult than it ever should have been. Win or lose, there's still a real danger that the GOP in the Trump era is alienating too many people in suburban districts Republicans have long dominated.
Thanks for reading CBS NEWS.
Create your free account or log in
for more features.