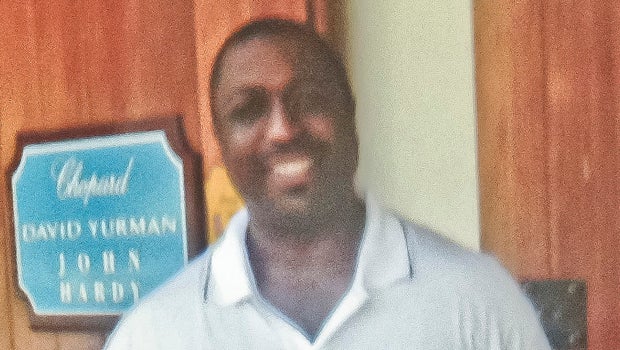 ​Eric Garner case: New York pushes for settlement in chokehold death
NEW YORK -- New York City officials said Wednesday they are trying to negotiate a settlement with the family of an unarmed black man who died after a police officer put him in a chokehold, as scores of defense lawyers participated in marches and die-ins to protest the U.S. criminal justice system's handling of such cases.
Officials in Comptroller Scott Stringer's office said the push to reach a settlement of the $75 million civil rights claim brought forth by the family of Eric Garner is part of a strategy to settle major civil rights claims before lawsuits are filed.
"There are advantages of settling early and not going to court. Sometimes you have to go to court and litigate cases," Stringer told CBS New York. "Every case is different, and I'm not going to prejudge this case. We're not going to talk about the specifics, because as I said, this is very early in the process."
Garner, a 43-year-old, was killed in July after an officer put him in a chokehold during an arrest in the borough of Staten Island on suspicion of selling loose cigarettes. The grand jury's failure to indict has touched off a wave of protests, including one in Manhattan last weekend that drew tens of thousands of people.
"There's a possibility of a settlement, but there's also the possibility of a referral. Many things can happen," Stringer said. "This is a process that is just beginning, and we're going to certainly do everything I can to watch out for the city's bottom line, and also make sure that we respect the Garner family in this process as well."
Stringer also would not specify any possible dollar amount that might be appropriate for a settlement.
"I do want to see the city come together," Stringer said. "I want people of all backgrounds to believe in the criminal justice system."
The Garner family's attorney told CBS New York he is willing to sit down with the city comptroller, but he also said the family is interested in more than just seeking damages. They also want policy changes related to policing.
In the New York City borough of Brooklyn on Wednesday, public defenders and other lawyers marched at courthouses and a prosecutor's office and staged a die-in outside a jail. They later stood in front of a criminal court, chanting, "Black lives matter" and "I can't breathe," a reference to Garner's last words.
In Philadelphia, a group of lawyers also participated in a die-in.
Decisions by grand juries not to bring charges against police officers in the cases of Garner and Michael Brown in Ferguson, Missouri, exposed flaws and reflect racism in the system, the lawyers in Brooklyn said. A grand jury is a panel of citizens convened by a court to decide whether it is appropriate for the government to proceed with a prosecution against someone suspected of a crime.
Both Garner and Brown were black. The officers involved are white.
"We wanted to lend our voices to protest what's been going on for decades, not only in this courthouse but in courthouses across the five boroughs and across the United States in terms of a really unequal criminal justice system," Deborah Wright, president of the Association of Legal Aid Attorneys, said afterward.
Said another attorney, Nora Carroll: "We know that when a prosecutor wants an indictment, they can get one."
If a deal is struck with the city in the Garner case, it would avoid a long trial in federal court -- and would keep Mayor Bill de Blasio's administration out of the process.
It is not clear that a settlement would be reached. The move to seek a settlement appears to suggest that Stringer's office feels the city could be found liable at a trial and be forced to pay a significant amount in damages, though the comptroller in interviews Wednesday said he did not imply wrongdoing.
Thanks for reading CBS NEWS.
Create your free account or log in
for more features.