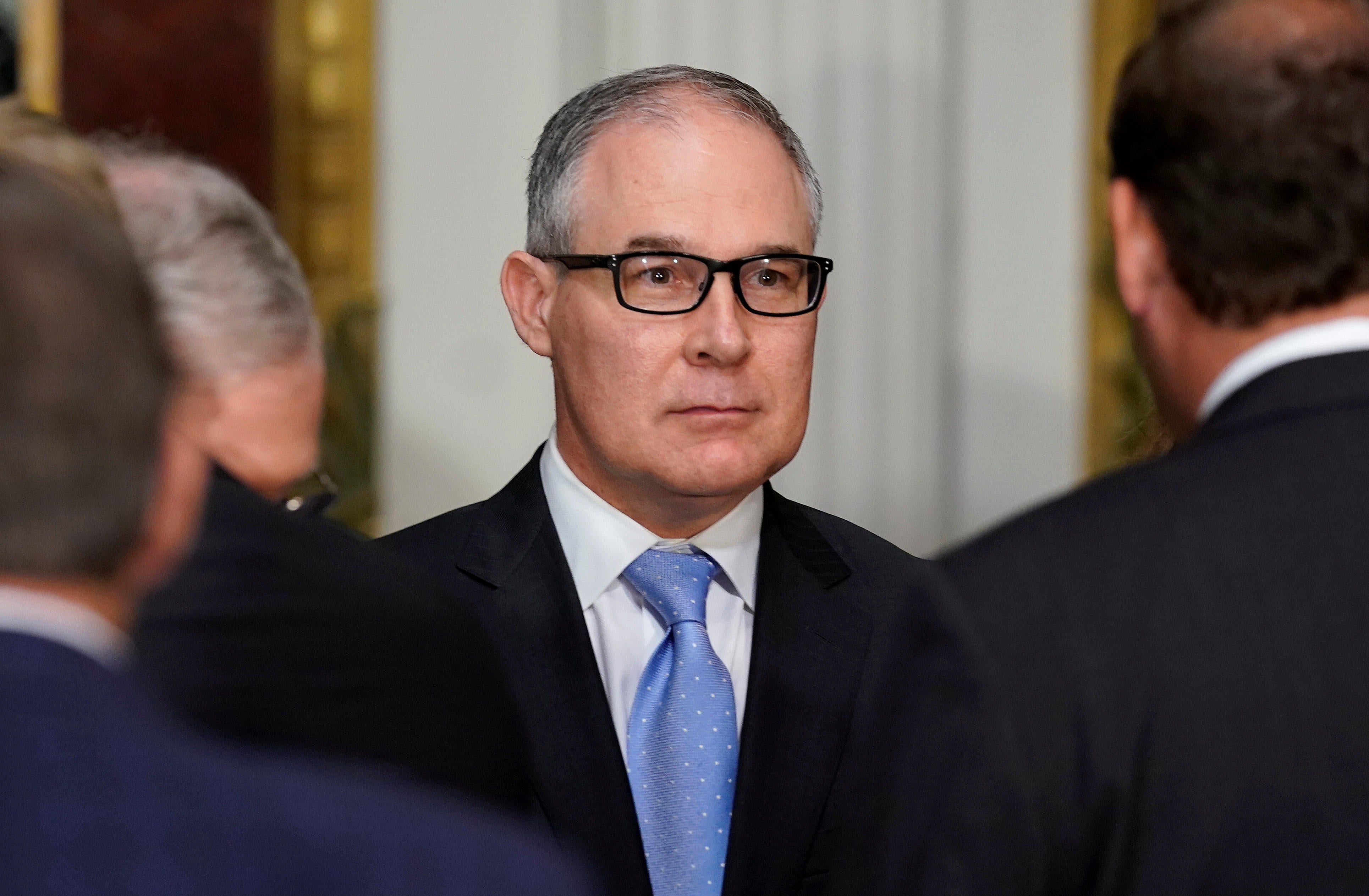 EPA's Scott Pruitt got waiver to fly business class on foreign carrier from Italy to U.S.
WASHINGTON -- EPA Administrator Scott Pruitt has been under fire for frequently flying in first and business class at taxpayer expense. CBS News has learned more about one of those flights, while Pruitt defended his expensive flights in an interview with a New Hampshire newspaper Tuesday.
In early June, Pruitt traveled to Italy for meetings at the Vatican and to attend a summit with international energy ministers. Taxpayers picked up the tab for his round-trip business-class flight, which cost at least $7,000, several times the cost of what was paid for other staffers who accompanied him on the trip.
CBS News has learned that when Pruitt returned home from Milan on June 11, he flew on Emirates Airlines, whose business class cabins are some of the world's most luxurious, complete with an onboard lounge that promises what the airline calls a "truly unique journey."
To take the flight, Pruitt needed special dispensation. Government officials are bound by the Fly America Act, which requires them to "use U.S. air carrier service for all air travel… funded by the U.S. government."
Sources have told CBS News that Pruitt regularly flies in first class along with his unprecedented, round-the-clock, security detail. The costs of their travel has not been made available.
A certificate justifying the return flight from Milan that the EPA provided to CBS News said Pruitt flew on a foreign carrier because it was the only available flight "that would get the administrator back in time" to attend a Cabinet meeting with President Trump the next day.
"It's good to be back in the United States -- I actually arrived back this morning at one o'clock from Italy, from the G-7 Summit," he told the president during that meeting.
The entire trip cost more than $43,000 dollars, according to travel vouchers obtained by the Environmental Integrity Project. To make his departing flight to Rome on June 7, Pruitt flew on a military aircraft from Cincinnati, where he had attended a rally with the president.
Two days before Pruitt went to Italy, he took an overnight trip to New York where he conducted television interviews to discuss Mr. Trump's decision to pull out of the Paris climate agreement.
He also flew round trip between Ronald Reagan Washington National Airport and LaGuardia in New York on a shuttle flight costing $1,641.53. By contrast, the ticket for another staffer who flew with him cost $238.40.
The EPA's inspector general has been auditing Pruitt's travel and recently said the scope of the audit extends through 2017. Pruitt frequently travels to his home state of Oklahoma on the weekends and has been criticized for other costly travel, including non-commercial flights.
An EPA spokesman said, "Due to security concerns he has a blanket waiver to fly in first or business class" and that when he travels, the agency follows "the recommendations of security personnel."
But even Republicans like Sen. John Kennedy of Louisiana are questioning why Pruitt routinely flies in first or business class when taxpayers are footing the bills.
"I'm sure there's some situations in terms of security where an upgrade may be appropriate," Kennedy said. "But I think as a general rule, except for the president and the VP or if you're paying for it yourself, you ought to fly coach."
Pruitt was spotted on flight to Boston Tuesday morning – in first class -- and in an interview with the New Hampshire Union Leader, he talked about the security risks that resulted in the waivers for the more expensive classes of flights.
"Unfortunately...we've had some incidents on travel dating back to when I first started serving in the March-April timeframe," Pruitt told the paper.
"We live in a very toxic environment politically, particularly around issues of the environment," said Pruitt, who confirmed to the Union Leader that he had flown first-class from the Washington metro area to Boston to reach New Hampshire. "We've reached the point where there's not much civility in the marketplace and it's created, you know, it's created some issues and the (security) detail, the level of protection is determined by the level of threat."
Pruitt said the decisions to fly first class are not his. "I'm not involved in any of those decisions," Pruitt told the Union Leader. "Those are all made by the (security) detail."
Thanks for reading CBS NEWS.
Create your free account or log in
for more features.