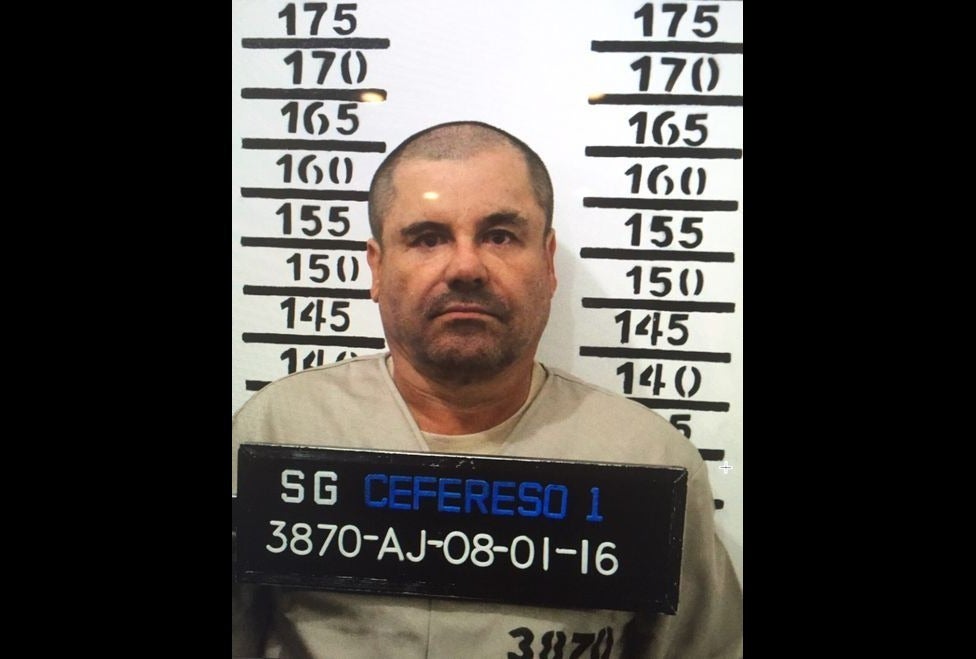 How "El Chapo" tried to escape during raid on his hideout
A newly released mug shot of Joaquin "El Chapo" Guzman shows the drug lord with his head and mustache shaved.
Workers at the Mexican prison where El Chapo is being held have indicated that officials are moving him from cell to cell to make it more difficult for him to escape. Mexican authorities have also released video of the violent shootout that helped bring Guzman to justice, reports CBS News correspondent Manuel Bojorquez.
Dramatic video taken by helmet camera and released by the Mexican government shows the deadly gunfight that took place shortly before El Chapo's capture.
CBS News has learned when 17 Mexican marines stormed the Los Mochis home early Friday morning, the drug lord fled through a secret door concealed by a mirror. He hid in a tunnel, until rainwater forced him out. An armed Guzman then stole a car, before finally being arrested.
Now, tanks surround the maximum security prison where Guzman is being held - the same one he escaped from in July, but Juan Miguel Edmonson, special prosecutor for Interpol in Latin America, believes he won't be able to flee another time.
"There's more -- all of the eyes of the world put on him, therefore I don't think so," Edmonson said.
Guzman's attorney said he hasn't been able to speak with his client, which he claims violates Guzman's rights.
Over the weekend it was revealed that Guzman's secret visit with Sean Penn and Mexican actress Kate del Castillo helped Mexican authorities narrow down the fugitive's location.
New photos appear to show the Academy Award winner arriving at a Mexican airport for the October meeting. Kate del Castillo, who arranged the visit, was photographed in the country on several different dates. In one of the images, a lawyer for El Chapo is said to be handing her a cell phone.
Rolling Stone magazine has come under fire for publishing an article in which Penn details the encounter. Penn said Guzman reviewed the article before it was published but "did not ask for any changes."
On Monday, Penn told the Associated Press he has "nothin' to hide."
In an interview, Rolling Stone publisher Jann Wenner defended the magazine's decision to give El Chapo what he calls, "story approval," saying "it was a small price to pay."
According to Mexican officials, El Chapo's extradition process could take at least a year.
Thanks for reading CBS NEWS.
Create your free account or log in
for more features.