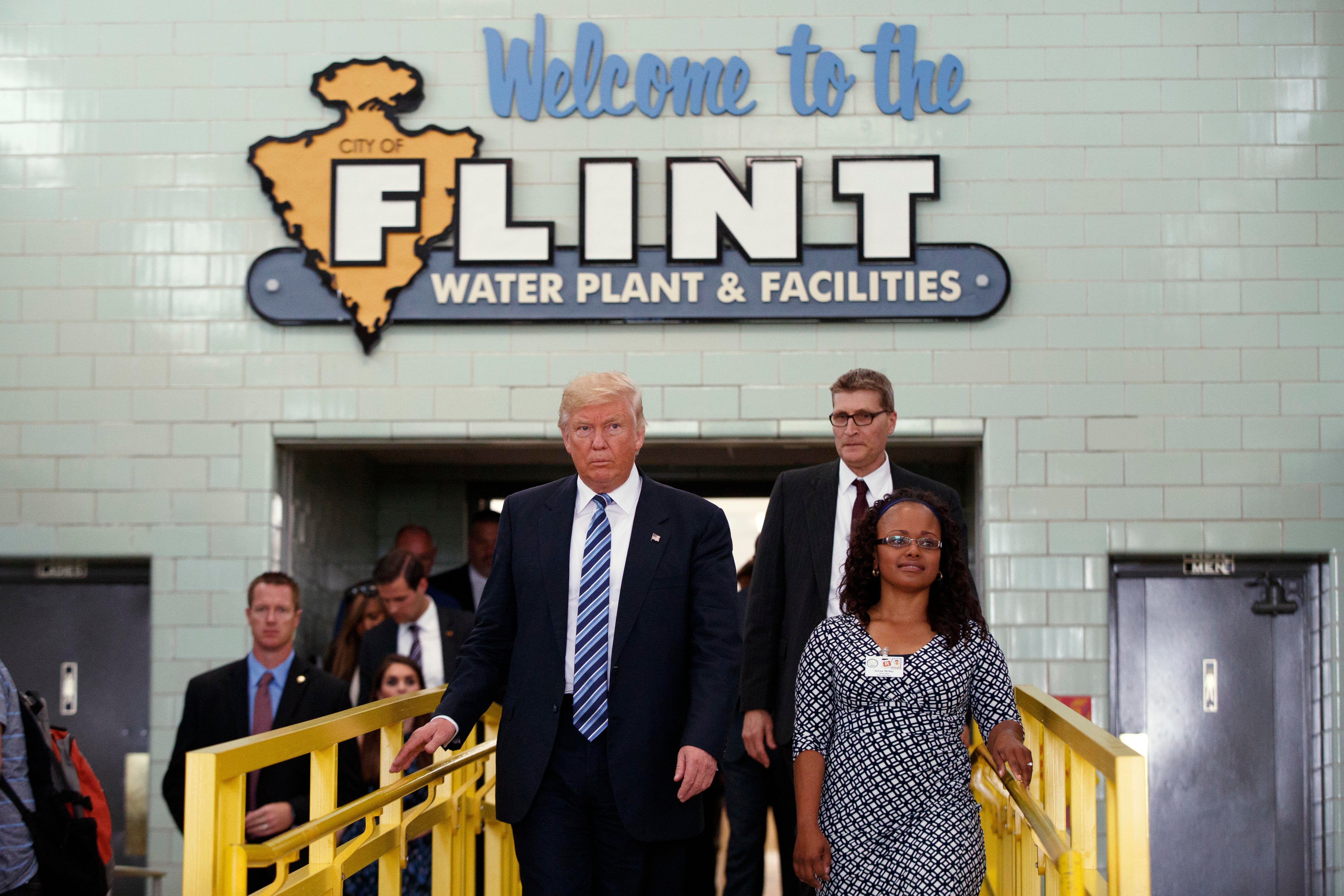 In Flint, Trump bashes Clinton, then is cut off
Donald Trump on Wednesday bashed Ford for its decision to move all of its small car production to Mexico.
"It was just announced that Ford is moving all small car production -- all of it -- 100 percent to Mexico over the next two to three years. It just happened. We shouldn't allow it to happen," the GOP presidential nominee said at Bethel United Methodist Church during a campaign stop in Flint, Michigan.
"They'll make their cars, they'll employ thousands and thousands of people not from this country and they'll sell the cars through a very weak border -- no tax, no nothing. And we'll have nothing but more unemployment in Flint and Michigan," Trump added.
Trump went on to talk about meeting a family in Flint Wednesday that has been affected by the city's water crisis, but shifted back again to talk about U.S. jobs going to other countries. He slammed Hillary Clinton for supporting the North American Free Trade Agreement (NAFTA) and said she has "failed on foreign policy."
The pastor of the church, Rev. Faith Green Timmons, suddenly joined Trump on stage and interrupted him.
"Mr. Trump, I invited you here to thank us for what we've done in Flint, not give a political speech," she said.
"Okay. That's good," Trump responded. "Then I'm going to go back onto Flint, okay."
Timmons also released a statement later that read, "Trump's presence at Bethel United Methodist in no way represents an endorsement of his candidacy."
He continued to talk about Flint whose mayor, Karen Weaver, criticized Trump's visit to her city.
"Flint is focused on fixing the problems caused by lead contamination of our drinking water, not photo ops," she said in a statement.
Weaver said neither Trump nor his aides ever reached out to her since the water crisis was deemed an emergency last December and he didn't inform her he was traveling to Flint this week. Weaver is currently in Washington, D.C. through Thursday lobbying Congress to pass aid for her city.
Thanks for reading CBS NEWS.
Create your free account or log in
for more features.